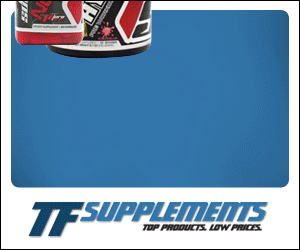 Manufacturer:
Universal Nutrition
Rating:
5
out of 5 stars, based on
3
total reviews.
Read all 3 reviews
Submit New Review
I have a history of getting elbow, shoulder, knee, and wrist injuries. After getting diagnosed with a stress fracture in my elbow and a little ligament damage, I decided to look into a joint formula. After reading many other reviews of Animal Flex, I decided to give it a try. Overall, I give it an 8/10. It worked great, but it was just wayyy too many pills to take. After taking Animal Flex a couple days, (whether it was placebo effect or not), my elbow was less stiff, more flexible, and began feeling much better, regardless of the stress fracture. I would recommend Animal Flex to anyone looking for a Joint formula THAT DOES NOT MIND TAKING 8 PILLS. Since being released from the doctor and physical therapist 2 weeks ago, I have ordered Super Cissus Rx, as I'm not looking to take that many pills anymore.

5/5

ok so i have a very psychical job . i lift stuff all day and it takes a toll on my joints . with all the lifting from the gym / lifting from work . my joints tend to get sore here and there . i was going through a really bad week and my ac joint got inflammed . went to doc and whatnot . they did therapy . worked ok . but i started taking animal flex and stopped going to PT and after a week everything was back to normal . i dont take these pills every day just 2 - 3 times a week and i have NO joint pains . amazing product . 100x better than fish oil for joints . its a must try if you have joint pains or if you lift heavy in general to lube up those joints . yeah its 8 pills. anyone who has taken animal products know how well they work

5/5

After 2 motorcycle accidents, having a muscle tear on my foot and serious shoulder pains an old lifting partner of mine told me to get Flex to help with the joint pains. A week into Flex and pain on my leg from my motorcycle accident decreased a lot! My foot no longer hurts. Shoulder hurts but not as much as before. Listen I love animal and universal products but I wasn't expecting to feel any difference taking this. MAN WAS I WRONG! Just wish I had started taking last year.. It would had saved my old job!

5/5

This stuff made my knees feel a lot better. However I have moved on to Controlled Lab Orange Triad definitely since I feel I am getting a better value with the multivitamin combo.

5/5

I bought it after 2 cans of jointment sport and it was really awesome...
my wrist was hurting and I could hardly lift and this thing really helped me

I have been using animal flex about a year now. Great product for your joints but useless when it comes to tendon programs. So use animal flex plus cissus tougher but you have to cycle cissus 6 to 8 weeks on 4 weeks off.
Similar Forum Threads
By planetfuzz in forum Supplements

Replies:

14

Last Post:

11-11-2008,

12:52 PM

By pizzathehut in forum Supplements

Replies:

29

Last Post:

08-26-2008,

09:06 AM

By we1todd2it3 in forum Supplements

Replies:

4

Last Post:

05-04-2008,

11:24 PM