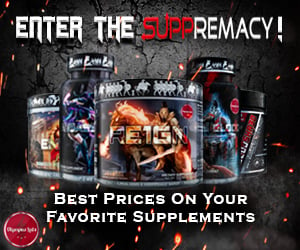 Build Fast Formula Vasoblitz
Manufacturer:
Build Fast Formula
Rating:
5
out of 5 stars, based on
4
total reviews.
Read all 4 reviews
Submit New Review
Build Fast Formula Vasoblitz
5/5

Had doubts on this product but found a good deal on a sample size container on Amazon (7 servings). Let me tell you...I've used tons of pump formulas, this one is in the Top 2, can't believe it. Two scoops mixed with a strong pre containing barely any pump ingredients and 1 scoop of Piana's Real Food for carbs. Also drank about 8oz of water. Did tri's and after the 3rd set I knew this stuff was for real..the pump came on strong and hard.
After workout tri's were completely gorged...pump was so full feeling it was incredible...AND...it lasted into the next day which never happens. My tri's were still pumped and full looking next day. Can't explain it but god damn I'm buying this stuff again. I had the Watermelon flavor.

5/5

The product mixed with ease in a blender bottle. After a few shakes there was some particles floating around but those quickly dissolved. The powder is extremely light and started to mix just hitting the water. I found nothing stuck to my shaker cup or left sitting at the bottom. Thumbs up here on how easy the product mixes in water.

6g L-Citrulline (Pump, Performance, Delay Lactic Acid Build Up)
2g arginine Nitrate (Pump, Performance, Endurance)
2.5g betaine (Performance, Strength, Endurance)
2g Calcium Lactate (Electrolytes / Performance)
Vitamin C (prevent nitrate tolerance build up)

Simple on paper but very well dosed. Very happy to see a transparent label.

Price:
You can get it under $30/30 day Supply with Coupon Bob15. Seeing this is a true two scoop product it will last you well over a month. Around $1 a serving for an open-label and well-dosed product is a major plus. Even with a sale and dropping it help $30 this makes it worth pulling the trigger on. This can be very competitive on the market.

5/5

This PWO exceeding all expectations and should not be overlooked.

Taste: All flavors are pretty light and easy to drink. Even the Lemon Drop I found to be wonderful with a few ice cubes added in.

Mixability: No leftover grit, no clumping, no discoloration either. You do not need a blender ball at all.

Value: For a product that gives you a full 30 days of use with 2 scoops it cannot be beat. YOur seriously looking at $1 a serving and the sales have been aplenty to keep it there. Usually 34.99 and worth every penny.

Formula/Feel: The formula is top notch. Some dont like simplicity but I love it. I cannot stress how great it is to have all these ingredients in 2 scoops with this flavoring. Well done! The pumps are ridiculous and having put on 40lbs thiss off season Im still quite vascular. This stuff opens the pipes!

Overall: I was skeptical that I could find a well rounded PWO that included all my needs but VasoBlitz is the best thing Ive used in a long time!




Current Log: http://anabolicminds.com/forum/supplement-reviews-logs/304802-themovement-bringing-blitz

It should be dropping in Feb... if you like VASOBLITZ you won't want to miss this one.

Rainbow Candy has quickly become the most popular flavor.

Join the Build Fast Formula A-List at www.BuildFastFormula.com




Build Fast Formula VasoBlitz & FullBlitz Coupon Code: Bob15
RXS Radiate+ Coupon Code: CPBOB

5/5

After going through a full tub of Fruit Punch VASOBLITZ I must say this is The Best Pump Product I have ever used. At times during my workouts I had to stop sets short because the Pumps were painfully intense. I also loved the fact that the Full Muscle Feeling stayed with me all day. The fruit punch flavor is very enjoyable and I will buy VASOBLITZ in the future.

5/5
I have been through 3 tubs and though I would post a review.
Taste:
Watermelon: Flavor is very light but refreshing.
Lemon Drop: this is also light but not as light as the watermelon. I like lemon and this taste just like it sounds. one of the lemon drop candies my grandma use to keep at here house.
Rainbow candy: this is hands down my favorite. I always looked forward to drinking this one. Hard describe the taste since I don't eat much candy that isn't dark chocolate. more on the sweet side than the others but not super sweet. nice blend of citrus flavors.

I'm on my second tub of Rainbow candy. I use this every day. (sometimes I forget on off days)
what I like best is this makes me feel swollen all day long.
I have been using this for over 3 months and cant remember workouts without it. The pump is nice! I don't get that skin bursting painful pump but the only thing that does that to me is now illegal and had DMAA in it. add teaspoon of salt and boom!

Pro God, Pro Gun, Pro Life.