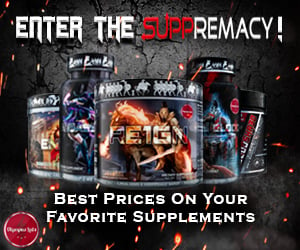 Manufacturer:
Get Diesel
Rating:
4
out of 5 stars, based on
3
total reviews.
Read all 3 reviews
Submit New Review
3.5/5

Thank you to Rocket for sending me a small bag of this product to try out.
Aside from the review, I have to say, I absolutely love watermelon and this hit the flavor point dead center.

My review is 3.5/5.0






BLACK LION RESEARCH Follidrone 2.0 | Vector | Letrone | Rebirth | Exotherm | Nootrol | Viron | Prolactrone + 15% code: MARK15 Want to know more?


How about the Yohimbe? Tucking that in the list of 19 obviously out of order dosed ingredients is ridiculous. I was being generous with a 3.5 and actually rated it a 4 by rounding it up because there is no provision for a 3.5

Feel free to leave your own reviews.

BLACK LION RESEARCH Follidrone 2.0 | Vector | Letrone | Rebirth | Exotherm | Nootrol | Viron | Prolactrone + 15% code: MARK15 Want to know more?

Diesel Fuel Pre-Workout



I'll see myself out now I suppose. The negative reps you gave me seems a little excessive, but whatever man. Sorry for trying to clear up a question you had about a product you used...

I am curious how 3 gms of carbs yields 30 calories......

Muscle Research Code AM10 www.mrsupps.com

Nutrex Nutrition Rep

4/5

First off I must say I am a Rep for Get Diesel Nutrition, but I will give this an honest review

Taste 5/5; I am not a big fan (or I wasn't) of Watermelon Flavor, but I find this perfect, not tart, not sweet, just smooth and refreshing

Mixability 5/5; Mixes very easy in a shaker cup, No Grit, No Floaties

Formula: 3/5; Like Most I would like to see an open label, but I understand you can't give away your trade secrets

Workout 4/5; I have been using this for the last two weeks, I must say the fist week I had some great workouts but I missed the Pump. This formula hits pretty fast but very smooth, I almost could not feel it but my body/brain sad go and I had great workouts with no crash, Reps felt easy and weights light. The second week I added in a scoop of Get Diesel NOS Ether, welcome back pumps !! I must say I have had some of the best workouts I have had all winter with this combo. I gave this the 4 because I feel most people will want to add something for the pump.

Value; For less than $1 per serving this has to be one of the best Values on the market!!

DIESEL FUEL by GET DIESEL Preworkout

4/5

taste...diesel nailed it, best tasting watermelon since og extend

mixability...no issues, a few shakes in mixer cup and good to go

pump...as a solo product not much, but when I added diesel coq diesel pumps were very good, not to mention bedroom results

stim...i'm a heavy stim user/abuser[normally]. I usually get up take my pre do workout then got to work...but during this run I had knee replacement surgery and had no reason for heavy stims...I used diesel fuel on rehab days and stayed over to use upper body weight machine, the 350mg caffeine was a lot less than what I normally would use but as my body adjusted it worked out real well.

side notes...I felt real nice and got a good boost from diesel fuel, and with most diesel products had improved 'dumps', at least one good poop daily and often 2.

very nice low stim product that still gives a decent boost...add in something like coq diesel or nos ether and good to go!!!