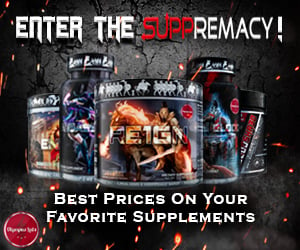 Manufacturer:
Vein Nutrition
Rating:
4.5
out of 5 stars, based on
2
total reviews.
Read all 2 reviews
Submit New Review
5/5

Just did a sponsored 90 day run.

This is definitely a go to product!
The appetite supression is off the charts - definitely more in line with some stimmed up old school stuff - but with out the stim issues or old school sides. I'm a guy that really likes to eat but some days I had to force the cals in!

There's a very chilled out mellowing effect that kicks in after a few weeks, which is very pleasant and very helpful when having to deal with stuff - whatever that stuff may be.

The appetite suppression really kicked in at about week 2, and the feel goods at about week 4. So this is a solid long term product. I'd recommend at least a 2 month run; 3 is even better. The appetite suppression stays full tilt all the way through once it kicks in.

I definitely would use this again on a cut, or maybe even for maintenance for a while.

Thank you sir! Great log, and very happy you like the Veinquish!

BLACK LION RESEARCH Follidrone 2.0 | Vector | Letrone | Rebirth | Exotherm | Nootrol | Viron | Prolactrone + 15% code: MARK15 Want to know more?

4/5

Final Review

Weight 234 > 228. This fluctuates from 226-231. I did weigh 225 a couple weigh ins.

Inches Lost Ė When I took measurements, I was surprised to seem them. Chest was down Ĺ inch, Belly Button was down ĺ and waist was down 3/4 From last measurement.

Very surprised by this because my motivation has been lacking hardcore. My job has been very stressful the past two weeks. And my wife is on full fledge pregnancy cravings and guilt trips.

In the first week, I had quite a bit of stomach discomfort. I do not know if this was because of the Forskolin or KSM66. This went away though by the end of the week. I lost most of my weight in the first month due to sickness. I kept that off throughout the last 45 days which I was happy about given my circumstances. This first month I had mild appetite suppressant and I seemed to be calmer while on this.

During the 2nd month I added fish oil and this seemed to up the appetite suppressant. The calming effects continued with my mood. Also started using 3 caps a serving toward the end of this month. This upped the appetite suppressant even more! Got sick again during the end and this is when my strength decreased a lot.

During this 3rd month I went back to just 2/2 servings for the last 3 weeks. My strength and motivation is just went down fast. I was still in a good mood and appetite suppressant was solid but just to motivation to lift or do cardio. I pushed through but something has just been off. My son didnít sleep as good and now I wake up at least one time a night so maybe it is sleep. Maybe itís hormonal. Donít really have a solid answer.

Overall I like this product and plan on using again. I kept the weight off I lost with a poor diet and lost some inches. Not a ton, but it has helped me maintain. I was disappointed when I didnít see a Black Friday Sale to get their 3-pack. Itís a little on the pricey side being $40 for a bottle but I loved the ingredients.

Thanks for @Justhereforcomm for picking me to log this as well as @VeinNutrition and @Marms. Thanks for following along @LeanEngineer @BBiceps @wesb2387. Another pretty boring log but I hope it provided some nice input.