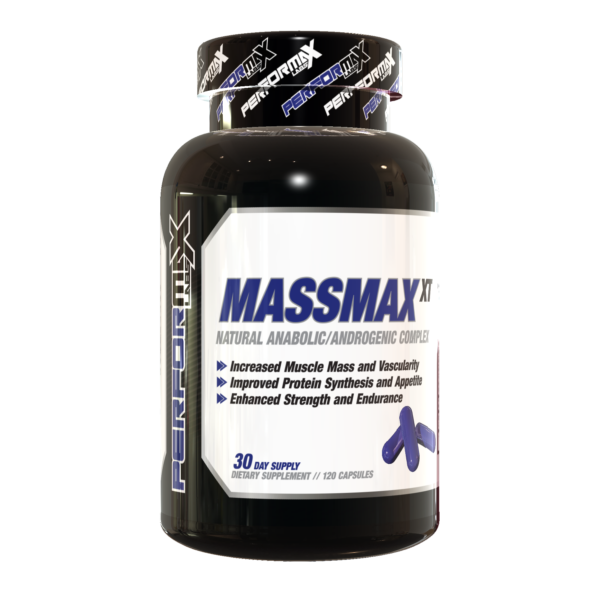 Manufacturer:
Performax Labs
Rating:
4.83
out of 5 stars, based on
6
total reviews.
Read all 6 reviews
Submit New Review
R1balla but for me personally I've learned to not go past +250. I'd classify myself as being between a mesomorph and an endomorph. I naturally hover around 17-20% body fat.

Consuming more calories than +250 doesn't help my strength/physique progress any faster, and all the extra weight ends up being fat. If I stall and my rest/recovery is on point, I'll sometimes temporarily exceed +250, but I don't function well on the "dirty bulk".

MassMax XT



Pardon my English lol us Frenchmen have a hard time getting our explanations through lol

Also can I add a GDA with Massmax

Yep, Slinmax stacks perfect with MassMax XT!

5/5

Week 1
-1-2 extra reps in many exercises (potentially placebo).
-Slight increase in hunger at the end of the week.

Week 2
-An average increase of 2-3 extra reps on most lifts (I can write of 1... maybe 2 reps as placebo. After 20 years of training 3 extra reps is NOT placebo. I know my body)
-Appetite really started ramping up. I would eat a large meal and the hunger remained. It was almost comical. My wife wanted to know what the heck was going on because I at 3 large meals back to back...

Week 3
-Appetite continued to increase. I wouldn't want a stronger increase in appetite. This is perfect for a bulk. I craved food every 2 hours (I usually don't feel hunger between meals). I was able to stop myself from binge eating knowing that Mass Max was responsible for the cravings.
-5 pounds bodyweight gained by the end of the week. My wife noticed me looking bigger. A few people commented at the gym. I asked if it was just fatter looking but my wife and others said no. I still had abs showing. For a visual I'm 5'6" 220 pounds with upper abs showing. I'm around 16% bodyfat. The gains from mass max are quality. I could have easily gained more weight with more calories but I'm sure most of it would be fat. Self control is a must with the appetite increase! Hide the cake!

Week 4
-8 pounds total gained. I could have gained more but most likely would have been more fat than muscle. I would say 50% due to calories, maybe 50% due to whatever goodness Mass Max does with hormones.
-I felt a slight bump in mood but that might have been from knowing every workout I was going to PR on a few things. If a rep could comment on the mood aspect I would be interested in knowing more.
-Depressed? Mass Max! Can't eat due to anxiety? Mass Max! I'm not even joking.

Thoughts at the end of 4 weeks
-I am sad to stop. I have another bottle and surely this stuff would bring me up to 225-230 by the end of 8 weeks. All lifts have gone up! I would compare it to a very mild prohormone run without the need for PCT. EXACTLY what I was looking for.

Reason for not running full 8 weeks
-My goal is to set a bench press record. I need to get my weight down to 190-195 pounds to enter the 83kg weight class. The heavier I get the farther away I'm getting from my goal. I wanted one last go at pushing my strength in a caloric surplus and Mass Max delivered. Alas it's time to start reducing carbs and increasing cardio (sad face). I wouldn't want to waste my 2nd bottle in a caloric deficit. I think the greatest benefit came from the ability to eat more. I'm sure there's other magic happening too but I get hangry very easily. I think the hunger pains would be unbearable with Mass Max in a caloric deficit with HIT thrown in.

Final Verdict
-If you're a hard gainer, need to stimulate appetite, are looking to increase strength, or want to try something close to a very mild prohormone product without all the concerns about shutdown, messed up liver values, or need for additional PCT products... Mass Max XT is your huckleberry!

-Keep in mind I've been training for over 20 years. It's rare for me to get all warm and tingly about a supplement because I've been let down many times. I followed the positive review trail on this forum and decided to give Mass Max XT a go. This gets my stamp of approval.

Note to Performax Labs Rep(s)
-If this product is ever going to be discontinued PLEASE MESSAGE ME! SERIOUSLY! I'm buying a truck load. After I get my record I'm going on a nice long bulk to see how far I can take my 36 year old body without drugs. I like being big and powerful even if I look a little smooth. Mass Max is great for that. Mass Max with 250-300 grams of protein every day... man I'm excited about my future.

To the people on the fence
-If you're skeptical get one bottle. Give it 2-3 weeks and bump up your protein intake. I repeat... BUMP UP YOUR PROTEIN INTAKE!!!

This will be a new staple when I'm finished my cut. I train with higher volume for 8 week periods so 2 bottles is perfect and I look forward to my next run.

Performax Labs deserves kudos for this product. As a natural athlete obsessed with size and strength I'm happy to have this product in my arsenal.

If you have any questions feel free to ask! I love sharing information and hearing from others about what has helped them reach their fitness goals. If something works for me I give credit where credit is due. I know many members on this forum feel the same way and I'm glad to be a member of this awesome community!

5/5

Final Review

Many thanks to the crew from Performax Labs for giving mean opportunity to run this great product. @R1balla and @cubsfan815 you guys are genuine in your choosing of people. I greatly thank you for the opportunity to run this product. Not only did I run it during the initial 1 month trial run but I continued to utilize it in my transformation protocol which began January 2017. Phase 1 will be complete at the start of January 2018.

Initially I compared this to another product I ran for an entire year after I found how helpful it was to my training. Once I got ahold of this and read the instructions I was making the comparisons. After using it for the month I was allowed, I realized it was now a replacement for the staple I had come to love.

In terms of increased muscle mass and vascularity: It delivered in one aspect of those two. I'll explain. Simply I'm not lean enough yet to experience vascularity but I did see an increase in muscle mass. I know this because the manner in which I used it. I was using it to cut mass , basically reomnp. Changing the composition of my body. During this 4 months of utilizing the product I I was able to hold onto what I had, ramp up the cardio on many levels and increase my bench. I'm only measuring in terms of bench because I'm finally bringing myself to squat and deadlift again. These two lifts weren't truly measured during this run.

In terms of protein synthesis and appetite: I noticed immediately the meals I was eating was not enough. I started getting hungrier after each dose due to my system breaking down food more and processing it more effectively. I added more water to my diet and this through me into a tailspin. I was literally craving boxes of cereal, basically carbs. It seemed no matter how much ate, it was like I never ate at all. I believe the more efficient you handle calories the more better their utilized when running this product.

Enhanced Strength and Endurance: This can be summed up in a few words. Gains, gains and more gains. No exaggeration. I'm pleased with the results and soreness was non-existent. Hands down a product I will keep in my regimen.

All in all, I enjoyed it and it helped kick start me into a journey I'm still on and will prove to be well worth the time I put into my training while running this product.

HokiePride

Thank you for your well in depth response. We greatly appreciate it.

https://performaxlabs.com/
Use Anthony25 on https://performaxlabs.com/ to save 25% on all products

how you take mass max?
4 capsules in morning with breakfast or alone and after you eat?
Thanks in advance.

5/5

I ran 2 bottles of MassMax which equals 8 weeks worth.

Here's some upfront details without having to read the whole review -

I started my calories at a surplus of 300 and ended at around a 500-550 calorie surplus. My beginning weight was 185lbs with something like a 16-17% body fat I'd guess. In the end, I gained 7.8lbs while my waist remained the same. I dosed MassMax at 2 pills upon waking, before my breakfast, and 2 pills in the afternoon since my breakfast and lunch are my largest meals. Dinner, for me, is always the lightest meal so that's why I chose this dosing protocol.

More details below -

I'm what I would call a "skinny fat". Not "fat", not "skinny", just..fluffy with fairly clear muscle? Basically my reasoning behind MassMax is that I'm trying to pack on some mass/strength while staying as lean as possible in order to then "shred" down and bulk up again when I'm at a lesser body fat.

Throughout my time with MassMax, I gained literally about a pound a week, as you may have guessed based on my 7.8lbs in 8 weeks from above. I made sure my calories were tight and that my caloric increases were conservative. I typically increased carbs when adding calories. Any cheat meals throughout my 8 weeks were never overboard as I wanted to do the run as legitimately as possible. If I knew I was going to have a cheat meal, I'd be sure to save MassMax for before that meal.

My training through my MassMax run was a progressive overload program called Fierce 5, performed 4 days a week consisting of an upper/lower split. I upped my calories as I saw fit, usually just predicting the future based on what progression I was supposed to make for the week. Turns out I can predict my caloric future pretty well based on my gains lol.

Visually, my body generally remained the same. I do have before/after pictures to still examine, but on initial view, I don't see anything drastic. My fiance says I look fuller, so that's cool. My vascularity has remained at least the same, I feel perhaps even better, so that's neat as well.

Strength wise, I began noticing strength gains at week 5. Bench press, easily my weakest lift, along with standing military press, both kept moving up the whole time and PR's were hit weekly. At week 5, I began to surprise myself with how easy some weights were moving. While one could say this is natural progression, I know my body and my strength - my lifts began feeling unworldly to me with no changes otherwise that week. Interesting stuff..

Overall, would I buy again? 100% absolutely positively. I'm taking a break for now to try another "natty anabolic", and pending how this one goes, I will likely stack it with MassMax next. I truly feel this did me well and it gave me faith in supplements. While one could say the surplus/training split aided my weight gain, I would counter and say MassMax kept my gains as lean as possible being that my waist has remained the same over the 8 week cycle.

Great product, Performax!!

Thank you for the review brother and happy to hear it worked so well for you! This has been pretty consistent with what most others notice!