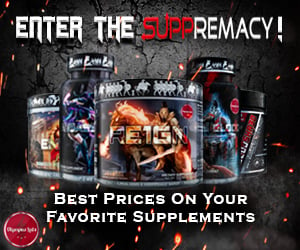 Manufacturer:
Performax Labs
Rating:
4.33
out of 5 stars, based on
9
total reviews.
Read all 9 reviews
Submit New Review
Thanks for the VasoMax love. It is a great product. Wait till you try the Orange Mango!. I just had the FitMax in that flavor and it was amazing. Right up there with something you would get from large beverage companies like Starbucks, SoBe, BAI, etc. Proud of my team for this one.



Vaso6 is all the rage now, but I don't see that this current version has been promoted anywhere. I just don't think people are aware of the change and you guys could be missing out on some big sales!

I am sure that quite a few people would like to stack this with those new Vaso6 caps..



If I had a new tub I'd send it your way, I'd like to hear your thoughts!! I'll see what we can do.

VasoMax

And if youíre really a pump-fiend and want everything, I know a place where you can get 750mg potassium nitrate for $0.15/serving shipped. Add that to this and you have the best of the old and new. Pumps and focus for days. Thatís what I like about VasoMax; you get the focus ingredients too. You know I love my nootropics.

I got Vasomax in a trade recently and received one with vaso6 and one with nitrates. I've only tried the one with vaso6 and really like it. The pumps are good (i probably need to take it with more water to improve things) but really like the added endurance, focus and improved mood (mood improvements likely from the kanna). Only issue I found is that I can't take it at night as the kanna and huperzine a are pretty stimulating to me (noticed the same thing when i've used them separately in the past).

id be down to log the new one
however i dont think the new formula would be able to stack with massicre or epilogue but im taking a break from those currently


i liked to stack the old vaso with high volume seemed to be best pump iv seen



also why is there no citrulline?

@Slims , @bigsmall, thanks ordered a tub and had two workouts with it . Liking it so far ! Its deffo a slightly different pump to high volume . Deeper and longer lasting. The biggest thing ive noticed is the feel good and focus factors . I did shoulders yesterday and was on a really nice high ! Looking forward to more workouts to come and ill leave a rating.

5/5

Vaso6 VasoMax VasoMax V3
Unsponsored Review



Profile
The ingredients panel speaks for itself, with a cocktail of the top pump and focus compounds.
GlycerPump
-Pulls every drop of pre-workout liquid into the muscles.
Vaso6
-Widening and expanding the blood vessels to allow increased blood flow to muscles.
Rutaecarpine
-Relaxing the tension of blood vessels, enhancing the dilation effects of Vaso6.
GSNO
-Increasing blood flow into the expanded blood vessels and enhancing liquid and nutrient uptake into the already saturated muscles.
Alpha-GPC
-The most bioavailable form of choline and great source of brain energy.
Sceletium Tortosum
-Clean and clear focus enhancement.
Huperzine A
-Laser like focus, sharp mind-muscle connection and no distractions, as if you were the only person in the gym.

Pump
Skin splitting during and long lasting after. Like nothing I have ever experienced before. You can touch and feel every muscle fibre under the skin, like solid and tight lengths of string.

Focus
There is only you and your workout. It's so clean and calm. Very relaxed feel and no grunter or screamer in the gym can distract you. It brings a whole new meaning/level/feel of the mind-muscle connection.

Energy
VasoMax is a non-stim pre-workout, so you don't expect any "kick" of energy. But something in this makes it feel like you can go on for hours. And the sweat literally poors off you, leaving lakes of sweat and soaking your clothes.

Taste/Mixability
Slightly grainier than previous versions, doesn't seem to comletely dissolve. It's not unpleasent to drink or anything and it still tastes great.
*Might be caused by the humidity during it's journey.

Price
At the higher end of the scale at nearly £2 per serving over here in the UK, but totally worth it.

Well ladies and gentlemen, PerforMax have perfected the perfect non-stim pre-workout! I cannot recommend the new VasoMax enough. The last version shot into my top three pre-workouts, this latest (Vaso6 version) has cemented it's place as number 1.