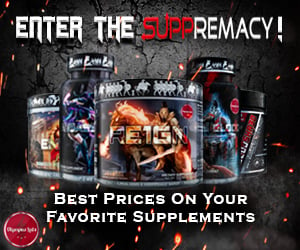 Manufacturer:
Black Lion Research
Rating:
4.64
out of 5 stars, based on
11
total reviews.
Read all 11 reviews
Submit New Review
5/5

Just finished running 8 weeks of Follidrone 2.0 while on a cut. All I can say is:
FD2 rocks! Combined with Exo - unbelievable!
I got to workout - was previously doing 4 days a week and upped it to 5 on this run because my recovery was on point - get stronger, eat well, and lose more than a lb a week - at the tail end of a 2.5 year "diet"! I actually was eating above maintenance most of the time!

The only con I found was that it took a day or 2 to get my carb timing and dosing right....but as I always say - if I could do it, it ain't rocket science!

Bottom line - solid supp that works beyond expectations. 13lbs fat loss in 8 weeks while staying strong. As usual - BLR did NOT disappoint!

http://anabolicminds.com/forum/suppl...-tank-blr.html

Great review brother thanks for running the log for us!!!!

BLACK LION RESEARCH
Innovation distinguishes between a leader and a follower.
-Steve Jobs

can I ask what macros/cals you ran this at? we are similar in size (according to numbers) and was thinking about giving this a try in october. Thanks brother

3 Month Review

So I implemented Rest Pause training around this time while eating maintenance for the 1st month. My strength was goes through the roof and body composition was noticeable to myself but not too much others for the first month. I started adding in calories then I just stopped counting and started eating, I gaining I believe 8lbs since then to now, weighted in at 171 this morning with no food in my stomach. Around this time I didn't gain too much strength but I was gaining size.

Close Grip Bench Press
195 for 11
205 for 12(today)

Squats: I stopped squatting for a little bit due to my quad being strained
205 for 16
255 for 9(today)

Deadlift: I did deficit deadlifts for a little bit but they actually brought my deadlift down probably due to lack of explosiveness plus my hamstrings had to adapt to adding squats in again
315 for 11
375 for 7 (today)

Started at 163.8(day 10 or FD2) to 171.2.

I will be getting this again in the future !

Wow really solid results bro. 8 lean lbs is alot to gain for a natural cycle.
Looks like the rest pause training and increased cals probaby played s role as well. Good work man. Doesnt matter what sups you take work still needs to be done to gain 8 lean lbs.

BLACK LION RESEARCH
Innovation distinguishes between a leader and a follower.
-Steve Jobs

Would anyone suggest this with another epicat product? It sucks not knowing the true mg of epi.. damn these blends lol



Everybody else that is selling epi products are immolators, not innovators.

BLR Products have an almost cult like following because they work.

And i know i am a Rep, but i was a BLR Customer 1st, and using the products made me a believer..!

VICIOUSLABS.NET REP
VL 10% Off Code: vujade10

5/5

I have been running Black Lion Research Follidrone 2.0 for 105 days now, I live to thank @brundel for the opportunity, I would also like to point out that although Black Lion Research gave me enough product to run 30 day I purchased the rest on my own dime, so that should tell you right off the bat that This Product Works !!


If you go back to post #23 in my log you can see the "Before" pic and the pic below is the after.

Attachment 138802

I started out my log at 191lbs and ended it at 187lbs a loss of 4lbs, but the pig thing here is I do believe not only did I lose boby fat but I gained muscle. My lats have grown over the course of this log and rear delts are also improved, I am leaner in the abs and more vascular. At 58 years old gains do come slower but you appreciate them just as much if not more!!

I would say Black Lion Research Follidrone 2.0 is a good supplement for most anyone trying to improve there physique in any way. Lose Fat Gain Muscle ... It's In There!!!

Link to log:
http://anabolicminds.com/forum/suppl...ocket-2-a.html

Thanks for the log my friend.
I would say your gains are impressive regardless but as you said it can be much harder over 40 to grow and in spite of this you made some considerable progress!
Looks for sure like you are leaner and bigger.

BLACK LION RESEARCH
Innovation distinguishes between a leader and a follower.
-Steve Jobs

5/5

I have used a lot of supplements but this supplement is so good that you could literally stop taking preworkouts, and recovery supplements because of how good this is. the pump,endurance,recovery, and fullness while using this product is 10/10. the more bottles you use the more intense everything gets and you feel the supplement each time you dose. i went through three bottle straight no break and it was the best i have felt in a long time. i recently had shoulder surgery and within 10 months I am almost back where i was before i was injured. this is a must try supplement no debate.

i am staying on for a while, i think i have been on since release - around 4+ months now and will probably have a break for 6 weeks when starting a cycle in the winter then go back on to increase effectiveness of anabolics. also i have lowered dosage to 3 caps per day and find it working well to keep strength levels reasonable, i have slightly less energy and strength overall due to running PSMF, i think this is day 18 of PSMF and only reduction has been 1-2 reps on my squats, everything else has remained the same.