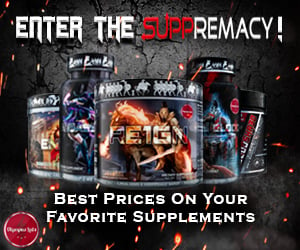 Manufacturer:
Black Lion Research
Rating:
4.75
out of 5 stars, based on
4
total reviews.
Read all 4 reviews
Submit New Review
Thank you @ Vujade, very much for your time and expertise.

I do have a couple more questions if you don't mine.

1st, if I decide to run the Letrone solo at one cap a day, what is the best way and time to take it.....on an empty stomach , before bed, after my first meal ?

2nd, if I decide to stack the Letrone with Viron at two caps a day , how would I take this.... together, am / pm, pre workout, on empty stomach, or w/food, ...with fats or carbs? I really want to be successful with this and since these two are new to me then I want to just try it for four weeks, to test the waters first. That's why all of the questions......any recommendations you give are welcomed, and thank you for your time.

Oh, It may or may not be helpful in helping me further, if you have my stats...... 44yrs, 5'9, 236lb , % of body fat , I don't know, so I will guess around 22-25%... I recently gained 26lbs since Dec 2015. I was nice and decently lean and now back injury and 26lbs later, UGH,..I need to get this off of me with minimal gym sessions do to my back. Thank you again.


no worries bro.

1. If only taking 1 cap, take it 1st thing in the morning either before or with breakfast. Thats when E2 is the most elevated.

2. Personally like taking Viron & Letrone 1 cap AM and 1 cap 1 hour before workout. I feel this is best way personally.

Good luck bro.. if you have any further questions. take them to the Letrone FAQ Thread. This is a Review Thread.

http://anabolicminds.com/forum/black...trone-faq.html

VICIOUSLABS.NET REP
VL 10% Off Code: vujade10

Thank you Vujade for your fast and honest response. I will take my future Letrone questions to the FAQ Thread. Thank you .

4/5

I ran Letrone last summer and kept a log of daily effects. Here are my results.

Dosage - 2 pills a day; 1 pill upon wake up (4am) and 1 pill at Noon.

Day 6 - Muscles started to have a pump all day long; minor vascularity increase in my shoulders

Day 7 - Sudden increase in aggression and energy. Not crazy aggression just more alpha male mentality.

Day 13 - Noticed muscle tightness and this increased from here on out.

Day 14 - More vascularity in my Bicep/Forearms.

Day 15 - More muscle tightness and the pumps appeared to be better all day long. My joints did start to hurt so I supplemented Curcumin to aid in this pain.

Day 20 - Appetite increase.

Overall a very successful run for 1 bottle. Once I finished the bottle I did notice my energy levels dip a bit, I do suffer from low test, so I could feel the difference. Great product!! I would rate this 4.5/5 if I could, only real issue was some dry joint pain. Not a big deal though, but one of best AI products I have used!

5/5
Been using it for at least 3 years. (Staple)
1 cap a day for 8 weeks does the trick for me. I usually stack it with Viron at 2 a day.
8 weeks on / 4+ weeks off.
2 bottles of Viron and 1 bottle of Letrone.

Pro God, Pro Gun, Pro Life.