I can attest to this Your Alpha Yohimbine is GTG !!
Thank you. I really appreciate that.
A lot of people really don't realize how great our Alpha Yohimbine caps are and how much different they are from regular Yohimbine. I'm glad that we got them back just in time for the Labor Day sale.
For anyone interested, SNS Alpha Yohimbine caps are normally only 24.99 for 90 caps; but with the Labor Day sale, you can use coupon code laborday30 and get them for only 17.49 per bottle.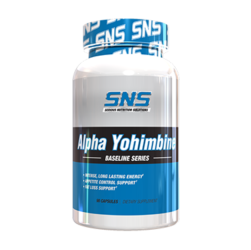 SNS Alpha Yohimbine contains Rauwolscine, a potent type of plant alkaloid that has become very popular in many energy and weight loss products because of its potential energy and fat loss benefits. SNS Alpha Yohimbine provides you this all-star ingredient at a great price that allows for...

seriousnutritionsolutions.com