AM Members,
We are proud to announce the release of our latest product –
EndoAmp
.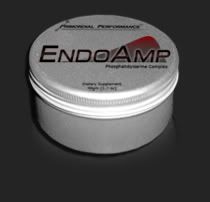 EndoAmp is a natural phospholipid complex, designed to amplify testosterone production and muscle growth by reducing the stress hormone cortisol. EndoAmp is a brown "nutty" tasting powd*er which can be taken by itself, or mixed with your favorite protein shake.
The main ingredient in EndoAmp that accomplishes this is Phosphatidylserine (PS). PS is a natural phospholipid which helps reduce the stress hormone cortisol. By suppressing cortisol, EndoAmp can "amplify" testosterone production by increasing the testes sensitivity to LH and FSH stimulation. This makes EndoAmp the perfect supplement to include with other testosterone boosting supplements, such as Sustain Alpha.
EndoAmp
can also enhance muscle growth by suppressing cortisol. By reducing the catabolic breakdown of muscle tissue, you can enhance the anabolic response and thus increase lean muscle mass. For more info, and full references, please visit the EndoAmp product info page -
A month's supply of 800mg/day of PS is only $47.99 – This makes EndoAmp one of the most affordable ways to supplement with PS compared to other capsule or pill based products.
Remember, with the coupon code "SPONSOR10" you can save 10% off your order. Plus if you order over $100 you get FREE 2-3 day shipping! (within the US only)
-Pp