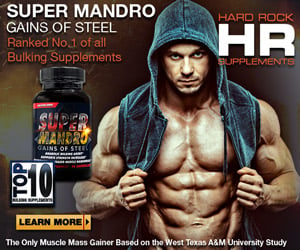 Manufacturer:
Iron Legion
Rating:
4
out of 5 stars, based on
1
total reviews.
Read all 1 reviews
Submit New Review
4/5

Positives
Best thing about this was the deep sleep. Only one time I took Invictus I didnít sleep like a baby.
Fat loss Ė Based off pictures and measurements, I did lose some fat. My weight starting was 234 post holiday and I stuck around 229/232 most of the run. I finished at 231lbs. My measurements were chest (+3/4), Belly Butoon (-1/4Ē) and waist (-3/4Ē). Really surprise by my chest and waist measurements. Both were kind of shocking as I didnít expect much change.
Reserve muscle mass Ė Since I didnít loose much weight this one is hard to gauge. I do feel like I leaned up in the shoulders and abs area quite a bit. Wish I had done a pre-flex picture.
Application Ė Super easy to apply. Dries fast.


Negatives/Non Factors
Smell Ė I am not a huge fan of the smell but now being a week later, I kind of miss it.
Immune system Ė I donít really think it had any effect on my immune system.
Inflammation Ė This didnít/t really have an affect on my foot. It still hurt due to the arthritis in it.
Libido Ė Luckily for me, during about 2 weeks of this run, my wife was giggity giggity. Though honestly, I didnít really notice me being hornier or anything like that.

Really no negatives.

I plan on taking this again as it seems pretty cost effective when on sale. Overall I am happy with my first transdermal run.

I just rubbed .5 into my right neck clavicle region with my wrist.
I just started today my 1st cycle of only 300mg test cyp per week with Inviticus added into it, so im excited to see how this turns out.

Will Inviticus mess with my insomnia @IconicForm. Because if so imma start taking the whole dropper at once around lunch, post workout. So should I be worried about the insomnia or NO?
Thanks

save 25% on all iron legion products like INVICTUS using code THEBIGT....

ICONIC FORMULATIONS REPRESENTATIVE

use code THEBIGT for 25% off




ICONIC FORMULATIONS REPRESENTATIVE

use code THEBIGT for 25% off

Inviticus is a great product, im not even half way through my 1st bottle and ive ordered a 2nd because I heard it's better ran at 2 bottle than just 1 and its taken so much bloat and puffiness from all around my body. So its pretty good stuff im only 2 weeks in today, good stuff good stuff

2 servings a day at .5 around my neck shoulder (clavical area). And a bottle lasts at that rate a month. And yes Ive ran it for 3 straight months.