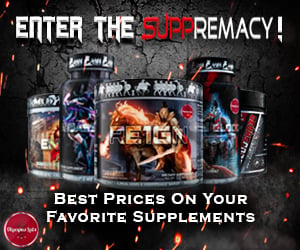 Manufacturer:
Controlled Labs
Rating:
4
out of 5 stars, based on
4
total reviews.
Read all 4 reviews
Submit New Review
4/5

White Flood Classic: Nostalgia Contest

Taste

Raspberry Lemonade Ė This is a spin off the OG Electric Lemonade. I personally had that and the watermelon when WF was first released, but I find this the best flavor of the bunch. The lemonade is subtle compared to the sweet and refreshing raspberry flavoring of the pre-workout. The lemonade packs a sweet aftertaste and the raspberry has a pure flavoring that gives you an exotic combination. Very refreshing and enjoyable as CL is very good with their flavoring.

Mixability

Just like all CL Products it mixes with ease. The powder is very fine and leaves no residue in your shaker cup. 10-15 shakes and this was totally dissolved in 8-10oz of water. Between PW, Green Mag, and their protein powders I have never had one issue in mixing any of their products. Even the OG White Flood mixed with ease when I did have it way back in the day.

Besides the massive prop blends here are a few things to look for:
BA @ 1.7g which is a half dose of BA For Performance/Endurance
Caffeine @ 250mg (Stim)
Theobromine (Nootropic for Focus)
Huperzine A (Nootropic for Focus)
COQ10 (Energy & Recovery)

Nice review. Ive cut stimulates , I took some gamer up which is 125 mgs caffeine , two grams l tyrosine and taurine, took it two days ago when I was scheduled to work earlier than i was used to. Ive got a tub of this in my supplement box. I like being off stimulates right now, for the most part

Millennium Sport Technologies Representative
www.millenniumsport.net
AMNOV50

4/5

Final Review:

Results: 4/5 Giving this a 5 star for the smooth clean energy it gives you. energy lasts for about 5-6 hrs.If you want a smooth energy with improved mind to muscle focus this is excellent. As far as Pump goes I have had better.
Mixes very easy!

Taste: 4/5 I think the Electric Lemonade flavor is pretty good! I mixed 1.5 scoops with Ice and 16oz of water.

Price: about $1 a serving is not bad.

Log: WHITE FLOOD FLASH BACK LOG

White Flood Classic

Final Review

Taste: 6/10
artificial tasting lemonade. Lotís of ice helps. It just doesn't taste "wow" good.

Mixability: 10/10
No issues and mixes with ease. No foam and no clumps.

Performance: 10/10
This is a hard hitter at 1 scoop, but to reap the benefits work your way up to 1.5 scoops.

Conclusion: 9/10
Like I mentioned the flavor is not good, but it is not bad at all. No chemical taste, just slight artificial taste but nothing negative. The performance on this bad boy is great! Never build up tolerance and hits me the same every time. Good clean energy, focus, and always gets me in the mood no matter how tired iíve been.

4/5

Just spent a month logging White Flood Classic.

Everyone can check out my wonderfully written sponsored log right here:
White Flood Classic Log

Product works as advertised. Great energy and focus, very clean feeling. On days I'm really humming I almost feel so dialed in that I have a cool feeling in my chest.

High quality Beta-Alanine too as one can tell immediately by the tingles.

The best advantage is the interest recovery, I've had multiple morning workouts marred and shortened by traffic that wouldn't have been more than a few sets but for White Flood.

You can definitely tell the difference between the nootropic loaded blend in white flood than the just 9 different names for caffeine and arginine you get in other pre workouts.

White Flood was one of the first supplements I found from posting on AM way back when I joined back in 2008. So that its back not only helps my workouts but helps me reilive my youth.

Taste is decent, not great, not bad, just a little of the supplement bite.

Definitely Recommmend.