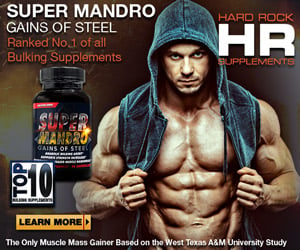 Manufacturer:
Muscle Research
Rating:
5
out of 5 stars, based on
1
total reviews.
Read all 1 reviews
Submit New Review
5/5

I was chosen to log this product and it was an excellent run easy to swallow caps no weird after taste i just followed the label 2 caps aday and reaped all the benefits kept/added strength cut down almost 4 lbs in 4 weeks but stood full best part was i had zero sides really enjoyed this run the caffine was a nice touch for energy boost i would rate this a 5/5 and i would definitely run again

Final Review of Katanadrol

Big Thanks to @muscleResearch for allowing me to run Katanadrol. Haven't heard from @muscleResearch so I am tagging @cheftepesh1 as I think he is a Mr. Supps reps and maybe @DemntedCowboy as well? When I ordered from Mr. Supps, I was able to get free shipping with the sales and fast processing/shipping. I would highly recommend Mr.Supps.

Took for 45 Days
First Two Week – 2 caps
Rest of the Time 3 caps.

Weight – 226 to 231
Measurements – Basically No Change

Positives
1. Strength Increased. I had Personal Records on Bench, Deadlift and Military Press since October. Thinking back, it could be even farther too, just can't find my journal. This could be the overall strongest I have been since I had my kid 18 months ago.
2. Muscles felt more full and pumped during workouts. Very surprised by the pumps during workouts.
3. Endurance was also raised but not like FD 2.0.
4. Didn't increase hunger

Negatives – Nothing major, just a few notes.
1. I did have a little lethargy. Nothing major, but I did have to push through a few workouts.
2. Libido – Seem to come and go. It would be non existent, then it would be fine for awhile.
3. Had some DOMS but not terrible


Sorry, I do not have after photos. Just with school starting back up and no memory on my wife's or my phones (Due to Baby Pictures ha), I just never took it. My wife thought I looked buffer upper body but not in my stomach. I also had a few people asked if I have been working out more at work. So I think Katanadrol did its job.

Would I take this again?
I honestly do not know. I would need to take another 1-Andro product to see how much of a difference 1-Andro actually does for me. Only taking 150 where the recommended dose is 300-400 I just wonder how I would fair with my strength increase and lethargy. Though my goal was to cut weight, I just didn't make it happen. I bet I could get back to 226 in 10 days pretty easily if I really focused. Dam Pregnant Wife though makes it hard!! Right now, I really think 1-Andro would be good for a bulk for me.

The cost of Katanadrol is a bit high at 69.99 which may throw a lot of people off. You can get it on sale for 59.99 at times or get it Bogo so it would be $35 a bottle then. The only way I would buy again is if it's the Bogo.


Thanks for following along @thebigt @DemntedCowboy @DK0313 @solidsnake @Wimsicle @LeanEngineer and especially @thorsdad31 for your words of encouragement throughout this log. It wasn't the busiest or the most fun like a lot of other logs, but I think it was short and to the point.

Hope this review is helpful and I would recommend Katanadrol if you have the funds and want a light cycle with minimal to no sides.