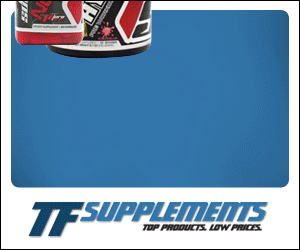 Manufacturer:
RXS
Rating:
4.54
out of 5 stars, based on
13
total reviews.
Read all 13 reviews
Submit New Review
5/5

Very strong product, while many may not agree with the prop blend this stuff packs a punch. The orange flavor reminds me of Orange Pez Candy. Mixes easy, and really gets you sweating a storm. Monte and company did a great job in making a good thermo/burner and giving you tons of energy and long lasting energy.

5/5

This is a great preworkout. Although it states to begin with half scoop, I decided to begin with one and remain with one. It's powerful to say the least and it's clean energy. No jitters. I don't normally use preworkouts because this one is legit. I even use it before work on days where I know I didn;t get enough sleep to push me through the day or get a boost end of shift to hit the gym after the graveyard shift. This will become a staple in my stash. The fat burning effects are on point. Along with proper exercise and clean diet, your bf will melt off but over time.

5/5


As others have mentioned, this product really packs a punch. If you are looking for something above average in the stimulant/thermogenic department...this is surely a top option. Particularly for a powder formulation.

First of all, the orange candy flavor is second to none. We are talking flavor quality that is on par with PES Alphamine. Very enjoyable to drink and settles well in the stomach, with no funky chemical aftertaste left in your mouth. The powder itself is very fine and does not seem like it will be one of those that will clump up or turn into a solid rock anytime soon. Mixes instantly, and I have not noticed any residue left over in my bottle after consumption.

Heightened focus, motivation, and enhanced mood kick in within 10 minutes or less. Thermogenic attributes are then felt within 30 minutes. At 3/4 scoop, I began to sweat as I was just walking around the house. This does contain an Alpha-Yohimbine extract and it certainly makes its presence known. If you are one that is not a Yohimbine fan...you may want to look for other options. This would be a great product taken before a cardio workout to take advantage of the extra drive and thermogenic qualities.

Overall, an impressive formula. I would only suggest to RXS that they offer an Yohimbine free option, and possibly make a similar product in a capsule version.

5/5

Very well conceived ingredient profile. This is definitely a case where the prop blend is present to ward off copycats and not hide anything. After half a shaker your metabolism and focus are on overdrive. Flavor is on oint even to where its hard not to drink more even though i hit a level of stim im happy at. Quality product from label to ingredient profile, flavor and quality of powder.

5/5

monte was generous and sent me some samples to try...they came in the afternoon and I had already used a pre-workout that morning-BUT I get sluggish in the afternoons so I used a sample pouch as an afternoon pickerupper. 1st off it tasted good, no issues. 2nd the energy was very good and nice and smooth, and lasted longer than usual for stims. 3rd it absolutely killed my appetite, one of the best hunger killers I can remember using....this is where it shined for me-APPETITE SUPPRESSION...next month when I do my summer cut I will be purchasing RADIATE to keep appetite in check.

5/5

Taste - RXS did an awesome job with the flavoring. Tastes great with only 8 oz of water even at a full scoop. It's not too sweet and doesn't have a nasty aftertaste.

Mixability - Mixing Radiate is a breeze. All it needs is a quick swirl and it's ready to drink. No residue whatsoever.

Energy - I was looking for a pre workout that would wake me up and get me motivated for my 6 am workout and Radiate does a great job doing this. I wake up at 5:30, chug it down, then walk my dog. By 5:45, when I get back in, I could feel the mental focus and alertness kick in. By the time I'm done stretching and foam rolling at 6, I'm fully energized and motivated to workout. Radiate has been providing me with long last clean energy that not over stimulating. At 1 scoop, I believe the energy lasted until like 11 am. At around lunch time, I mix ½ a scoop with 8 oz and only drink ½ of it for a midday pick me up. At 5:15 pm, I drink the other half to help me stay awake during my hour commute home. I usually start dozing off ¾ of the way but I'm able to stay alert all the way home.

Thermo - This definitely cranks up the heat. For me, it has always kicked in at the 30 minute mark. Halfway through my workout, I am drenched with sweat. Even 2 hours later , I still find myself sweating a bit.

Fatloss - No comment yet. I will be using half scoop in the morning and half throughout the day to see what it can do as a fat burner.

So far, I'm loving Radiate. Look forward to picking up a few more jars on the next sale.

5/5

Definitely a strong thermogenic. I use stims often as preworkouts so I started with a full scoop and it was just too strong. I now use half to 3/4 scoop and it's perfect. I had been using Bloodshr3d and Radiate is a step above.
Great appetite suppressing effects. Only been taking a few days so I can't say anything about fat loss, but I'm sure the appetite suppression will lead to fat loss.
Overall a great thermo and my new go to for fat loss.

4/5

Big thanks to @MonteCedillo for hooking me up with three sample packets! As a background, I am very stim tolerant. I started with half a packet (scoop) and didn't feel much. A light energy kick but that was about it. I ended up just mixing the remaining half with some Ergonine later in the day. When I bumped it up to one back (scoop), there was noticeable difference. Energy hit fast then quickly evened out. For me, it wasn't a punch in the face, but a nice little jolt. Once the energy subsided a bit I did experience a nice period of heightened focus. Maybe about 1-2 hours before it wore off.

In terms of fat burning, I obviously have no idea how good this will be based on three samples. However, it did get me sweating, which is a good sign. I am fairly sensitive to Alpha-Y and can definitely feel it. Not as strong as another product I've been using recently, but definitely there.

All in all, I enjoyed the samples. Oh, and it tastes like orange PEZ. I think for those who are not stim tolerant, this is a great choice. People that do handle stims well may have to exceed the recommended dosage to get a real kick, which I'm sure is not recommended.

I'll buy it pay shipping I love this product. How can we get this set up? I understand man some people don't like chocolate chip cookies either .


Firstly, I want to extend thanks to @MonteCedillo for the tub of Radiate he sent me over a month ago, and his incredible understanding because I was logging a product and could not permit my thoughts of that product interfere with this and vice versa. I think it was just one of the most generous and thoughtful things I have experienced in these forums by any manufacturer of a supplement.

I was so excited during that time, I created the top graphic that was going to prelude my review, and as time progressed, that tub on the counter kept calling to me because I was seeing all sorts of people leaving these (pardon the expression) radiant reviews. I for one loved PEZ the candy when I was a kid, and Orange? Call the press.

Well, my chance to taste the product the other day finally came, and I have to say, it has been a struggle to find the appropriate words to express how that initial tasting went over. The word I have to use is, it was bad. It tasted like medicine, and there was no expected orange flavor hit. I was entirely deflated. So, in my angst I was going through a litany of reasons. The product could just be spoiled or a bad batch, or I didn't mix it. That's it. I didn't mix it. I contacted Monte and expressed what the initial tasting was. I can only imagine how he felt reading my words. I'm not the person who wishes to say negative things.

He was amazing. He said, toss it in a bag, I'l send you a stamp in an envelope and send it back. I'll get you another one. That reply took him all of an hour at most I think. It really made me feel more relaxed and considering the weight one's words can have on a product review, I was set to send it out on Friday, and see what comes next.

The next day, I didn't waste any time however. I wanted a second opinion before having Monte run through the process of getting me a stamp and a new product. So, I had my wife taste it. At first her reply was, "It tastes sweet, artificial sweetener sweet, and that's it". This gave me pause in a good way. Maybe I didn't mix it correctly? No, I did, just as the directions stated. So, she took another sip at my request ,and then immediately after she looked at me and said. "Medicine". Ok, so it isn't my horrid taste buds messing with me.

I wasn't going to have Monte send me a stamp, and envelope etc. So, I put this on pause while I considered just sending the tub back to him to be replaced on my dime. It's the least I can do after he sent me a product not knowing whom he was sending it to, and that is generous enough.

In the mean time, I had traded another member a few items and he actually sent me a sample pack of Radiate! which took me completely by surprise. Now, I had the chance to try it again, before sending the product back. If this was the same, it's just what it is. I'm sharing my in depth thinking process. My only goal here is to be fair, and complete in my review.

Today, (Thursday) I opened the packet which measures to be one full scoop, measured the water carefully, mixed it for a minute vigorously and then sipped it with anticipation. This time it was sweet, a hint of orange, but there again was this strong medicinal taste. This to me wasn't the Orange PEZ flavor everyone was raving about.

This is my review.

Taste: 2.5/5
A score of one would be undrinkable, and this is most certainly not the case. I could use this product as I have had others which are effective in what they do, but taste medicinal. The problem is my expectations were not on par with what was in reality.

Effects: 4/5
I didn't feel much of anything regarding stimulation, and as for appetite suppressant, that would require a longer test which I cannot complete. Though it isn't a part of contention here, but I would have liked to see an open label in order to better asses what it was possibly that was causing my outcome, or in some cases a lack there of.

Mixing: 4/5
It mixed well enough.

Overall Rating: 3.5/5
It's just not for me. The flavor here was a big deal and I was disappointed and could not get past it. I would log the effects of the product further but it isn't something I would honestly want to take every day. I do understand some supplement ingredients are incredibly difficult to mask to taste.

5/5

I have used just about every stim in the book, supplements, pharmaceuticals, legal, illegal, etc.. I can say with certainty that this is THE best stim I have ever used. Its made IFing super easy. The feel on it is super smooth and motivated and there are no jitters or crash to speak of. The flavor is ok, I mix mine with lemon line bcaas so the end flavor is different from what other people get. Unless something new comes out and somehow beats this (unlikely in my mind) I will probably keep picking this up for thermogenic and stim purposes.

Gotta give some love to @The Myth and @MonteCedillo for my samples of Radiate. Was so excited after using them a that I ordered my own tub and I couldnt be happier. This is legit gentlemen, and I highly recommend it. It kills appetite, and literally gives you the focus of a Ninja on cocaine!!! Will definitely be purchasing again....and again

5/5

Taste: 5/5
Like drinking sweet kool aid.

Effects: 5/5
I like my stims pre workout and this stuff snuck up on me. my first does was one of the 5 free samples that came with my tub. WOW, Top of my head felt like the old upper days! it also lasts. took it at 5:00 PM at the gym by 6:00 and was staring at the ceiling till 1:00am. changed to 1/2 dose @ 4:00 much better for me. I sweat like a pig at the gym on this. and my Gym is cold. only been using it for a week but I like it. might try 3/4 scoop (if i can tell what 3/4 is the scoop is very small) there is alot of servings in a tube.

Mixing: 4/5
Mixes quick but you do get a little sediment on the bottom. not an issue for me because i just chug it.

Overall Rating: 5/5
easy to drink, small serving goes along way, and the thermo is spot on.
Warning dont mix it with a stim pre!

5/5

Wow man...I'll tell ya, this stuff creeps up in a hurry lol. Today was my first day trying it, took 1 scoop prior to cardio...man this stuff makes you sweat. Nice smooth energy and like others said, very much kills your appetite, no joke. I can feel the Alpha Y no doubt but it's not overbearing.

Mixes perfect and flavor is outstanding considering the amount of ingredients. Excellent job by RXS!

3/5

Honestly I had some high expectations for this product but it fell a little short for me. Its better than most I will tell you but its not quite a 4 star in my opinion.

Taste: I honestly wasn't all in love with the flavor at first but after a few days and working down to 4oz of water I made it work. Tossing the scoop straight back and chasing with water on my drive to the gym is actually the bees knees!

Scoop Size/Mixabiltiy: Very small scoop making packing a scoop at a time easy. Light particles left behind, simple swish and its not an issue what so ever. You dont need a blender ball at all.

Experience: I honestly did not get the same sweat response as I have been accustomed to. I didn't notice a change in body temp or a noticeable difference in my perspiration during sessions. I sweat quite a bit already so maybe it wasn't something I could see. The energy was very noticeable and I did enjoy that early mornings at work. I must say that the mood and energy went hand and hand. The appetite suppression wasn't quite as noticeable either. Mind you I am eating close to 4200 cals a day so theres plenty of food throughout.

Overall: Its honestly a 3.5/5. I would recommend starting with half a scoop still but with dosing twice a day I kept it at 2 levels scoops for the day. The Yohimbine isnt an ingredient ive found myself to like in the least and now I am more sure than ever. I was in a deficit and I did stick to my nutrition plan and managed to cut 5lbs over the month and strength is more than steady so there is plenty of promise here for many!