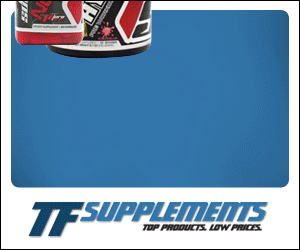 Manufacturer:
Vitalize Supplements
Rating:
5
out of 5 stars, based on
1
total reviews.
Read all 1 reviews
Submit New Review
The Review

Overall: 9.
The best overall aspect is the appetite suppression. In very few products do I actually see this. For me this worked the best. I lost a total of 6 pounds during this run. I did have bronchitis which helped.

Taste: 10 capsule so

Energy: 8 This is a lower stim product, but even mixed with other stims, it was light.

I would like to say thank you again for letting me run this product.

Mind and Muscle Code AM10 WWW.mindandmuscle.com
Muscle Research Code AM10 www.mrsupps.com
Iconic Formulations Code Chef www.iconicformulations.com

5/5

Effectiveness: 4.5/5 (The overall rating tool does not permit fractional percentages, maybe the admin could fix this?)

Taste: 5/5 Best tasting capsule ever!

Energy: 4/5 Clean energy, no crashing (slight when taking 3 caps, I had to try)

Price: 4/5 (It would be definitely a two bottle run for most of us, so I would look for potentiality of Buy 1 / 50% next), or even a BOGO offering.


Today is the last day dosing Thermogenesis, and it feels like it was just yesterday I started on this journey logging!

I have to say the finish was lack luster because of my being sick, and reconditioning due to shoulder issues, but that has no reflection on this product. Even after indulging in the holiday festivities (food) I was able to track myself to a minimum of weight gain.

I'd definitely run another bottle of this. As it turns out I have another but the wifey is going to be working on that one very soon, and I'm going to be venturing off into another cut to see if I can get to my goal of 200lbs.

Summary
-----------
This will have been my very first fat burner so I have little to go on in order to score other than my own observations, but no comparatives.

Like it's namesake, Thermogenesis is a thermogenic fat burner, which based on my cursory research, prevents the build up and deposit of extra fat in the body. This makes them the safest, energy enhancement fat burners. Coupled with an exercise regime and proper diet can yield great results rather quickly.

In my experience with Thermogenesis I had concerns about it being overly stimmed up, which was quickly proven to be untrue. I was quickly made aware after a few doses how this supplement gave me clean energy without jitters, and only had a crash once or twice, but that was my fault in dosing. I think the recommended daily dosage of 2 caps is right on the money. (I took 3 caps, in two instances) When one is testing a product it sometimes helps to see what it can and cannot do.

Thanks to @Brandinooooo @smith_69 and @VitalizeSupps for the opportunity to try out this great supplement! If it's performance is indicative of the rest of your line of products to come, you are on top of something very special.