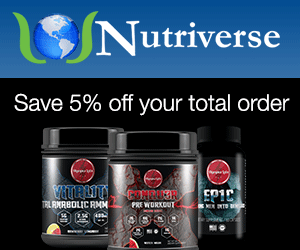 Manufacturer:
Black Lion Research
Rating:
5
out of 5 stars, based on
8
total reviews.
Read all 8 reviews
Submit New Review

The new ingredient we will be testing soon could be used in the pre so...we will be testing it with the rest of the current pre ingredients.
The anabolic is close. I just have a ton on my plate. It takes a long time i realize but.....you guys get unique, innovative products as a result.
I just dont want to release a product that isnt a step forward.

BLACK LION RESEARCH Take your own path-

5/5

whatsup guys, its Sameer again. i don't make many posts on here considering the first time everyone thought i was using ostarine laced with PHs cause of my results lol. But i made a video on Follidrone 2.0 because with all of the rave their is about it as a natural anabolic, i couldn't find any videos reviewing it. Huge props to black lion research and if you guys were interested in purchasing the product and wanted to know more i think my video would be really helpful to you guys. BTW i'm in no way affiliated with this company as i'm always trying out new products. if you guys have any questions feel free to comment on the video and feel free to check out my previous video on my ostarine experience. I'd greatly appreciated if you guys liked and subscribed too, thanks!

in the youtube search bar look up- sameer saeed follidrone 2.0 review

np man, I've experimented with lots of products because of reviews i've watched but for some reason there are none about follidrone 2.0 but other lesser quality epi supps.


Keeping in mind that we were the first ever to have an epicatechin product you must realize that any epi only product is a Follidrone clone. There are a TON of them. There was even follidrex for a while. Shameless. At the end of the day Follidrone 2.0 is much more than just epicatechin. I think FD2 is the strongest natural anabolic available currently. This is why real reviews like yours are so important. It helps the community see real reviews not just my words.
Thanks again.

BLACK LION RESEARCH Take your own path-

I am genuinely curious what ingredient in Folli 2.0 is cause for increased libido and erections. Since starting, it is very noticeable and welcome, but was not expected based on research of the ingredients. I read others having the same experience. Perhaps the increased blood flow from Ecklonia Cava extract?

In any case, I am very happy with the endurance benefits and the above mentioned and it has only been a little over 2 weeks.

@brundel I just got 2 bottles with the new label... just letting you know they aren't sealed. No plastic over the cap or that vacuum seal thing. Nothing.

It kinda threw me off in all honesty.

Has anyone used this during a cut ? The last time I ran this was after shoulder surgery to get my strength back and it worked like a charm. What would you suggest in a deficit?

http://anabolicminds.com/forum/supplement-reviews-logs/262422-mst-ragnorok-elite.html Mst Ragnorok Elite log



Check out the supplement t deals section for our 2017 Arnold sale, good for 2 more days!

@jameschoi

www.NUTRI-VERSE.com
AM5 saves 5% storewide!

Ordered 2 bottles of Follidrone 2.0 and the inner seal seems to have unglued itself and no plastic tamper seal in the bottle. Is this a Nutriverse thing or BLR?

Current Log: http://anabolicminds.com/forum/workout-logs/277069-new-year-new.html#post5232295

Brundel has stated that with the new labels the first couple batches of this and nootral will come unsealed. He said not to be concerned

SERIOUS NUTRITION SOLUTIONS REPRESENTATIVE


I have heard that quercetin can raise test levels. Im not sure how so I would have to validate and it doesnt seem likely since your on HRT but who knows. Normal Quercetin is only absorbed at about 1-2%. Ours is absorbed at about 70% so all things considered this is for sure the highest dose of quercetin in any product currently. Dose availability taken into account.

BLACK LION RESEARCH Take your own path-




BLACK LION RESEARCH Take your own path-

Yah. The very first batch with new labels of Nootrol and Follidrone went without seals. They are intended to have a holographic seal on the cap.
The bottles without are all fine. They are literally a week or so old. Nobody tampered with them or anything. Just had to get product to you guys.
Basically, everyone who is mentioning this would still not have product!
So I made a call to send out a small amount without.
They are all fine.
Also by now the product shipping out from all sources will have seals. Only about 100 went out this way.

BLACK LION RESEARCH Take your own path-



I think for now I dont know how strong it will end up being. We are exploring new anabolic parhways that I honestly dont know how powerful they could be.
So far 2 of the ingredients are pretty solid but the backbone is still in early phase testing. We are working on figuring out what the actives are in a specific plant and how best to extract it.
Once we get a solid standardized test batch ill know more. Tedious process but...I dont want to give you guys anything but rock solid products.

BLACK LION RESEARCH Take your own path-

I'll be posting up a review, but I do plan to continue on a 12 week run of FD2. I am pretty blown away with the effectiveness and want to see what is possible. I wish I took before pics now.