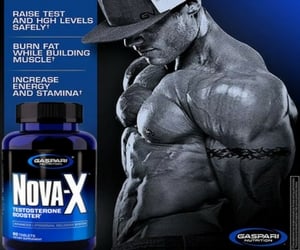 Manufacturer:
Black Lion Research
Rating:
5
out of 5 stars, based on
7
total reviews.
Read all 7 reviews
Submit New Review
5/5

I've been running Follidrone 2.0 for around 5 months and having the greatest results of my lifting career. I keep recommending to my friends and we altogether ordered more than 30 bottles!

My first few days on FD2 were pretty bad because of getting severe headaches caused by hypoglycemia but later on I was able to train fasted with FD2 and alpha-yohimbine in the system.

______________________________ ______________________________ ______________________________ _____

Noticed effects from me and my friends:

- increased sweating
- increased strength
- increased endurance
- increased glycogen storages (muscle fullness)
- increased musle mass
- I feel like it also increased the capacity to tolerate hydrogen ionts (lactic acid) during lactic anaerobic activities
- sick pumps when dosed with carbs pre-workout or when training with "full' glycogen stores
- people comment on my physique and ask me what I am on

- in the begining I would feel both golfer's elbows (I used to "suffer" from those a year ago), everything is good now
______________________________ ______________________________ ______________________________ _____

Let me tell you about my and my sparing's progression curve. It usually goes rapidly up and then you hit a plateau. What plateau my friend ? I feel like we both are making those gains and keep hitting PR's every week. I used FD2 for both dieting and "bulking". I didn't lose any strength during my cut. For instance I would do bench press 5 sets for 8 reps with 2min rest with 90kg. After 10 weeks I went from 88.6kg to 95kg bodyweight and we now perform "same" bench press sets with 105kg. Squats went from 8 rep max with 100kg to 130kg. But I didn't train legs more than once a week because of cycling a lot during summer.

My advice would be if you plan on using FD2 do so with EATING. It's not bad for a cut but it shines at caloric surplus.

BLR thank you for an awesome product!

I will always have a bottle of Follidrone 2.0 on hand.

Vein Nutrition - Premium Bodybuilding Supplements - Lead Forum Rep
http://www.veinnutrition.com -- 10% off code: JUST410
Instagram: @veinnutrition Questions?

@BorisF
Great review brother. Those gains are insane! (approx 14lbs) is a legit gain for pretty much anything.
Like Ive been telling people....eat eat eat and the "anabolic" side of FD2 will really shine through.
Thanks for taking the time to write a detailed review
Thanks for suggesting it to people you know
and thanks for the support. Its reviews like this that really inspire me to continue to do what Im doing.

BLACK LION RESEARCH Take your own path-

5/5

This is my 3rd. order for Follidrone 2.0
This is the BEST Natural supplement I have ever take in my 35 years of weight training.
Previous uses (8 weeks) I average a 2% drop in body fat and gained 2 pounds on a semi clean diet at best and of course hitting the gym.

There are 3 guys at the gym wanted to know what supplement I was taking.
all 3 have done 8 weeks a love it.

5 months of FD2 @ age 49 and its on par with a 10-15mg Osta run I would say plus tons of other benefits like less pain or higher tolerance I don't know, incredible endurance, skin / hair is positively affected - my hair is growing like wild fire. Boners in the AM and some random boners like a frigin 18 yr old. It gets better the longer you take it. Its a wicked GDA too. I was using 3-6 caps a day. It will be a staple until BLR makes it better - when i am not running anything stronger.


It makes me proud to hear Follidrone 2 so often compared to SARMs and PHs. Making a legit natural anabolic is exceptionally hard. Plus on top of Follidrone being anabolic and burning fat it has so many other benefits some of which you mentioned.
I just started taking it again and I dont plan on ever stopping.

BLACK LION RESEARCH Take your own path-

I have one bottle that I plan on cracking first thing for the new year.... should I expect anything with only one bottle, lol... most likely will have to invest in at least 2-4 more. Sounds like using this product continuously for months is best route.




BLACK LION RESEARCH Take your own path-

Somewhere during the 2nd bottle of FD 2 you'll notice some major morning wood. Seriously, it is definitely a pump product in more ways than one.


Others take 2 caps, empty stomach and go train with 0 issues.
Youll have to feel it out bro.
Try 1 cap, empty stomach and see how you do, Maybe bring some gatorade incase you feel dizzy or off.
If all is well you can take before training on empty stomach.

I recommend at least 1 cap pre training but 2 is even better.
But as long as you get the 3 caps per day in youll see the effects of the product.

We just like the acute effects of the quercetin/niacin, epicatechin and ecklonia which all have great acute effects.

BLACK LION RESEARCH Take your own path-

i run folidrolone with alpha xt + super strength laxogenin and sns-x gel and i feel ****ing legendery

I'm very excited to read these reviews as I just got a bottle of FD2. As one of the original testers and users of OG Folli, I know how well that product worked. Starting another round of PHAT and my FD2 today.

Brundel are you providing any Follidrone 2.0 for logs these days? I recently purchased a bottle myself to give it a shot but I have been reading many logs and 8 weeks seems to be the way to go plus I might even want to try a larger dosage than 3/day. I am an ex PH and steroid user (ended up quitting cause side effects were not worth it in my opinion) so I can actually compare it to something people hold as the anabolic standard. Depending on how this bottle goes I might log the results anyways but I would definitely take it upon myself to test out the results and give a good comparison if I could get a second bottle from you (Id get a 3rd myself to be able to do 5 caps/day for 54 days). Additionally my training protocol is very different than most people so I might be able to give you some cool facts that others missed (I do bikram yoga 3 to 4 times a week for 60mins each session which is an incredibly challenging aerobic/anaerobic and mental challenge and 1 to 2 heavy upper body gym days a week).

My main goals with this log would be to improve my recovery time, improve my endurance, improve vascularity and shred as much fat as possible while maintaining muscle mass or maybe even gain some (I actually have been recomping for the past 4 months after I returned to working out from a 2 year hiatus brought upon by injuries stemming from steroid cycles and irresponsible lifting).

Let me know if this is something you would be interested in. Either ways this looks like a very promising supplement from what I can tell and I am excited to see the results!