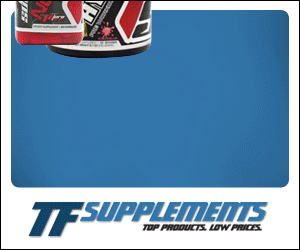 Ep1c Unleashed TD (120 ml)
Manufacturer:
Olympus Labs
Rating:
5
out of 5 stars, based on
5
total reviews.
Read all 5 reviews
Submit New Review
Ep1c Unleashed TD (120 ml)
5/5

I was lucky enough to be picked to to alpha and beta test the new version of Ep1c. I was wondering when a company would come out with a TD version of this supplement. This TD version worked a lot better than the oral version for me and enhanced the leaning effects that are already present in (-)epi. I recommend applying this to the abs area as I noticed more leaning when applied in this manor. I also noticed enhanced recovery as well as some strength gains. This is truly a novel product that cant wait to try again.

5/5

I've used EP1C before and it is good but EP1C Unleashed is an whole different animal!
Starting using this last week and amazing how much my endurance has increased. Even with a tough workout I can push myself further and harder than ever before.
Right now I am dosing EP1C Transdermal one pump each morning and then using 2 caps pre workout only on workout days.
This will definitely stay as one of my base supplements that I use regularly.

5/5

This is more of a 4.5/5 product for me, but you can only give 4 or 5 stars, so I decided to round up after all.

I jumped on a TD promo, and I'm glad I did (I even won a prize after ordering from NutraPlanet: Vital1ty, Wicked Melon; much appreciated guys!). The price was really good. Ep1c Unleashed can be used without any fear of side effects. I used one bottle... wish I had two, but that's alright. I think I can write a fair review after using it for 30 days.

The TD version did not make me huge or extremely muscular. It did not give me crazy pumps in the gym. What it did do is make my workouts much more enjoyable - the energy I had was astounding. So much so, that I am inclined to call this an "endurance product". It reduced fatigue and it also reduced the rest time between sets. My body was itching to do the next set. I almost had to restrain myself here and there to avoid potential injury.

I used one full pump in the morning and one in the evening, every day, even when I did not work out. I have a feeling it helped me recover more quickly, and it kept me fairly lean on a slow 30-day bulk. I don't think it has any real local fat burning properties though. There are other products containing yohimbe and similar compounds for that.

So, why 4.5 instead of 5? It was too runny for my taste. I like the concept of transdermal suplements, but the only way for me to apply this was to squirt one pump on my upper chest and then quickly rub it in with my wrists. Otherwise, it can be a mess. The pump stopped working properly after three weeks and I had to squeeze it three times to get those 2ml. Overall, it's a minor problem with a natural product such as this, but the bottle/pump could be improved. I'd almost prefer a shallow 120ml bottle with a 2ml syringe included with it.

Ep1c Unleashed TD has a consistency of black tea sweetened with a lot of brown sugar and/or honey and that's also how it smells, pretty much. Some people might find it unusual, but it did not bother me in the least.

Overall, that was a nice run. I might use this two-three times per year. I plan to use 1-Andro soon, and this might have its place in a PCT. In fact, this is a product that works for pretty much every goal: bulk, cut or recomp. It would probably work for a calisthenics or cardio enthusiast. Women can use it safely too. Can't go wrong with a quality -epi product, in my opinion: you should probably try it at least once, see what it can do for you!

nothing to done! the bottle / pump is excellent. much better than others previously used. certainly very easy and handy to use !!!!

This might be my all time favorite Olympus Labs product, a close second would be DermaTren. So here goes, first off I rate this product a 5/5 hands down, my experience at the gym on this stuff has to only be compared to running straight gear, I mean no prohormone could even compare to how I feel on the gym once I put this stuff on my skin. I learned the stuff is sticky and if you don't wash your hands the debris from the barbells, dumbbells will get all over your hands. The vascularity on this stuff is even more incredible than OTC product I have ever ran, Niacin would only give me as much vascularity as this stuff does and I use very high doses of the stuff (1500mg). Get your hands on this stuff, no joke one of the best....

5/5

I want to start by echoing a previous review that this is more of an endurance product rather than a muscle-building product (my experience). This really comes as no surprise given the myriad of benefits that (-)epicatechin provides, specifically those related to blood flow.

So I picked up a bottle of the TD version last year when it was first unleashed (yeah I went there) on the world. About a week into the run (1 pump rest days, 2 pumps workout days) I noticed a somewhat sudden and tremendous endurance boost that turned my gym session into a nearly nonstop circuit training routine. As soon as I finished up a set I felt like I was ready to go again ~30 seconds later, and I usually did. Time between sets dropped like a rock, number of sets went up, and number of exercises per session went up. This endurance boost carried over into my running as well and was maintained for the remainder of the bottle. Truly felt superhuman for a brief span there. At the time this was very unexpected for me, though very welcomed, as this was marketed as a muscle-building supplement due to its myostatin inhibiting properties (still not sold on this property translating to real-world muscle building). However, the crazy stamina boost most definitely aided, somewhat indirectly, in building strength and muscle because of the extra reps/sets and intensity I was fitting in to my routine. As much as I enjoyed the run the price made it prohibitive for me to continue using as a staple supplement, though it had definitely earned a place in my "will use again" bag of supps. A week or so later I was back to my normal non-superhuman training sessions (note: I tried VERY hard to keep up the fast-paced training but was unable to do so without quickly tiring myself, placebo effect be damned).

Fast forward to today where I am once again 1 week in to a bottle of TD EP1C Unleashed (picked up quite a few bottles during the AWESOME sale Olympus Labs put on at the end of December - thanks OL!), and once again the endurance boost shows up and hits me like a TRUCK. Seriously had an incredible workout this morning - went in to do deadlifts and traps, ended up doing deadlifts and a FULL back&bi's routine...then felt good enough to run a quick 5k an hour later. Glad I stocked up this stuff :)

Worth noting is that the bottle I had last year was VERY runny, almost like water, which made it kind of annoying to apply. They seem to have corrected this as it now a much better consistency. Still smells good and dries just as quickly.

TD EP1C Unleashed is the real deal and absolutely blows away the previous epicatechin supplements I have tried in the past. Olympus Labs has a real winner here, one of the very few supplements I've tried over the years that actually has a noticeable effect. I have two bottles of the capped version that I am looking forward to trying as well; hoping they are as effective as the TD.

Major props to OL for creating such a fantastic product. Please don't ever change it!!

5/5

I did run epic unleash TD an oral for the last two months. Extra good for endurance and pump and with the anti inflammatory effect of epic my old injury seem to fell better to. Great product that help me recomp a bit, with crazy endurance and pump. Got 4 bottles in the stash and I am excited about the upcoming reformulated version!