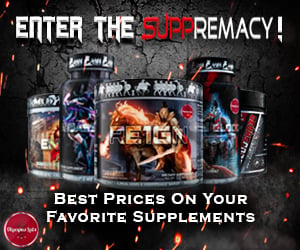 Manufacturer:
Controlled Labs
Rating:
4.4
out of 5 stars, based on
5
total reviews.
Read all 5 reviews
Submit New Review
4/5

I was fortunate enough to receive a sample tub of each of the 3 flavors and so a great big THANK YOU goes out to the folks at CL!
First off, all three flavors were a very fine powder. Not clumpy or thick. They all mixed very well in milk (only way I drink protein). There really isn't much mixing required.
Taste:
Orange cream pop- This one surprised me at how much I would like it! Might have had just a little too much sweetener in it but it was very tastey.

Cinnamon bun- Again, a little too sweet but oh so tasty!! There was another company that had this flavor a few years back that I really enjoyed until they cheapened their protein. I was hoping this would taste as good as that one. CL delivered and it's even better!!

Snickerdoodle- Too sweet as well but still right on point for flavor!

I let my wife, daughter and dad all try these flavors and they all thought they were all very good tasting! My wife who is more of a critic, was surprised at how much she liked them and that's saying a lot! Way to go CL!!

haha I know what you're talking about with the wife! Mine absolutely hates protein powder but she tried Orange Cream Pop and was actually a fan

Was excited to receive a tub each of the 3 serving ProMore flavors, thanks Sean!

Not as thick as what I recall the PROnom being, but a solid blend of proteins, mixes great, no clumps and each have a creaminess to them, very impressed.

Orange cream flavor, was extremely excited to see this in the lineup and it didn't disappoint...even in water was great also tossed one into 8oz of plain greek yogurt and was even better.

Cinnamon bun: heavy cinnamon/frosting taste, nicely done, needed to have tried this in some greek yogurt but didn't get a chance before using it up.

Snickerdoodle: good, but somewhat a bit too sweet for my taste


Would love to see these being offered in a larger size, esp the Orange, that next to banana are probably my fav flavors in a protein.

Thanks again Sean/CL

First off, I want to say thank you to Sean and CL for sending me all three flavors to try! Every product i have tried of theirs has been great! I also enjoy their Gym Angel line! Always great quality products!!

The orange cream pop was by far my favorite! It really surprised me too! I'm not usually a fan of orange but I would order a large tub if they ever decided to offer it! It's just that good! It was spot on with the name-Orange cream pop!

The snickerdoodle was my second fav. Nice creamy, cinnamon taste!

The cinnamon bun was good as well but not my favorite flavor. A little too much artificial taste but other than that its really good.

They all mixed up very well. I even made pancakes out of the cinnamon bun and snickerdoodle!

Thanks again!

The Lord is the everlasting God, the Creator of the ends of the earth. He will not grow tired or weary, and his understanding no one can fathom. He gives strength to the weary and increases the power of the weak. Isaiah 40:28b-29

I was lucky enough to receive the 3 flavor sad well, and I have a lot of the same thoughts as others. All 3 are extremely fine powders, and they mix excellently(and bake well too, although I had very limited experience here).

Orange cream-solid in water, but honestly like a legit Orange cream pop in milk. Really a pretty novel, and risky flavor IMO, that they nailed. Very delicious.

Snickerdoodle-slightly sweeter and more cinnamon taste than other snickerdoodles, but still a great tasting flavor. Also made some snickerdoodle cookies with this that came out good. Once again, decent in water, but awesome in milk. I have yet to like a protein more in milk, so this is normal for me.

Cinnabon-I loved this one. This is the first one to actually capture the frosting. Every other one I have tried is like the breading only(which is still good), but this one had the frosting. Very good.

Every one of these flavors is wouldbuy/10. Controlled Labs really impressed me here.

Thanks for the chance to try these Sean, and thank you Controlled Labs for making these.

You can feel free to make some 2lbers

Training Log
http://anabolicminds.com/forum/workout-logs/271254-what-aw-hell.html
"Jackie Treehorn treats objects like woman man."

4/5

Frosted Cinnamon Bun was exactly as labeled. The best cinnamon roll flavor I have had is UP 2.0. Controlled labs did a good job making a more macro friendly version of that flavor. Right away you are present with a strong and luscious cinnamon bun flavor that has a subtle cinnamon aftertaste to it. When you combine a cinnamon bun you are lured in by the thick amounts of icing and buttery crust. This seemed to be the lacking aspect on this flavor. While the cinnamon bun and roll combination is on point the amount of icing in the aftertaste could be stronger. The buttery richness of a cinnamon bun did lack but was present.

First and foremost a big thanks to @Sean1332 and the CL Team!!!

INITIAL THOUGHTS:
Upon opening the tub, the product smells a lot like the other cinnamon roll / cinnabun products (very similar to Dymatize Cinnabun). Buttery frosting at it's best!

TASTE: 10/10
This stuff is amazing. a LONG time ago I had the XF 2.0 CR flavor and loved it, then I tried a coupld of others that were meh. I LOVED the Dymatize Cinnabun, and this one is right up there with that one. Mixed with water and it tastes just like the milk that is leftover in a bowl of CTC. Mixed with milk/almond milk and........life-changing! The milk really draws out the buttery frosting in the flavoring of this product.

MIXABILITY: 10/10
Did the "Spoon Test" in a glass of 8oz of water and VERY minimal clumping, but I also left it for about a minute before I mixed it up. In a shaker this stuff mixes up flawlessly.

PROFILE: 10/10
F - 1g
C - 7g
P - 23g

With a profile like this it is very comparible to the other on the market. MTS Machine Whey is one of my absolute favorites and the CL ProMore holds it's own. I really like that it is a blend as well. Seems like a lot companies these days have ditched the "blended proteins".

COST: 10/10
This stuff is very cost effective. At 48.99 (current BB.com price) that brings each serving of protein to $0.89 which is very good these days. ALSO on BB.com right now they are running a promo for BOGO 50% for the 4lbers which brings this in at 110 servings (1 flavor or 2) for about $73.49 - that makes this stuff 0.66 per serving!!!!

$0.66 per serving!!!!

OVERALL: 10/10[/b]
I would absolutely recommend this product for anyone looking out for a new flavor of protein, or to take over as their go to for Cinnamon Roll flavor.

Great work Controlled Labs Team!!!!

5/5

I received a 55 serving tub of Frosted Cinnamon Bun as part of a company promotion, for me to provide a review.

Upon first Glance I really like this profile, this is a very clean protein source, with only 1g of fat per serving, less than 1g of sugar, 7g of carbohydrates and 23g of protein. Each serving is 125 calories. This profile is very nice for a blend. I think the low fat and sugar aspect is a plus. Depending on your diet this is a great supplement for your protein needs. The only drawback I see is the 7g of carbs per serving, personally I run keto based diets on and off. Although this is not particularly a lot, if I were to have 2 or 3 scoops throughout the day this would simply be too much. I do not feel this is a major factor to prevent me from using it, but I need to mention it.

I have been using this product for around 2 weeks now. Iíve made a handful of protein and oatmeal, 2 scoops with a good portion of oats, as well as making around 10 protein and water shakes, 2 scoops with approximately 12oz of water. The shakes mixed incredible well, the powder is very fine and only takes a few good shakes. The texture is not very thick, and easy to drink. The taste is great. Easily a 9 out of 10. I personally do not like these types of flavors for protein all the time, but during cravings for sweets, this would be perfect. I think they nailed this flavor, it tastes just like a frosted cinnamon bun. The protein and oatmeal was really good as well. As a side dish at breakfast this was perfect. One of the days I made this I sprinkled cinnamon powder on top and it was even better.

All in all this is one of the best tasting proteins Iíve had yet. Right on the top of my list with my other favorites.

4/5

I received 3 of the three serving containers to try out and review and as soon as the 4lbers were released I GRABBED them cause I missed out of the og version of this protein so I wasn't gonna have that happen again. I've been plowing through these containers and loving it.
Ingredient profile - Multi blend where whey protein looks to be the dominant form of protein but you do have milk isolate, micellar casein,and calcium caseinate included in the profile and these add a little more thickness to the protein when used in a shake.
Mix Ability- The powder of all three flavors mix exactly the same when used in a shake and combined with 6-8oz of cold water in a shaker cup. You will get a little foam from each flavor but it settles pretty quickly and they mix up with NO clumping or floating particles.
Orange Cream Pop- This has a strong sweet orange flavor kind of what you would get from the out side of an orange creamsicle bar but the cream flavor is very light so orange is definitely the flavor you get and it's a DELICIOUS orange flavor. Comparing this to a couple of other orange flavored proteins that I've had such as Dymatize Fusion7 and MP Combat they both had more of a cream flavor and were lighter on the orange flavor and both were very good but I'm really enjoying the stronger orange flavor that CL Promore delivers.
Frosted Cinnamon Bun - This has a sweet cinnamon flavor without being too sweet where it can become a little overwhelming and sometimes when it's too sweet it has a bitter flavor to it but this didn't have it. The flavor didn't exactly capture a bun flavor but more of a powdered cinnamon sugar flavor which for me was fantastic combined in oats, yogurt,cottage cheese, and all types of cooked and baked goods in the kitchen. I've gone through a bunch of very good cinnamon based proteins such as AI Sports,Cellucor,BSN, Dymatize, and this for me was completely different in flavor from the brands I mentioned so it definitely ranks as one of the better ones on my list of cinnamon proteins and I will continue to buy and recommend this one in the future.
Snicker Doodle Cookie- This one I compared to PES's Snicker Doodle which I thought was a good flavor BUT for me it was a bit too sweet and I got more of a bitter aftertaste from it. This CL Snicker Doodle Cookie didn't really capture that same flavor that PES di and their version is more like a spiced cookie flavor which honestly I LOVE cause I really enjoy spices such as ginger,nutmeg,allspice,and cinnamon and this is what I tasted in this flavor which made it very enjoyable for me.
Overall 4.4/5 - I highly recommend giving this protein a try and I really don't see anyone not liking either the Orange Cream Pop or the Frosted Cinnamon Bun and if your like me and you like the spices that I mentioned then Snicker Doodle Cookie is another must have and if CL has plans for any other flavors to come out in the future I hope they will be as good as these 3 flavors of ProMore that will keep me coming back for MORE!!!

5/5

Thanks to the generous guys at controlled labs, I was selected to try out the new PROmore protein that they have just released. Originally we were going to try all 3 flavors but a mix up landed me a 4lb tub of frosted cinnamon bun instead of 3 3 serving tubs! Thanks warehouse guys.

For my first go with the frosted cinnamon bun, I went to my daily go-to which is making ice cream. Recipe is painfully simple:
1c fat free plain Greek yogurt
2c unsweetened vanilla cashew milk
1/2c water
2sc protein of choice (obviously PROmore here)

Mix ability: very good. I add in the powder last and whisk the whole mix until it's as smooth as possible. Many blend proteins leave quite a few chunks floating but PROmore had very few and the ones that were there were tiny. They were totally gone by the one the finished product was there too so I have to say this is on of the better mixing blends I've used. 9/10

Thickness: this is a big aspect for me as I don't use and "thick" or "creamy" ingredients. Blends always work far better for my type of ice cream vs whey which can get much more icy. PROmore was spectacular in this aspect, making one of the richer, creamier mixes I've ever had. I was thoroughly impressed. 10/10

Taste: one of the biggest aspects of any powder nowadays. I personally am a huge advocate for STRONG flavors. If I have to use 10oz of liquid or less, or in my ice cream it comes out bland, I consider that a waste of money and won't buy again.
PROmore frosted cinnamon roll was one of the strongest flavored and sweetest I've had. I rank Select Snickerdoodle as the strongest all-time, and this was right up there with it. The sweetness of the "frosting" really came through for me and the cinnamon was much more subtle. I felt this made for a much more "cinnamon bun" flavor compared to snickerdoodle or just a heavy cinnamon. The overall taste is that of a heavily frosted, creamy, gooey bun, fresh out of the oven. I was incredibly impressed and absolutely loved this.

To compare, I also have AI Whey cinnamon roll (which I and many considered top of the line as far as bun/roll flavors go) so I made a shake of that as well to try them side by side. For me, the PROmore wins by a landslide in flavor strength, thickness, and just edges it out in overall taste.

This is easily my new favorite cinnamon bun/roll flavor on the market. All of the aspects from thickness to sweetness exceeded my expectations and I am thrilled to have gotten 4lb instead of 3 servings ha! 10/10

Profile: at 125cals/srv and 23g of protein you're looking at a pretty standard profile (on the low caloric end which I really like). We all know CL is good to go as far as quality so I have no question there. The blend of proteins is a personal favorite of mine as I enjoy the "mouth feel" aspects of blends far more than whey alone. Effects should also be slightly better, but obviously only by small margins.

Overall consensus: Must-have for any cinnamon bun/roll lover. This is my new go-to in that category and I am thrilled at how it turned out. Even more so I am now eager to try out the other flavors as this was so good. One of the best on the market these days and froma trusted brand means this will be a staple in my (too big) stash!
Similar Forum Threads
By OCCFan023 in forum Weight Loss

Replies:

6

Last Post:

02-27-2006,

02:53 PM

By Moyer in forum Nutraplanet

Replies:

0

Last Post:

12-01-2005,

07:33 PM