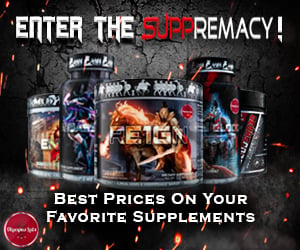 Manufacturer:
Olympus Labs
Rating:
4.11
out of 5 stars, based on
9
total reviews.
Read all 9 reviews
Submit New Review
5/5

I have used Ostar1ne for couple of cycles usually running 8 weeks long. The first 4 weeks at 20mg and then 25mg for the last 4 weeks.
Find it is great for body recomp, helping with strength and recovery while shedding some fat. Also is a good kicker going into a PH cycle.
Once you are on it for about 2 weeks you just have that pumped feeling all day long.

Definitely recommend to men and women who want something that is not harsh on the body and gives you good results.

5/5

Awesome product by probably the best value for money brand .I took it last summer for 8 weeks at 20mg daily and it WORKED GREAT.It helps me while on cutting to prevent muscles lose and i helped me to drop about 2% of bf.I tried osta from another brand but it wasnt as good as OL so thats why i highly raccomended this to everybody.

5/5

Ostar1ne does exactly what it is supposed to do: it will preserve your muscle mass when you are in a caloric deficit. In my opinion, this is not a bulking compound. I used a relatively low dose (15mg) while re-comping and this is where it truly shines.

5 stars, because this is a quality product dosed correctly in 5mg caps, so you can be flexible in your dosing.

I did not feel shut down in the least from 15mg; my libido was even better while on Ostarine. However, if you are prone to estrogenic effects, you might want to have some AI on hand. Ostarine might cause your chest/nipples to itch after 3 weeks or so. Real PCT is recommended, although some people might be fine with an OTC, if the cycle is not very long.

The best part for me was this: the constant, nagging pain I had in my left wrist was completely gone after four weeks. The product was worth the money for this effect only. If I could give Ostar1ne 6 stars for the value, I would.

This was my first venture into the world of SARMs and what a game changer!! A lot of what I read about test suppression was based on earlier trial & research versions, that seemed to have been picked up & parroted around. A bit more digging, and checking of the dates on the research info being posted, showed little test suppression in the latest MK-2866 incarnation (4th I believe). I ran the full Ostar1ne bottle (following a lengthy PH run) for 7-8 weeks at 20 - 25mg/day, with a natty test booster/estro modulator combo and it worked wonders for keeping gains, even cut me up a little while keeping me solid. I also added cell tech to regain the 2kgs the halo took off me (only ran Halo for 2 weeks). Most incredible was that I did no free weights in that time, I switched to THX straps and kettlebells on a strengthening program and it was like I was still running tren Talk about hard muscle!!
Love it, can't wait to finish this dbol cycle so I can get back on my osta!!

You only get one body. Appreciate it, develop a good relationship with it, for when it's gone you will surely miss it.




You only get one body. Appreciate it, develop a good relationship with it, for when it's gone you will surely miss it.

Additional info: I ran promag for 4 weeks followed by halo-v for 2 weeks, to see what these compounds would do for me. It was then that the Halo cut 2kg. So I switched to GPL tren-v600 at 60/60/90 & added cell tech, as I wanted to see how my body would react to tren after the cutting compounds. I like to play with singular compounds before stacking them.
I ran Estrosense throughout the cycle, as well as joint support & AI Sports Cycle Support. I didn't need a pct, had no test shutdown, so I just ran a natty test booster combo & the transition was seamless. I have pcts on hand, but as the estrosense kept me dry & balanced there was no need for anything stronger.
I am a lean, hard gainer. I eat carbs aplenty and I also have 2 busted ankles, a dodgy knee, clicky shoulder & bad wrist. I use lots of tape & braces.
I also have a degenerative neuro condition called CMT, which atrophies muscle tissue at the limb extremities, so my ankles are weak as well as having been damaged in a traffic accident, and my hands and wrists are also weak. Another reason for my keen interest in SARMs.
THIS is why Ostar1ne worked so well for me, my joints struggle to cope with heavy weights, so the strengthening training, which was intense, produced results that free weights would not have. Now i'm back on the weights, performing more isolated movements and taking care not to ruin myself...any more.
As for test shutdown on osta? Not me, and not anybody I know of personally at 20-25mg/day over 4 - 8 weeks. Bro science in action? No, just honest feedback.

You only get one body. Appreciate it, develop a good relationship with it, for when it's gone you will surely miss it.

4/5

Great product during a recomp. Gain 2 lbs over an 8 week cut and visibly looked as if my BF lowered. Definitely helped with lean muscle conservation. Did suppress me a bit but recovery was easy even without a serm. I do recommend this product and plan on running it again. Although since reading a lot of information, I do not recommended anyone run it while trying to conceive a child.



No bloods, if there was any test suppression it was not noticeable, and certainly no shutdown. Libido dropped a bit towards the end of the PH cycle but was up and running again as per normal following my pct, so I would say that my test levels rose before the osta was finished. This is ANECDOTAL evidence, I know. How do you guys go about getting bloodwork done? In Australia we really have to see a GP, and any Aussies feel free to correct me, feed them some BS about having no sex drive/relationship suffering/low energy etc to be sent for suitable blood tests. If the doc isn't convinced then we pay out of pocket, which is a couple of hundred $$. I'm 38, lean, relatively fit & sporting a cracking winter beard...not exactly a prime candidate for low test. If I was serious about big growth, comps, sports or concerned about an area of my health then I would consider it, but this is all gym play for my own personal benefit & knowledge. Last blood work done over 12 months ago gave me no reason to be alarmed.

I need to learn how to drive this site a bit better as i'm sure this has already been flogged to death, but I recall reading (from internet sources far & wide) of the earlier trials being on elderly men with muscle wasting conditions. Already exhibiting low test levels, even a small drop is going to give a big percentage differential and that could be attributed to a number of factors. I'm happy to stand corrected if I've not read of any more recent, relevant info, but for me personally, I did not FEEL or notice any drop in test levels that would ordinarily raise alarms. The pct & natty test booster may have offset that.

You only get one body. Appreciate it, develop a good relationship with it, for when it's gone you will surely miss it.

5/5

...forgot to rate it, after those posts thought i'd better!!
Exceeded expectations, 5mg caps make it handy for topping up products like Osta-RX too.
Bought more, will buy again.

5/5

This was my first foray into SARMs or anything that might be considered "not-natty." I ran for 8 weeks at 20, 20, 20, 25, 25, 20, 20, 15 and put on notable mass while staying the same if not a bit slimmer. My tendonitis in my right elbow was non-existent and recovery was nothing short of AWESOME! I'm definitely running another cycle of Ostar1ne before the end of the year!




You only get one body. Appreciate it, develop a good relationship with it, for when it's gone you will surely miss it.

Pretty cool that a product helps with joint health and actually works so quickly. Olympus labs is a company on the rise for sure,

1/5

I ran an 8 week cycle of Ostarine at 20mg/day.
It suppressed me but didn't give me an edge in the gym or provide any noticeable positive changes to my body.
It's not a product that I would bother with in the future (too bad I bought 2 bottles)

5/5

I like to use this in between cycles at 10mg each day. I think most dose it too high and get htpa suppression because of that.