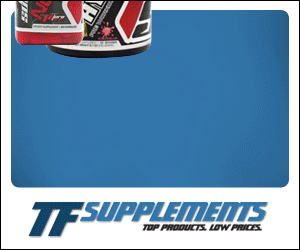 Manufacturer:
Mind and Muscle
Rating:
4.33
out of 5 stars, based on
3
total reviews.
Read all 3 reviews
Submit New Review
This looks like a very interesting product. I hope to try it and let you all know how it is in the near future.

I know this is gonna sound like bs, but it's 100% true. Ran 1 bottle 30 days @ 2 ml 2x a day. Cleaned up the diet some, nothing drastic. No additional cardio, basically no cardio. Lost 14 lbs. 208 to 194. Took a 2 week break, started the second bottle 10 days ago, still holding 194-95. This has zero stim, can't even tell you took something. I give it a 10. Will update after the second bottle is finished. Seems to take about 2 weeks to kick in.

5/5

I love this product. I have used many cutting supplements over the past few years, but not one that has produced such immediate results as this one. When stacked with Wyked 2.1 and Rise and Swell, and coupled with an intense workout routine and proper diet, this stuff works wonders. Noticed my abs become more defined and overall muscle density seemed to increase. Will definitely be using this during my next pre-prep cycle.

5/5

So ill start out with CONS: I have to say I didnít feel that this product had any cons with it. I will note that after the 3rd to 4th week or so I started getting night sweats pretty good, but this wasnít anything that really bothered me but figured I would note it here, because it could be issues for others.
Now on to the PROS: I lost roughly around 15 pounds while using this product while dosing the first week at 2ml a day then going to 3ml a day after the first week. Just like with the night sweats starting up around weeks 3 and 4 I also noticed just normal increased body temps, and increased sweating and starting to sweat quicker during exercise. Endurance as far as both with running and lifting seemed to increase as well in the forms or shorter rest times between lifts and longer times running before needing rest. My strength also increased as while during this run which was geared towards a cut. Looking back at weights used for reps and also maxes on lifts went up as well. So all in all I fell like the run went very well and would buy in the future and recommend to others.

Okay guys so I gave it a week and a half after discontinuing the T2 to post up my final review due to wanting to see if there would be a rebound effect after stopping usage....

Now after stopping usage, a few days after I was realizing that my body temp and sweating decreased quite a bit with my morning cardio and training at night, I only note this because that proves that the T2 was the causation for those effects. I also notice now that when I do have my cheat meal, I don't quite rebound back as quick and stay looking a tad bloated for a day or 2 just as it was like before I started using this product, but with that being said with diet and training staying the same, I am still in the same shape bf% wise as I was when I ended the product so I see zero rebound effect in the sense of gaining fat back afterwards, a huge plus in my eyes.

Overall, under the conditions of how I used this product i definitely give it a thumbs up and a seal of approval. My bodyfat dropped a little bit undoubtedly, I saw the body temp increase, sweating increase, and appetite reduction.
*If you were not following the log previously, the 'conditions' I refer to with how I used this product was in a sense I used it in a controlled environment, meaning I didn't TRY to cut on it. My diet stayed 100% the same as it was for a few weeks prior to adding the T2 into my regiment, and my output (training volume and intensity, morning cardio) stayed the same as well, as I really wanted to put the product to the test, and in my eyes it passed.

For the price point of this product, I see no reason to not use it in a cutting scenario, if I lost bodyfat in a controlled environment, I definitely seeing holding a much higher potential during a solid cut, and I plan on grabbing a couple more bottles to use myself in my next cut at that.

I would say that going at the 3ml per day was definitely a good dosing protocol for it as well as I saw a significant difference from 3ml as opposed to 2ml

If you're skeptical but interested about the product just as I was, I would take the jump and give it a try, I wasn't disappointed at all from it 

I havent tried the new t2 since todd lee left mind and muscle but the old
stuff work awesome and todd helped you get the best result plus he developed it being a doctor.

Mind and Muscle Code AM10 WWW.mindandmuscle.com 10% off
Muscle Research Code AM10 www.mrsupps.com 10% off
Iconic Formulations and Iron Legion Code Chef www.iconicformulations.com 25% off

3/5

I don't like giving negative reviews, but I really have not had any negative experiences until now, which could be more classified as a neutral experience (hence 3 stars) as the product had no effect on me. I was dosing this at 300 twice daily as recommended for two weeks then bumped to 400 twice for almost two more weeks.

Summary:
I was dosing this for almost 4 weeks, and experienced only a warm feeling on the initial dose, other than that, nothing. I honestly think it was a waste of $28.00

Further, I think in order to be effectual one would have to dose this close to an equivolency of T3, so it would not be healthy or economical based on the studies I have read regarding the excessive dosing of T2 which brings on the same issues as T3 translated up from mcg.



Edit: @cheftepesh1

It could also be I'm a non responder? I'm usually sensitive to everything, or it could be my levels are so low and I don't realize it, the normal dosage was just not enough to make a difference. I can't discount the previous reviews, and leave mine as is, so after some further thinking, I feel responsible to complete my response to you more completely.