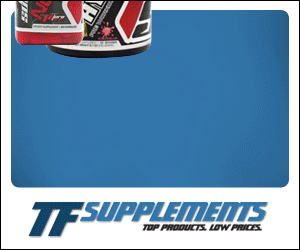 Manufacturer:
Olympus Labs
Rating:
3
out of 5 stars, based on
3
total reviews.
Read all 3 reviews
Submit New Review
5/5

I thought I would be the first to review this product
since I appreciate OL doing such a nice job bringing quality products.
Current running this product at:

2 caps preworkout (30-40 min pre)
1 cap off days

What I'm seeing:

Steady strength increases.
Longer more intense workouts.
Lean gains (up 3lbs since starting).

This is not placebo as I have used many supplements to maintain gains off cycle and I am currently 3 months removed from a triumph.cycle. Btw I have been taking this for 2.5 weeks and used this to pick up where myosynergy left off. So I enjoyed both products but have seen the size increase within the last 2weeks.

Yes, thanks for the review!

Nice review. Plan on using this for my off cycle time.


LOG:GOT DAMN SILVER BACK TRAINING
NO EXCUSES JUST RESULTS


[saved for final review]

Today was my second workout and holy infinite dimensions it's an amazing ingredient and I'm so happy you dosed each pill so high. This bottle will last a while.

Initial thoughts:
Great stamina
More sweating
Increased strength (and more drive as a result)

Keep up the great work, men.

2/5

I ran this product for almost 8 weeks now. My bottle will be done in about 1 week. At first I noticed it made me feel more tired than normal. Especially between sets I would have to rest more, but I also noticed the lethargy during the day. That was for the first 2 weeks or so. After that the lethargic feeling went away. Still I haven't noticed any increase in endurance or strength but still had that tired feeling at the gym between sets. So I give this product the two stars because it is an excellent value compared to other products of the same type.

This is my honest review. Product didn't work for me. I'm not gonna bitch about it. I'll just move on and try something else.

We appreciate your feedback, T. Thanks for letting us know. Might just have to put you down as a non-responder for this one

The Physique Biochemist

Biochemistry Major

Your Physique AND Credentials Should Back Up Your Position

Today I feel extremely sore from my workout yesterday. It wasn't anything special either and I hardly ever get sore!. No never, it feels like I just started working out or something. I just hope this is coincidence because it would suck if it's just kicking in now. I mean Tuesday the 9th of September 2014 is my last day on EP1C. That will make 8 full weeks.

I ran two bottles of this stuff & noticed nothing. I've been training over 20 yrs so I can tell when something works. I think epicatechin could have some health benefits but seriously doubt it has any impact on strength or muscle mass.

Unfortunately I didn't notice any increase in endurance. My endurance has always been pretty lame so I thought this stuff might help but it didn't. I think epicatechin has huge potential for health but I can't see how it would increase strength. I might just be a non-responder though? Human studies would help show what it can do.

2/5

I bought 2 bottles but only ran one of them as they had no effect for me. I gave the other bottle away to my gym partner and told him it is some strong stuff. At the gym he is loving it. I do keep saying man your looking bigger. I honestly see no real changes in him either on his 3rd week I think.