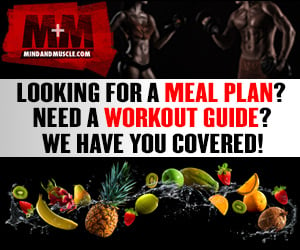 Formabolic (120 Servings)
Manufacturer:
IronFlex Supplements
Rating:
5
out of 5 stars, based on
4
total reviews.
Read all 4 reviews
Submit New Review
Formabolic (120 Servings)
I'm to the computer now bro's. sorry it took so long. i was sleeping off the weekend most of the day yesterday if ya'll know what i mean. had to "let my hair down" so to speak. lmao.

I'm just a dude chasing a dream

5/5

the only thing that wasnt any good about this product was the smell. and after a while i grew to not really care because this stuff is legit.

potency 5/5. if im not mistaken each pump is half the mg dosage of the competitions topical forma. 4 pumps of this controlled e2 better than 4 pumps of the competition that comes in a silver bottle

absorption 5/5 it rubbed in very well

estro control 5/5 i never noticed any e2 issues. i started the log on a cruise dose of test and tren. i've finished the log and leave my review on a 25mg/day injection of trestolone acetate, which converts to a very very strong methyl estrogen even at 4 pumps a day.

if you all followed my log Beast in iron form with IronFlex Formabolic you'd see that this stuff had my libido through the roof through out the run. my girlfriend actually got to the point of annoyance with it. i had to take care of my self a lot more than i would have liked to if ya'll know what i mean. she can only handle so much with no hormonal help. i only had dry joint issues when i pushed the doses to 6 pumps. not a big deal thats a lot of forma. i will say though the pumps did get insane at that dose.

i'll definitely be using formabolic again and again. i'll probably have to order another bottle in a few weeks. and thats going to bring me to my last point. this stuff has lasted a long time. im going on one bottle for a month and a half and i really dont think i've missed a dose at all which is just far superior in the sense that it is the same size container as others.




Hardcore Supps for the Hardcore Trainer

5/5

ok....those that know me, know that i love formestane and have since i 1st tried e-form maybe 7-8 years ago. since that time i have tried most of the formestane products, including the discontinued formasurge...formabolic gave me better results than any other formestane product i have used.

at age 55 my libido was so high that my wife couldn't keep up, her female friends told her they should be so lucky.

strength went up, weights had been stagnant for quite awhile, at my age i am not trying to set or break pr's, just happy to maintain, but the weight i had been using was no longer heavy enough and i did match my all-time pr for barbell curls-very surprised and happy i could do that.

mood/aggression/stamina/endurance all went up, i felt really good like i was in control even when things went bad-alpha...endurance and stamina went up mainly because i had the will to endure...aggression was crazy, i like to think of myself as easy going, but i would get so pumped up in the gym that i was hitting the weights with hostility, no one seemed to want to stop and talk, lol.

pumps are insane!!!

i have ran close to 2 bottles at high doses-up to 8 pumps . at this dosing the bottles still lasted close to a month each-very impressive bang for the buck!!! i have a 3rd bottle standing by, but admittedly effects have leveled off a bit so i am going to take a short break before starting up again-this gets my wifes approval, lol she needed the break more than me!!!

in closing i give formabolic my highest standard of approval, i would buy again---actually i already have!!!

this is the formestane product you want to be using-get some!!!

TOM

ICONIC FORMULATIONS REPRESENTATIVE

use code THEBIGT for 25% off

5/5

I have been using this product for over a month now on the same bottle. I am using it to control my estro levels while I am on TRT. I have pre-existing gyno and when my estro gets even the tiniest bit high I can feel it pretty quickly in my nipples. Using Formabolic at just 50mg per day I have been able to keep my gyno under control. I did bump to 75mgs and even 100mgs but I quickly dried up and my jointst started to get dry. So I backed it down to a nice and comfortable dose of 50mgs.

Application - 2 pumps on oblique and serratus area and rubbed in with my forearms. Stuff dries almost immediately really no need to wait around for several minutes allowing it to dry. YOu can put clothes on within a minute of applying. This is a plus.

Some mentioned the scent, it has a citrus smell to it however I didn't find it off putting as it fades extremely quickly. I do recommend moving the application sites. I get eczema when my skin dries out or gets irritated and for a while I was putting this on the same spot over and over. So I started to get eczema but I changed the locations and that went away immediately. That was my own error not the products but it is worth mentioning incase anyone reading also gets eczema.

Bottom line if you are looking to control estrogen and love formastane then Formabolic is a great product to do just that.

Well I'll start off with the first week of dosing the Formabolic and then go from there. I will say I ran it well over 4 weeks at a high dosage and still have some left to run


The first dosage had me a little worried. I hadn't responded well to other topicals because I would break out in a rash. Well first application and it turns my chest bright red. I learned two things as the log went on though. One it would eventually get better, and two I would notice the days I shaved my chest and then applied it where the days I would get pretty red and burn a little. So I switched up my application sites often and had no problems.
Also during the first week my libido started going up and just had a heightened since of well being. They both lasted through out the log, except once I hit the 200mg mark my libido started to drop. It also seemed like my balls had become more fuller the first week I was on, which was kinda crazy because I had been shut down from the cycle I ran.
By the end of the first week I seemed to start getting a little more vascular in my arms also.


After the first few weeks my strength started going up and I noticed I was leaning out. Now the good part is I upped my test after the second week and started to notice some gyno issues. I upped the dosage to 4-2-4 and they actually subsided, which says how strong this stuff is


4 weeks in and I have upped my test to 750mg/week and am taking Dermatr3n. By now I feel like I am lathering my self completely up because both are TD and I am up to 10 pumps a day with the Forma. Even at that it kept my E at bay which I was very happy with!! After a week at that dosage I decided to lower it back down to 2-2 and my Libido instantly shot back up. I'm talking everyday, and sometimes more ( which is great having 3 kids LOL )




So the pros with Formabolic- Definite E control, Increased Libido and sense of well being at a low dose, Increased aggression and strength at a higher dose


Cons- not many, it did take a little longer to dry than other TDs I have used, and if your sensitive at all to them this one may give you a little problem




Will I buy it again? For sure!!!

"I would rather follow Christ and die to find out their is no God, than to not, and die to find out there is a God."

5/5

Formabolic works great. I love the smell of it.Easily applied. I also like how the bottle can be locked so it doesn't accidently squirt out. This product helped dry me out. It also tended to dry out my joints at my inner elbows up quite a but at higher doses.

I have just applied my first dose of Formabolic and Dermacrine...

My data:
Age: 45
Height: 184 cm
Weight: 84 kg
Bodyfat: 14%
Lifting: 2 years (Seriously for one year)
Keeping in shape: 12 years (running the fist 5 years and after that fitness boxing)
Illegal Juice: Never
I suffer from psoriasis, 14 dime size spots on elbows, one on the back and the rest on the legs (sucks)

Blood values (Danish values and names):
17-Hydroxyprogesteron 1.6 nmol/l
Androstendion 1.4 nmol/l
DHEA: 6.1 umol/l
Follitropin (FSH): 4.3 int. units/l
Lutropin (LH): 3.7 int. units/l
Prolaktin: 271 10-3 int. units/l
SHGB: 77 nmol/l
Testosteron / SHGB: 0.27
Testosteron: 21 nmol/l (600 ng/dl)
Free Testosterone: 0.248 nmol/l (1.18%)

This was my stack:
MGM: 3g ed
Choline Bitartrate: 4g ed
DHEA orally: 100mg ed
HMB: 3g ed
ZMA
Vitamin D: 3400 IU
Udo's choice oil: 1 tbsp

The DHEA orally gave me back my morning erections and my desire for sex and masturbation back And since it worked good orally I decided to try Dermacrine, you know, to spare my liver from too much work.

So my new stack is:
MGM: 3g ed
Choline Bitartrate: 4g ed
HMB: 3g ed
DHEA (Dermacrine): 3 pumps (I might up this to 4 pumps)
Formabolic: 2 pumps (50mg)
ZMA
Vitamin D: 3400 IU
Udo's choice oil: 1 tbsp

My workout (based on A-GVT). And yes I know, I am not strong, don't bash me for it. At least I am totally honest. All are done in perfekt form and always with full ROM.

Day 1 (Chest/Back)
Alternating 10 sets / 5 reps:
** - Inc. DB bench press - 28kg Dbs - 60 sec rest
A2 - Cable pulldown, sup. grip - 75 kg - 60 sec rest

Alternating 5 sets / 5 reps:
B1 - Chest dips - Bodyweight - 60 sec rest
B2 - Pullups pronated grip - Bodyweigth - 60 sec rest

Day 2 (Legs):
Superset 10 sets / 5 reps:
** - Front squat - 60 kg - 0 sec rest
A2 - Deadlift - 90 kg - 90 sec rest

Normal 10 sets / 5 reps
B1 - Standing calf raises - 90 kg - 60 sec rest

Day 3 (Off)

Day 4 (Arms/shoulders posterior):
Alternating set 10 sets / 5 reps
** - Cable Pushdown Straight Bar - 35 kg - 60 sec rest
A2 - Db Standing curls - 15 kg - 60 sec rest

Alternating set 10 sets / 5 reps
B1 - Cable Triceps Ext. Left - 5 kg - 0 sec rest
B2 - Cable Triceps Ext. Right - 5 kg - 60 sec rest
B3 - Db Hammercurls - 14 kg - 60 sec rest

Alternating set 5 sets / 15 reps - Occlusion (Kaatsu) training (the pump is insane)
C1 - Seated Cable Facepulls - 7.5 kg - 15 sec rest
C2 - Cable Forward Leaning Triceps Ext. - 7.5 kg - 15 sec rest

Day 5 (Off)

The above 5 days are cycled like this, first cycle 5 reps, second cycle 4 reps - third cycle 3 reps and repeat. The lower the reps, the higher the intensity. For instance, Inc. Db Benchpress 1. cycle 5 reps/28kg - 2.cycle 4 reps/29kg - 3. cycle - 3 reps/30kg - 1. cycle 5 reps/29kg and so on and so forth. I hope I make sense. I'm logging all my progress. If you want to see my Excel workout, just let me know.

I'll be back with my results in a couple of cycles. Hopefully I have something to report

Cheers,
Spaizy

P.S. I also just got my Bulbine Natalensis, but I am considering waiting with this, so that I don't mix too many new things into my cycle.

Been using it for 4 days now, I haven't really felt any different yet, however, I did my Arm workout today, 10 set 4 reps. I was supposed to do it with 15.5 kg curls and 36.5 pushdowns, but after the first set I felt stronger so I did 16 kg and 37.5 instead and I might have been able to go a little heavier. So I'd say I might be a little stronger already

So, yesterday I had one of my best workouts ever, I felt strong and like I had infinite stamina. Definitely a huge impact on this workout. So far so good

Is this a final review or your log?

BOARD TYRANT | TEAM GET DIESEL | GETDIESEL.COM
FeFiFo.com support
DIESEL TEST = Underground Kings of Test elevation!