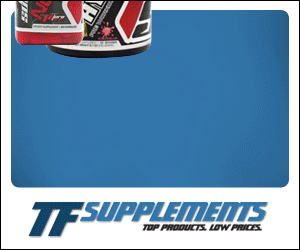 HyperMax XT (25 Servings)
Manufacturer:
Performax Labs
Rating:
4.26
out of 5 stars, based on
54
total reviews.
Read all 54 reviews
Submit New Review
HyperMax XT (25 Servings)
Hmmm very interesting, first negative review.


How much did you try, its weird that you got the focus but not the energy, at 2 scoops the stim content is pretty heavy so hard to imagine you didnt notice strong energy. Did you try 1 or 2 scoops?

HyperMax -- Damn, you did a great job!

Took the whole sample the first time and it was AWESOME!

Taste, however was 2 or 2.5 / 5. I think you could of done better in this department.

Pump = 6/5
Energy and Focus = 5/5
Mix-ability = 4/5
Duration = Several Hours (still in effect and I took it at 4 P.M. CST)

Great product, nice work, make it taste better and it would fly off the shelves.

I am pretty much a stim veteran and I think 1 scoop would of worked just fine.

4/5

Received my sample of HyperMax and took half a dose.

Overall I give it a 4 out of 5, it really is pretty good stuff. The reason for 4 instead of 5 was due to a small crash when it wore off.

Until it wore off, it was a pretty sweet ride. My workout was great but what really struck me was the focus was unbelievable for a few hours afterward. I was in a zone and so productive that I would be tempted to take it just for a productivity boost.

Taste was fine, mixes well.
But energy and focus is where it stands out: 5/5

Performax Labs Product Specialist
Like Us On Facebook: https://www.facebook.com/PmaxLabs
Visit our site at www.performaxlabs.com

5/5

5/5 wow this product blew me away...
When I first read the profile I was like wow the dosage is spot on but I didn't think it would be "that great"
Taste(5/5): Took a sip and Txted my girlfriend how f****** good this tasted and told her I was going to buy it lol
Pump (5/5): had some crazy pumps and stretched my shirt out.. not kidding
Overall (6/5): it exceeds my expectations and delivered both times I've used it.This product worked so good and pushed me really hard, I lifted more weight, and had no jitters/ crash. I wish I could get a tub but broke college kids don't have the money.

I took my sample today at 3:00pm and as of now it's 8:00pm and I can still feel the pump from todays workout. I have tried almost every pre-workout powder, pill known to man and I have to say Hypermax gave me the best pump by far and clean non jittery almost euphoric feeling.I have been taking Speed X3 which I really like and now I will be adding Hypermax as one of my main pre-workout supplements. I will be competing this October in the INBF Monster Mash and I am sure this product will help me quite a bit..:-)

Awesome, thanks for the review brother!

Wanna say right off the bat that this is a solid product. I really love the profile on this, contains many ingredients that i enjoy to have in a pre workout but is a little underdosed on most ingredients. two scoops of this would put you at where you need to be for proper dosing.
Took a serving about 30-40 min pre workout and did some upperbody. The fruit punch flavor was pretty good, no complaints there. No chemical/herb taste at all
I could definitely feel a good energy kick from it, but it wasnt crazy over the top jittery energy. I was able to maintain a sense of calmness and focus and really hammer out the exercises. I never really got a crash off of it either, it just kind of went away a little while after my workout was done.
overall i think this is a good preworkout and at two scoops is even better!

1300 pound club, 1400 in site

I would like to say thank you for the sample of Hypermax. I've been using Jack'd for a number of years and have finally found a better preworkout drink. The energy and focus are both 5/5 without crashing later on in the day. I'm very excited about this product and recommend it highly.

Received my sample and took it this morning.
Taste, 4 outta 5. Fruit punch was pretty good.
Focus, 5 outta 5. Found myself still in the zone after 2 hours of lifting and cardio.
Mixability, 5 outta 5. Mixed very well.
Pump, 4 outta 5. Took N.O. boosters with it and got really tight.
All in all good stuff for a stim freak like me. Took entire sample at once and no jitters or crash. Highly recommend. Thank you for letting me try it.

I took the sample pack over two workouts. I would have liked to have tried the whole pack just to see what would happen. The powder mixed easily into my water and went down smooth. The taste was good, but slightly on the bad side of sweet for me. But that didn't take away from it at all, just a personal preference.
It seemed to take about 20 minutes to feel an affect, but I was ready to workout at that point. It gave me a nice level of energy throughout the hour of weights. Which also kept going for a few hours after. I didn't feel any pump like some have mentioned, but that might have been due to the amount taken. Overall, a good product which I will definitely consider buying and taking it every workout to see the full effect.

Thanks for the opportunity of trying this supp.

Thanks for the reviews guys, sounds like you guys enjoyed it!

FF41, it sounds like you would of done best at 1.5 scoops. 1 scoop did seem to treat you well and sometimes 2 scoops is too much so i think 1.5 woulda been a perfect fit!

When posting a review make sure and click the large "submit a review" button at the top of the page, that way your review can be added to the total score!

5/5

Taste was ok,mixed with full shaker and full dose. Noticable pump after bout 24 minutes and this was ok.I have used lots of stims. Most make me nervous or worse but,guys this formula is good. My workout started at 2am in the morning and I felt good all day.I can say for me this is a good pre that I will buy.I did half 30 min. prior and then after,focus was good then and at work all day.Good formula guys and thanks for the chance to review.

glad you enjoyed it and thank you for the review!!

The energy seems to last for quite a while so def. no need to worry about a crash!

I would just like to make a comment about samples.I know it must cost a lot of money between product,shipping plus administrative costs to give away product plus I am sure some people just want free samples and never buy,but I like most if I try something good I am buying it.If I had not received that sample of HYPER I never would have bought those 2 tubs .I love the product but I also take speed X3 and will continue to rotate the two and sometimes mix them together. The point here is if you have a really great product you must send out samples because I was not even in the market for another pre-workout supplement but when I tried it I was convinced it was for me.I do think the PEA and Hordene makes the difference because I always responded to that stack plus when you add all the other stuff it makes for an awesome pre-workout. I did mix equal amounts of Speed X3 and Hyper and it was like taking Focalin and if any of you know what that is you will understand what I am talking about..Kudos to Performax labs and Lecheek nutrition for great products...

The first time I used the whole sample pack (2 scoops) but since I purchased a tub I have been scaling it back to 1.5 scoops. BTW, I like the taste.

Thanks for the review. 1.5 is my sweet spot too. My friends and I all think there is a slight bubblegum flavor to it, which we all enjoy.

Performax Labs Product Specialist
Like Us On Facebook: https://www.facebook.com/PmaxLabs
Visit our site at www.performaxlabs.com

5/5

One of the best pre-workouts I've use in a while...

Taste 4/5 - a little sweet but taste shouldn't matter that much, tastes like smarties

Energy 5/5 - Energy level was great for my entire workout, even had enough to finish strong with 4 sets of prowler

Pump 4.5/5 - Pump was definitely good, veins were popping early.

Focus 5/5 - This was probably the best part, completely zero'd in throughout my workout.

Overall, I really liked it. One of the best workouts I've had in a long time. Looking forward to taking the other serving.

4/5

I took 1.5 scoops in 10 oz cold water, on an empty stomach 30 mins before hitting the gym.

Taste: Not bad but not great either. To be honest, I wouldn't judge any pre based on taste, so this is a moot point for me. For those with more sensitive palates, it reminds me of Cytomax punch or maybe even a strawberry-kiwi Capri Sun, but with a chalky after-taste/texture. Definitely drinkable though. Doesn't matter, just pound it and pump.

Pump: Speaking of pump, it was definitely present and noticeable, but not skin-splitting by any means. I definitely feel the pump I get from 750 mg of agmatine more when combined with 5-6 grams of citrulline malate, but that's just me. Maybe a little lacking in the pump department for me.

Timing: I felt the nootropic/focus effects about 25-30 minutes after ingestion, so this was spot on in terms of dose timing.

Focus/Energy: Since I usually take Alpha-GPC as a choline source when mixing my own pre's, I can conclude that the feeling I got from this supp was from the stim category. Either way, this is what really made this supplement shine for me. I found myself driven and motivated, and did more quality sets with good form and intensity than I usually do. I usually hit sort of a wall about 45-60 mins into my routine and tend to force myself to grind out the last few sets, but this time I pushed through and kept my intensity up the whole 80 mins, and then did 15 minutes of moderate-high intensity cardio after lifting because I still had a plethora of energy. The energy was clean and not too jittery, although I did notice I was clenching my teeth for about an hour after my workout. Still though, excellent focus and energy.

Conclusion: In terms of pump, this pre-workout was sort of lacking, which is why I can't rightly award it 5 stars. I feel like adding 5-6 grams of citrulline malate or some glycerol monostearate would make this a real winner for me. Maybe I'll try it with a scoop of Glycergrow or just add some CM, maybe both. Regardless, this is one of the best pre's I have tried in terms of pure focus and sustained intensity and I would rate it a 4 to even a 4.5 out of 5. Good work guys.