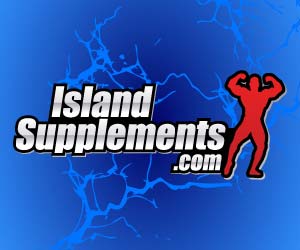 Manufacturer:
Olympus Labs
Rating:
4.81
out of 5 stars, based on
32
total reviews.
Read all 32 reviews
Submit New Review
Ok, so I got sent 1 sample and tried the whole pack as a single serving preWO. I must say this is a very potent product. I should have followed the directions and split the dose "to asses my tolerance"

The seving amounts of each item are spot on and the price point for a full tub is also very reasonable. I priced out individual bulk compounds and the cost/serving was nearly identical minus flavoring and the hassel of mixing up items separetly.

However, for me, being stim sensitive I find that a half serving would have been better to start with and then build my way up to a full serving and then maybe more. At the full serving I was so hyped it was for me anoying. I didn't get the usuall caffiene shakes, which I hate, but rather I was in such a state of alertness it was kinda hazy.

Again, great product content, the watermelon flavor really pops. Mixability was good and complete. The energy surge was full on during my workout and nicely tapered off later with no "crash".

5/5

Gorilla styled this (in other words I did not re-read it. Just typed it and posted it).

So I use to lurk on AM back in '08 and '09 a lot and those were the times were PP spent $3 billion on relabeling liquid PH products, LG sciences AGST was talked about a lot, and having any product with proprietary blend would have gotten you a lot of negs. During those times you had to add your own agmatine to pre-workouts and even then it was still not a very known products. But AM is not like that anymore. Members don't bash or neg companies with proprietary blend and everybody wants to go about how agmatine they "feel" it's in products (just like people "feel" if GH are legit or if oils are dosed correctly and then the blood works always say other wise).

Conqu3r is a breath of fresh air. A product with many good ingredients in it with the actual dosages being mentioned. You don't have to guess how much creatine or agmatine is in it or if you are going to get geeked out of your mind because you simply don't know how much damn stims are in it.

I got the watermelon flavor and I put it in an oz of water and the smell of the product smelled like watermelon flavor of great value water flavoring (aka their crystal light). It had a bit of a bitter after taste but that is probably because of the 1.5g of agamtine in it. It mixed very well shockingly knowing that it had 5g of creatine monohydrate in it.

Now on it's effects. So before I mention this let me cover something. I tore my labrum more than a year ago, not knowing continued working out (durp durp) and long story short quit working out or almost year, stayed on campus all day studying, ate like sh!t (and I eat A LOT), got my degree and couple of minors, and graduated. I then got back into bodybuilding, was fat a [email protected]#CK, could barely DB press 25lbs without being in pains, dieted for 4-5 months now, been on zero carbs for couple of months, and I've gained all my size and have lost A LOT of weight (I was probably 42-43"+ waist and now I can clearly see my abs and my stomach is getting close to being flat). I write all my diet, drinks, and everything down. I also take pictures every 5 days and go over everything with my coach.

Now a 5-7 days before trying this product I DB on low incline 90lbsx15 and so on and on this product I did 95x15, 95x12, 95x8. My strength was VERY good and high that day and I was amazed. I had a lot of energy and I was just ready to go. I was not geeked out of my mind or going crazy but the strength and endurance was their and I loved it.

If you are looking for a new pre-workout this products is something you should really try out. All around this product is 8.5-9/10.

The ONLY draw back is the price and the serving size. Let's see what all these stores can offer and at what pricing they can do it. If this product lands in the $30s it'll be very good.



The only downside is price... think about everything just said in that review. Everything is included at the proper dose. That costs money. What would the cost be to make a product with doses this adequate? It's expensive, I know because I've been doing it the last few years. The ingredients don't lie this is hands down the best profile out there and to make it as such our production costs are higher than prop blends with God knows what in them.

Olympus Labs CONQU3R is here to conquer the competition and set a standard for the rest of the industry. Adequate doses, no prop blends, and RESULTS dammit!

The Physique Biochemist

Biochemistry Major

Your Physique AND Credentials Should Back Up Your Position

4/5

Got a free sample and gave it a go on a arms workout.

Taste: 5/5 is was a real treat and tasted great.

Pumps: 5/5 I had insane pump and skin on arms was almost exploding...I ballooned up good.

Focus/Energy: 2/5 This was lacking and I needed more of a boost.

Profile: 5/5 This is a fully load pre..not those small scoop things.

Would I buy it again: 4/5 I would buy it for pump but energy and focus was lacking.

Total: 4 star pre workout - just fix the stim part of it- which dont cut it for me.

5/5

Thanks to ol for my sample, used today for a back/shoulder session

mixability 5/5 no clumps or grit

taste 5/5 tastes fabulous. used in 16 oz of water, next time I will use 20 0z as I would prefer it just a touch lighter.

pump 5/5 crazy pump as expected from the profile

endurance 4/5 good endurance, nothing too crazy

focus 4/5 again good focus, nothing too crazy

profile 5/5 the best one scoop profile I have ever seen in a pre with no prop blend, hands down. I see no reason why anyone would need more than one scoop.

overall one of the best pwo's I have ever used. by disclosing the amount of every ingredient you know that you need little to nothing else in terms of bulk ingredients. if I did the math right there is 20 scoops per tub. well worth the $45 dollars in my opinion seeing as you don't need anything else. I would still like to catch it on sale a bit cheaper, but that I guess could be said about anything in life. will def be adding this to my stock in the near future.

Thanks for the samples guys!!

Taste was awesome 5/5 I loved drinking that stuff. It went down like candy.

Pump was a 5/5 I haven't dunked a 10 foot rim in 4 years (I'm 5'7") and I was really close to slamming it down.

Focus for me was a 4/5. I felt energized for a long time.

Great product. I'd like to see the price come down some but other than that it was a ****ing awesome PWO!!

---

It's time for a comeback... Tagger's Revenge

http://anabolicminds.com/forum/training-forum/282442-taggers-revenge.html

---

4/5

TASTE: 4/5 I really think they did a good job with the flavor but I did experience a slight after taste that was off.

MIXING: 4/5 It mixed up pretty good but there was a bit of residue left at the bottom of the shaker that wasn't fully dissolved. A swish of the last gulp and I was able to get the remaining bit. Not a big deal for me so much.

ENERGY: 4/5 I have a hard time giving any PRE a 5 after the banning of dmaa but this one does a pretty darn good job of getting me amped up. There was no unpleasant crash after a while and it was well sustained for a good period of time. I wouldn't take this within 4-5 hours of bedtime.

PUMP: 3/5 While I did get a decent pump, it wasn't as good as some of the other products I have used.

ENDURANCE: 5/5 This is where it shined for me being able to just keep plugging away at the weights and not really feeling like I was taxing myself too much.

All in all, I really like this product. Nice work OL! Thank you for the chance to run a sample of this!

So good you had to double post hahaha! Thanks for the review Lukey

The Physique Biochemist

Biochemistry Major

Your Physique AND Credentials Should Back Up Your Position

Thanks for all the great review so far guys! I have to admit the taste of this stuff is unbelievable. I could actually just drink it like coolaid. However I might crash through a wall if I had too much! LOL I love this stuff obviously not a "full review" since I am a rep but just stating the fact. I love CONQU3R!

Live Hard, Laugh Hard, Love Hard and Heal Fast! - KLEEN
Current Training Log -

http://anabolicminds.com/forum/workout-logs/276206-kleen-strong-body.html

Took my sample packet today. Had the watermelon flavor. First off, I like that Olympus didn't add extra coloring to it. Mixed up it's just a cloudy white color. A coworker mentioned it looked like thin milk. Taste was quite good. A sweeter watermelon, not tart.

Profile on this stuff is phenomenal. There just honestly isn't anything else really out there that comes close to giving you full clinically studied doses of ingredients like this does. Saw some immediate strength benefits from it too. Interestingly enough, didn't really feel much of a pump (although I did a full body workout) or as much focus as I was expecting. But some might consider the latter a plus, as you don't get the stimmed out feeling. Also, no crash here.

Bottom line, I will be purchasing this in the future. And with Olympus' latest announcement of an epi product, this is quickly becoming a brand I'll be following closely.

5/5

I received a Watermelon sample and proceeded to test it out pretty soon after getting it.

I took it upon waking fasted, in roughly 12oz water. Unfortunately something came up that forced me to change my training schedule, so no lifting with this, but I was able to do quite a bit of work at a faster rate after taking it. ;)

Taste:
This was one of the better tasting pre-workouts I have tried in awhile. A sweet, strong, watermelon flavor.

Energy/Focus:
This stuff is strong. 300mg of Caffeine doesn't really hit me very hard, but the added ingredients in CONQU3R boosted my energy levels quite a bit (honestly a little more than I would want, I don't always want a huge stimulant rush). The focus was also very noticeable. I actually was able to sit down and blow through some work quite easily. Energy and focus were strong for about 3 hours and then began to taper off (still noticed until about 5 hours after using), with no noticeable crash.

Formula:
Since I couldn't lift I can't rate pump, but the doses of Agmatine and Citrulline Malate should easily solicit a pump (or you are probably doing something wrong). The other ingredients are dosed very well, in a nice non-proprietary blend formula. My only issue is that I don't like that big of a Beta Alanine dose, as it did give me a decent amount of "tingles" and I don't like that.

I enjoyed my sample and think this is one of the better pre-workout stimulant products out there (on paper and based on my experience). If you need something to kick you into overdrive this is a good pick. For myself when I use it again I'll probably drop the dose to 2/3 a serving, as that should still give me good doses of the ingredients (because they are dosed so generously) and should give adequate energy and focus, with a full serving probably only being needed if I am really dragging.

5/5

Great stuff for sure. Watermelon flavoured version tastes great - and I'm very picky what it comes to preworkouts.

Great focus and energy, zero crash. Endurance is excellent too - squatted 7x375lbs today and my previous PR was 3x375.

I'm an aspiring powerlifter so I'm not really looking for pumps in lower body max effort days so I took only half scoops. I'll try full scoop in upper body day though :)

5/5

Have used many pre's.

My work outs are high volume and as heavy as possible.

I recommend this pre without hesitation - makes the others look weak.

5/5

I love the full doses of everything, no proprietary blends.
Taste was great!
Mixed really well.
Awesome pumps and endurance!
Perfect amount of stims for me!
I will definitely be buying more!

Thanks for what I thought was a mistake. I got these two giant pouches in the mail and was like WTF is this? There must be like a total of 10 serving between the two packs.
As I began to look at the bleeding red colors of the packaging and fought back the urge to roll my eyes at what looked like bro font, I trudged and read the ingredients.
I was very impressed that the would have a non proprietary blend and have grams in their servings of products. I came to a screeching halt when I saw 300 ****ing milligrams of caffeine. I pictured myself sweating and chattering my teeth in the shower lockers. I threw the packs and in the back of my pantry and forgot about them. Yesterday I ran out of my mesomorph, as well as my Pre Post BCAA. I thought it was either this or open a sample of stimul8. Read reviews on stium8 and thought I'd put off the heart attack and try this bro drink.
I took half, waited about 20 mins, was still alive and not overcome with the urge to rip things to my surprise. took the other half of the sample and went on my way, felt the BA tingles around my cheeks but nothing too strong. got to the gym and felt happy to be thre mild euphoria set in

Euphoria 6/10
Then I felt my energy rise. it maintained. I did 10 minutes of jump rope at a faster than usual rate. I would take a 20-30 sec break from time to and would recover very quickly
Energy 8/10
my focus throughout my leg day work out was consistent but not over the top.
Focus: 7/10

More than anything my endurance was very good as well as my strength and pump.
Pump: 8/10
Endurance 9.5/10
strength increase 9/10
Overall4.5/5



PS best thing about this product is I felt like I was taking clean stuff. No stomach pains no headaches no dry mouth or dizzyness or anxiety.

Oh and the Taste was 9/10 as well.... Just edited my post mix ability was a 10/10 so I will bump my overall score form a 4/5 to a 4.5/5. Only PWO that give me extreme focus receive a full 5/5 from so make of that what you will.

Last edited by Dr.JJ; 08-19-2014 at

08:10 PM

.

Reason:

more concise

Just curious, how can you compare this to pre jym? Looks like a solid profile. Also their profile are closely similar to ans ritual. I love this to try

Coming to the end of my tub
Gonna cut past the bull**** here..

Energy 10/10-no crash.

Pump 9/10-great pumps

Sides-none

Ingredient profile 10/10-obviously

Focus-8/10-no tunnel vision, but good focus.

Taste 10/10-amazing fruit flavor.

Overall 10/10-love it.

Serious Nutrition Solutions Representative

5/5

Let's set the mood here - I normally like a PWO with 200-300mg caffeine depending on the other stim goodies. I usually have negative side effects if I take Yohimbe. I finally got around to taking my sample that I was sent back a while ago. 8:40am large breakfast. 10:55 sample packet taken in 10oz water. 11:10 25g whey, orange, few raisins. 11:40 started a 55 min German Volume Training arm workout. Here's my review:

Taste/Mixability - 5/10 Watermelon was extremely sour for me. I have never tasted anything like this. However this would not turn me off from buying the product. It mixed fine, very foamy. I had to wait a minute for the foam to die down.

Energy/Endurance - 10/10 I was expecting to be slapped in the face with energy seeing that the caffeine is at the top end of my range and it also has amp citrate. This was not the case, definitely a clean energy that really got me going. I felt it start to kick in after just 5 minutes. The rush got stronger and stronger as time passed. I never got the jitters. I never crashed. It lasted well after my workout. I could have easily done some post lift cardio.

Pump - 10/10 This is easily the best pump I've had. I've never taken this much Citrulline Malate or Agmatine Sulfate and it really showed. My arms have never felt fuller. I wish I would have taken before and after measurements. After the workout, I felt like a beast with my swoleness.

Focus - 10/10 Very intense focus. Even though I'm on the tail end of a cold, this stuff really put me in the zone and lit a fire under me. Britney Spears could have been playing in the background and I still would have felt like breaking a barbell over my leg.

Performance - 10/10 This was my first ever GVT arm workout so I don't have anything to compare it to but I was very pleased with my performance. I felt like I got in a quality workout and I know I pushed myself to the max. Arms will be sore tomorrow for sure.

Other - I felt the BA tingles a little quicker than normal, just 10 minutes after ingesting. Normally I fell them after 20 minutes. And this time, the tingles lasted for a good 20 minutes, typically they just last 5-10 minutes. I normally dose my BA 1.6g pre and post workout. I've never taken 3.2g all at once. I never felt any negative side effects. The profile of this product is amazing. It may be expensive but you certainly get a lot in return - a serving is 22g, no extra extra dosing of creatine, beta-alanine, taurine, betaine, CM, Agmatine Sulfate. It truly is a complete PWO.

Thanks Olympus Labs for the free sample packet. Would I buy it - oh hell yes!

5/5

Best dang PWO I have had the pleasure to enjoy and I have had more than my fair share.

Dosing: 5/5
Convenient 1 scoop dosing and provides you with everything you need

Energy/Focus: 5/5
When this stuff drops the distractions fade out and you decimate the iron. If its in front of you it gets destroyed and you become immune to the idea of "I think I can". Energy is not only constant its at a level that allows you to enjoy your current session without a racing HR, dissyness, or paranoia. I love this profile!

Pumps: 10/5 seriously!!!
I didn't know what roadmap veins looked like and I suck at selfies but when this stuff if flowing through your veins people take notice and so does the body. Its a pump that really doesn't dissipate either. You look full, tight, and veiny for hours to come. Cant complain there.

Taste: 5/5
Both flavors rock! NO I mean they are good in as little as 6oz of water and even with upwards of 20oz. I couldn't believe it myself.

Mixability: 5/5
Light Foaming, but once you start drinking its gone rather soon. Can be missed easily without a blender bottle and goes well with apple, and cranberry juice.

Overall: 10/10 ok 5/5
I have not only loved this product Ive gotten 3 of my friends using it to this date. Honestly my go-2, best recommended PWO and I cannot wait to see what else this brand puts out! Huge thanks to Olympus Labs for their innovation here and keep up the great work!

5/5

Just got my recent order in the other day and used Conqu3r for the first time last night. I'll be honest, I really didn't want to like it as 44.99 is a bit steep for only 20 servings. However with that said, you have to take into consideration the ingredients (no prop blends and all clinical doses) as well as the fact you truly only need ONE scoop.

Dosing: A true one scoop pre-workout. No prop blends. All ingredients clinically dosed.. no fairy dusting here.

Taste/Mixability: I went with the Fruit Punch Flavor. I was surprised at how mild it tasted. Lately the pre's I have been trying are quite bitter, however conqu3r tasted surprisingly good. I mixed it with about 12oz of water and it mixed well, minus a bit of foam.

Energy/Focus: Really liked the clean energy I got from this. One of the first pre's where I didn't feel like my heart rate or BP really elevated. No dizziness and no crash. The focus I got with this was awesome. I literally felt like I could run through a brick wall.

Pump: Insane pump. I got into the gym late after work and was only in the gym for about 45min before they closed. In that time frame I was able to get a crazy pump. Hell, after my first set I already had a solid pump.

Overall: I would pay the full price for another container of Conqu3r. It's easily the best pre I have used to date. I'll be grabbing a few containers of it whenever it's on sale, because at that price it's a steal!

5/5

NO, not the sh!tty pre workout from iforce... This is CONQU3R!


It's a sick profile indeed. I know some will complain about 3 things. High Caffeine, high beta alanine and creatine is included. BUT here is why I love it...

1 Most pre workouts do absolutely nothing for me.. 150mg, 200mg of caffeine put me to sleep actually. I need more than just the regular dosage to get me going! Conqu3r def delivered with this! About 30 minutes of me taking this I even felt a light shaking in my hand. Something I have not felt in a very long time. I'm not complaining about this, this actually gets me psyched up!

2 I love the feeling of beta alanine. I love when my face, ears, nose, nipples and sometimes even in the balls lmao are on fire itching like crazy. Whenever I take a pre workout shake I make sure I get 4g of beta alanine in there or 3g in my pre workout shake and 1g in my intra shake. With Conqu3r my ears and nose was super itchy!

3 I dont mind adding a whole bunch of things to my shake but it gets annoying after while. Specially if you are in hurry. And a lot of people don't like that companies include creatine on their pre workout. Me? I like it! Specially with 5g in there!

4 You see that pump mix? 1500mg agmatine and 6000mg citruline...

I've said this before and i'll say it again, I wouldn't buy a supplement that is for pump alone because I rather earn it in the gym with hard work and lifting, I don't want it given to me. I use pre workout solely for the caffeine but if it has pump ingredients on it than i'll take it. The pump with Conqu3r is f*cking real! I did 6 chest exercises and I felt like superman!

Right off the bat when I opened the sample packet I noticed that smell. It smelled so soo good! Probably the best smelling pre workout I ever smelled. After I mixed with the water the smell was gone.

The taste was not the best. It was fruit punch. I HATE FRUIT PUNCH! It wasn't the best but it wasnt as bad as some fruit punch flavors out there. But again idc about taste when it comes to pre workouts.

It was super easy to mix. I shook it really hard 3 or 4 times and that was all it took. No foam, no residues..

All in all I would say this is one of the very best pre workouts I have taken.