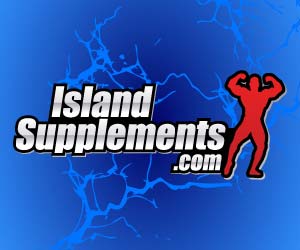 Manufacturer:
Iron Flex
Rating:
4.27
out of 5 stars, based on
15
total reviews.
Read all 15 reviews
Submit New Review
Let's get some reviews up in here!

Hardcore Supps for the Hardcore Trainer

How much caffeine in one scoop?

Black Lion Representative
I'm a Brooklyn boy I may take some gettin' use to

5/5

I actually went into my first dose pretty tired. I got crappy sleep the night before. So I pretty much accepted it was going to be a so-so workout. Threw back a scoop with 8 ounces of water. First impressions was this stuff smelled like strawberry milk but it tasted fruit punch. The taste was very smooth and fruity. I liked it a lot. I did notice I had more endurance and energy for my workout, something I wasn't prepared for. Usually I'm gassed at the end of the workout but I had enough left in me for cardio. Very excited to include this as a staple. Price is good and results are better.

5/5

Taste 9/10 I hate fruit punch. Maybe it's because I used 8oz of water, but it wasn't sweet and it wasn't overpowering with the taste. It was spot on

Endurance/focus 8/10- I've never used AMP before, but considering I've laid off stims for the most part (except 200mg caffeine I usually pop pre workout- didn't today) I was good to go. Lock and loaded but not stimmed out like a junkie. Also, haven't taken BA in a while, this stuff had me mad itchy lol

Pump 10/10 Felt great. Shoulders and calves blew up. Took a few sets but it came on and stayed

Mix ability 10/10 Few shakes and it was mixed!

5/5

Taste 10/10 mild, no chemical aftertaste.
Mixability 10/10 The easiest mixing PWO out there.
Energy 9/10 Not a huge stim rush but instead a long lasting steady energy with no peak and no crash to power you through the toughest workout.
Focus 10/10 Razor sharp focus allowing maximum mind-muscle connection
Pump 9/10 Feel the blood engorged pump with every workout and in areas you never felt it before ...
Endurance 10/10 Felt like I could just keep going and going and going. Rest periods between sets are reduced, recovery is quickened, strength is off the charts .... awesome feeling !
An awesome PWO product that turns every workout into a high volume assault on your muscles. Lift more - Grow more .... I highly recommend this PWO for anyone looking to increase volume and intensity in their workouts and forge intense mind-muscle connection with every rep. High energy, long lasting endurance yet you can sleep at night .... perfect for the evening workout crowd as well ...

4/5

Holy cow were the beta alanine tingles potent with this one. 1 full scoop on empty turned me into a beast but my skin was so sensitive, I couldn't stop caressing it (my skin, not my member).

Most notably, I experienced dialed in focus, thermogenesis, energy, and some minimal strength gains. Calories set for cut right now. So any strength gains at this point is a very welcomed surprise! I'll definitely be picking up a few tubs of this, especially being $20 at Orbit.

Definitely eat some carbs before or during using this, if you are sensitive to BA.

BA tingles are not fun but are easily remedied by taking it with a very small amount of carbs.

Body Performance Solutions


Home: http://bpsnutrition.net/

Facebook: @Body Performance Solutions

Gimme a free bottle

For a limited time offer, I will give you a FREE bottle for $19.99. I'm in a giving mood today.

Hardcore Supps for the Hardcore Trainer

5/5

So my tub of Quake (got impatient) showed up from Orbit yesterday - took a full scoop before my deadlift/lower body workout last night. I had so much steam I finished my workout in under an hour - that NEVER happens on deadlift-focused days. Blasted thru it like a beast.

Mixed great, tasted fine (NOT overpowering or weird, it was pleasant), AWESOME performance, good drive/energy that was smooth and never overbearing. Awesome pump; my hams got so pumped during a set of leg curls I almost quit from the pain & immediately had to stretch after my set. Quake fell off naturally in a reasonable amount of time (took it at 6pm & was asleep by my normal 10:30pm) - enough to go smash the iron but still be able to sleep before the long day of work coming the next morning. This is a really great mix for the evening warrior like me who start the day at 5 or 6am but can't get to the gym til 7pm - it won't keep you up jittering all night.

With the demise of DMAA in our preworkouts, & the subsequent fad of yohimbine getting shoved into everything under the sun (even though it's not remotely the same) it's gotten really tough to find a preworkout that I even feel good on. It's gotten to the point that there's not many new ones I'd even want to bother running.

Quake has brought that back for me. SO glad I bought the full tub. 5/5, Ironflex.

We will have promos available in the future for logging opportunities.

Hardcore Supps for the Hardcore Trainer

Ephedra, though I understand your desire to try Quake, it's in bad taste to keep requesting free stuff. If they didn't say yes the first time you ask, the second time is still a no.

Body Performance Solutions


Home: http://bpsnutrition.net/

Facebook: @Body Performance Solutions

4/5

I am about half way through my log and I am loving this product. It isnt too heavy in any one are but solid in just about every category you could want in a prework out starting with the mix ability.
The energy is clean The pump is solid, the BA tingles are present but not a nuisance, my endurance is up my strength is increasing by the week (GVT routine), and with each session the Thermo effect is making it self more known.
All that plus it tastes good
My only thought would be to add a bit more of a stimulant factor but I am a stim junkie and that is my critique of about every pre work out.

4/5

This was a very faint and very light flavored fruit punch. For 9oz of water and 1 scoop (as directed on the package) this did not have much flavor if any flavor at all. I honestly did not taste much of anything, This just was like watered down red food coloring in my own opinion. I donít know if this was a bad case or what, but honestly I did not get much flavoring, but again that's not the premise of a pre-workout or the results it gives, but found this odd. I would have to try this again with around 4-6oz to see how much different this would be.


I did not even shake this and it literally was dissolved. This was amazing! So thin and instantly dissolved.


Big Prop Blend (not a fan) so I do not know how much of what I am getting nor do I know the amount of caffeine as well. This is my attempt to break it down
Creatine HCL is the first ingredient so I am going to guess in the 10.5g that you are getting close to an adequate 3-5g of creatine per scoop/serving of the product. BA may be a little under dosed compared to what you read in studies (around 3.2g), CM (which is great for pumps and endurance) again will be very under dosed (most studies show around 6g beneficial pre-workout) but still you can always add in bulk to this to reach an adequate dose. Forms of Tyrosine, Agmatine (pump Agente) Caffeine (going to guess around 200-250mg), and amp citrate. The reason I am going to guess 200-250mg is because I know my limits pretty well and anything over this will make me start to jitter. I usually take all my pre-workouts on a total empty stomach upon waking and this is what I have found best for me in getting and gauge of results. Overall I like the ingredients in the prop blend, not knowing the amount is hit or miss, but overall lots of stuff for pump (Agmatine and CM). Performance found in Beta-Alanine, Close to adequate creatine, and forms of a stim (Caffeine).



I personally do not respond very well to Agmatine as a pump agent, so my overall pump was nothing mind blowing or skin busting, but there were forms of pump and muscle hardening during my session. I utilized this for a deadlift session that included low back extensions (where I started to feel the pumps take over after heavy deadlifts). Did a bit of pullovers, leg extensions, close grip pushups (found good pump here), and leg curls + Abs.


Felt good, no jitters so I know this was a mild stim around the 200mg range, and good streaming energy. I felt energized from the start ( I start training at 5AM), There was even energy going right into my post-workout meal up till around 9-10 AM which shows it is strong and the enhanced focus/energy aspect is very strong. I know that if I did train later at night I would avoid taking this due to the length of energy and focus I got from this pre-workout sample.

4/5

ok guys, got hooked up with a free sample from ironflex. as i told bcazo i would be using the stuff on an arm day since thats when the pumps are the most prevalent and this is a pre pump product...

overall i give it a 4/5.

taste 2/5. did not care for it. plain and simple. no biggy though. it was the red stuff i dont remember the actual flavor.

energy 3/5. honestly i expected a little more because of how sensitive i am to stims. it wasnt that i wasnt energized by it i guess i let my self down thinking it'd get me rampaging.

focus 5/5. this is where it started to shine. i was reeled into my work out like a fish on the end of my line.

pump 5/5. i did a lot of arm work today. giant and super sets. i'm slightly uncomfortable trying to type this up right now.

i'd like to hit a scoop and a half or two full scoops. aside from taste i bet this stuff would be off the meat rack with a bit bigger dose. i liked that i didnt notice any BA tingles also. that stuff drives me nuts when i get hit by low quality ba that makes me all tingly. another added bonus.