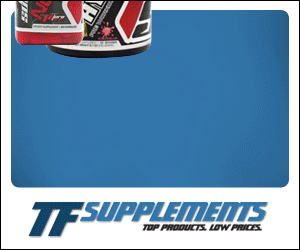 Manufacturer:
ANS Performance
Rating:
4.33
out of 5 stars, based on
3
total reviews.
Read all 3 reviews
Submit New Review
4/5

Had the awesome opp. to log this product and I was extremely pleased with my outcome and run with it. I managed to lose 4lbs which doesn't sound like much but after steady losing for over 8 months its something. BF% rechecked and sitting at 13.8% from 14.2% so things are looking up. Used in combo with PRIME and Erase Pro.

Taste: 5/5 Freaking Awesome!!! Hands down the most original and enjoyable thing since Kool-Aid!

Energy: 5/5 I dont need to be cracked out to know its working. The enrgy is smooth and it allows you to perk up any situation. At 2 scoops it makes a great PWO dose.

Mood/Focus: 5/5 Really dials ya in. You become focused on the task at hand and I cannot have a neg mindset after using.

Thermo: 4/5 Really didnt notice as great of a feel from this as i have from others. That being said Body Temp. def rises but you stay in that zone longer than usual and results in more bang for your workout.

Appetite Suppression: 3/5 My only true grey area as with using PRIME it helps increase my appetite. I EAT but I will say that my insatiable need to devour was decreased in frequency but this couldn't lead to binge eating when whole foods are present. Takes alot of restraint (or just be broke)

Overall: Really liked the product as It does exactly what it claimed. Constantly told that I was looking leaner and the energy it provides is a great way to start the day. It something that is definitely worth trying for a full run and stacks well with many different supps out there already.

5/5

I was lucky enough to be given a trial tub and then won a promo to run a full tub. This product is great! Let's start

Mixability-I would either put 2 scoops in a water bottle or a shaker and literally a couple shakes and everything was mixed with nothing floating or sitting in the bottom.

Taste-ok! This Diablo is probably one of the best if not the best tasting supplement I've tried and I have tried a sh!t ton. It reminded me of a lemon lime Gatorade with more flavor. Super good taste! If your all about taste on supps then you should stock up!

Energy-Diablo is more of a mild stim. If your looking for the cracked out feel then don't buy it. This is probably one of the top 2 smoothest energy supps I've ever taken. It comes on very subtle and fades very gradual. The energy is very clean, like super clean! No crash what's so ever, I dosed it at 2 scoops in the morning and for me there was no need for one in the afternoon cause I still had that smooth energy going on. I am pretty stim tolerant and this was just fine cause the energy that Diablo has is very different in a good way. To sum it up, you just feel like you have more energy throughout the day, like you never took a supplement.

Thermogenesis-the body warmth for me really kicked in when I would use 2 rounded scoops in the morning that's when I could feel it really well. This is why they probably want you to use 3 scoops a day. For cardio this would be golden cause you would sweat your ass off for sure.

Fat loss-this is the main reason why people will buy this probably. I really don't have much fat to lose. I'm below 10% so it is hard for me to judge but under fat loss I'm going to talk about my wife's experience with Diablo. My wife doesn't workout but wants to lose weight. Well one day I noticed my tub looked a little lower for some reason, well come to find out she has been stealing my Diablo! The women who hated supps, never liked the taste of anything I made her try is taking my supps now! So we adjusted her diet a little, nothing major and added Diablo. Damn, let's just say she's in love with this product! She has lost between 5-10lbs from just adding Diablo to her diet in a little less than 2 weeks. She really didn't have much to lose but damn, now you can see all the lines in her abs, it's crazy, so thank you ANS for making such a tasty supplement that works. I never thought my wife would ever actually take a supplement, now I just have to get her to workout and I'll be good:)

To sum this review up I have to say that this product is a 10 out of 10! It does everything it claims to do and more. ANS has created a wonderful supplement for men and women with different lifestyles. I want to say thank you to the ANS reps especially JD and SouthPaw, thanks guys for following the log. Sorry it was a little short cause of my wife stealing it but you gained another customer. Keep making such great products.

Mixed feelings on Diablo . I felt it working . I liked the taste but it really tore my stomach to shreds .

I have a iron stomach so it was very strange for something not to agree with me. Possibly got a bad batch or moisture got inside my tub because it was a bit clumpy and the seal came off real easy.
Had to toss most of it.

I'll give it another run though at some point because I loved Ritual and Dilate.

"Strive to seize the initiative in all things"

Odd my stomach normally doesn't agree with a lot of products but the diablo actually was really easy on my stomach. Send me your addy I'll have another tub sent to you and find out what was up with that tub.

Core Nutritionals Representative

Thanks . I'll post up and revise accordingly. Like I said nothing really effects me negative (except USP labs Test Powder) ! Other ANS products have been aces so maybe somehow my tub got jacked up.

"Strive to seize the initiative in all things"

4/5

Diablo Review

Dosing: 1 scoop A.M. and 1 scoop preworkout

Mixability: Diablo doesn't mix the greatest when it's not in my blender bottle. In the morning I'd just use a glass and spoon. I always ended up with a tad of clumped product. It wasn't much and I'm not the type to get bent out of shape about it, just added a bit more water and down the remaining amount. In a blender bottle I had no problems with it mixing just fine though.

Taste: I hope this makes sense. The taste is not my kind of flavor, electric lime. Don't get me wrong the flavor is really good. It's a smooth lime flavor with no chemical taste and no terrible aftertaste. I'm just not a lime kind of person but drinking this was so easy and I never cringed at the thought of the flavor. If you don't mind lime then the stuff is probably the best lime type flavor you'll ever drink.

Stimulants: Diablo isn't that strong of a stimulant product. It would wake me up but never over the top. I'm fine with that because I've taken fat burners that were just over the top and I felt like crap all day. The feeling I felt was after you drink stimulant product you feel it ramping up and then your at full blast. With Diablo you could feel it ramp up but it never quite gets to full blast off. On Saturdays and Sundays I'd drink a cup of coffee after the Diablo and be ready to crush the world. Don't get me wrong though, the preworkout dose was enough to get in good workouts.

Thermo: The thermo effect was non existent after first dosing. But a few hours later I'd feel the effect. It could have been my work since their air sucks but I'd get a slightly damp lower back and feel a bit of warmth. However the preworkout dose gave me nice heat while working out. I would start sweating a lot earlier in the workout than normal. By the end of cardio I'd be pretty much covered, but it also wasn't to a point when I'm sweating at a rate that I felt like it hampered the overall endurance of the workout.

Results: I don't weigh myself all the much and I was taking other products like ArA, but this has been one of the better powdered fat burners I've used to date. I did't get magic results and drop 5% bodyfat or anything like that but I did slim down a bit and not lose any strength or size. Overall I will be running it again, probably two bottles in a row next time though.

Ok here is my Diablo update : Judgementday sent me a free tub to replace the tub I had a bad experience with. First let me say I didn't ask for the tub it was offered and that's a true sign of a company that stands behind their products. Also a tremendous gesture by Judgementday.

I could tell this tub of Diablo was different. The seal was secure and opening the tub it was well closed. The color and the texture of the powder was different as we'll so I was pretty sure I just got a bunk tub.

I used diablo as my morning coffee this week and didn't experience any adverse effects like the bunk tub. It mixes very well and has a nice lime flavor. I love lime so I'm partial but it's very refreshing first thing in the morning. Diablo has a nice thermo effect and appetite suppressant properties that kick I'm around 20 minutes in.

I will update after using the entire tub but I recant my previous review and chalk it up to a bad tub , seal maybe mis handling by the retailer who knows.

"Strive to seize the initiative in all things"

5/5

I really liked this. and its good to have a fat burner without Yohimbie for once, i enjoyed it allot and really helped crush my appetite throughout the day. lots of goodies in there, makes it great to stack with other products.