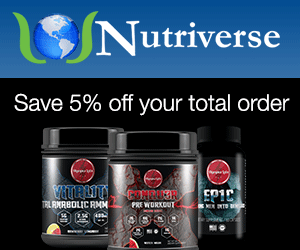 Manufacturer:
PES
Rating:
4.55
out of 5 stars, based on
11
total reviews.
Read all 11 reviews
Submit New Review
4/5

Pros - profile and goodies in profile

Cons - slightly chalky flavor, mix is just average

other thoughts - i got a blue rasp flavor but it was yellow-lime greenish.

4/5

Pros- Methylcobalamin form of B12, Taurine & Hica
Both Flavors are Delicious

Cons-Confusing Label. States 60 Scoops, but that is really only 30 Servings, somewhat misleading.

Cherry Limeade is tied for 3rd with Purus AminoD in terms of taste behind only AminoCore & AminoLast.

-Taste is subjective and reflects my opinion.

5/5

Another great product from PES! Mixes great and tastes great! Definitely would buy again and recommend!

5/5

The Cherry Limeade flavor mixes well and tastes great. Definitely improves my recovery time and helps me last through intense workouts by keeping lactic acid at bay.

5/5

PES is in the game with their AMINO IV which quickly knocks down all of its' *****s.

Profile (5/5)
PES is no stranger to science... 10:1:1 amino ration incorporates 3 hybrid forms of L-Leucine, L-Isoleucine and L-Valine for better bioavailability.It is the most effective dosage of BCAA's you can get! 2 scoops= 15g BCAA L-Leucine, L-Threonine, L-Malate, L-Phenylalanine, L-Lysine, L-Isoleucine, L-Valine, L-Histidine and L-Methionine. This is also the first amino acid I have tried with HICA which is a leucine metabolite (increased endurance).

Taste/Mixability (5/5)
This is one of the best tasting amino acids out in my opinion Cherry Limeade. I am not a big fan of Cherry Limeade but PES hit it out of the ball park on the taste. It is not over powering and it is perfect for a long workout.

Effectiveness (4/5)
I am currently cycling of stim-based pre workouts, and AMINO IV gives me the intense clean energy for my workout,I have noticed incredible recovery time. After Battle Ropes I am usually sore for 3-4 days and I am currently able to recover from it in a day or two.

Value(4/5)
I wish this was around the $20-25 mark, to make it under a dollar a scoop, but PES went to new heights to bring a top notch product to the market.

Overall (5/5)
This is my favorite BCAA out their I have tried (Purple WRAATH, Gaspari AminoLast, MP AMINO1, Xtend, and BSN Aminox) This product had the best flavor, and profile out of all of them. I will continue to purchase this product!

Alright, so I'm long winded. Here's the short version - Amino IV is effective and in my opinion, it tastes OK. Bang. Now onto the long version.

I've never used any kind of intra-workout before. As you can tell by my name, my workouts are of the HIT variety - they are short, intense, and they usually leave me very sore for days. It is not abnormal for me to have a hard time walking for up to 3 days after a leg workout. I am overweight though, and I decided it was time to get serious and drop a lot of weight. I started a PSMF diet and realized that it may be a good idea to supplement with BCAAs before and during my workouts to avoid muscle catabolism as much as possible on 600-800 calories/day. During the past 10 weeks I have dropped 37 pounds (diet being the main catalyst there).

Having used a number of PES products, and having recently tried PES Select CNC and fallen in love with the delicious flavor PES created, I figured I would try out the flavoring of Amino IV. If I'm going to use a BCAA it may as well taste good and PES was proven in my mind. Cherry Limeade sounded delicious, so I went for it.

Well, that is where I was moderately disappointed. Moderately. This product tastes good, no issues with it, but it wasn't great. It wasn't to BCAAs what Select is to protein. Maybe the flavoring was just a big weak? I don't know. I have read other reviews that stated the mix had a "vitamin" flavoring too it and tasted a lot like a crushed up multi-vitamin. I think this is way overstating it, but it was there. Still, I had no issue drinking it and it tastes good - better than plain water and there was nothing about it that made me NOT want to drink it. I'd give this a 6 or 7 out of 10.

As far as mixability - for the most part it mixed up very well in a shaker cup. It would clump at first on top of the water, but 2-3 shakes and it was pretty much dissolved. For some reason, however, no matter how much you shake it there is some grit that always settles on the bottom of the cup. I tend to drink what I mix, then pour water in the cup and get the grit out with my second fill. I'd say the mixability is 9 out of 10. The grit is a very minor nuisance.

But I wasn't really paying for a good drink. I could get that for half the price. I was paying for intra-workout support, and this product delivered. Since I have started this product, I have noticed my DOMS has been GREATLY reduced. Some days, I feel like I could workout a muscle group the very next day and could barely feel the pain at all. This is very unusual for me - I am almost always sore. It's just how I am. So, this is a big win for Amino IV - decreased DOMS for certain, IMO.

Second, all of my strength levels remained relatively consistent over the past 10 weeks. I may have lost a couple of reps on this exercise and gained a few on that exercise, but I'm lifting all the same weights, and my workouts are consistent. This statement is NOT impressive to me, since we all want to gain strength on a regular basis, not stay the same. It is EXTREMELY impressive when you remember I am on a PSMF though. 600-800 cals/day and relatively no strength loss? Maybe if I was taking a SARM, or PH, or gear. I'm taking Amino IV, Fish Oil, Multi-vitamins, vitamin D, protein powder, and green tea.

What is impressive about this is that I didn't throw this product in as an addition to what I was already doing, per se, but I threw it in to counter-act what I had taken away (food). This product would have been impressive if it just helped me slow the muscle loss. Even in an extreme deficit it definitely contributed toward virtually STOPPING muscle loss and turned me from someone who always has heavy DOMS to a person who has none-to-light DOMS. So, in my mind, it works.

Finally, I am at the end of my tub and given the fact that I'm not eating a lot, it would be nice to have an intra that was a little more tasty. I've spent 3 days looking for something to replace Amino IV with. There are 1-2 products that look promising in the taste category, but they are all lacking in other areas - particularly the HICA ingredient. Cost is also a factor for me and I was trying to go cheaper. At the end of my 3 days of searching, I realized that there is a Watermelon flavor of Amino IV. This product is relatively inexpensive when you compare what you get to other products, and I am a believer that it works - so I pulled the trigger on a second tub.

If you compare cost on this product, please realize that there are 60 scoops for 15 grams of active ingredients in each serving of Amino IV and most other formulas have 30 scoops with 3-8 grams of active ingredients. So, even though some other products may be 2/3's the price overall, you are getting half of the amount of active ingredients for much more than half the cost.

So, to summarize, this product tastes good (not great), mixes very well, and I really believe it works in that it stops DOMS and helps spare muscle. On top of all of this, it is relatively cost effective. I would recommend this.

5/5

I Love this stuff!so far this is the best animo intra workout I've taken!recovery time is much faster great energey and keeps me working out and when I finish my routines I just want to keep on working out!This stuff is great

5/5

You can't beat the combination of supporting ingredients, as well as the amount of bcaa's in each serving. Flavoring is also spectacular on all fronts. I usually use 1 scoop preworkout (fasted) and intra (with a TON of water - dulls the flavor but its great for making water more exciting). When it's on sale, stock up as its worth every penny.

5/5

As a rep for Orbit, you'd expect that I've used my share of supplements - and you'd be right. Of all the amino acid products I've tried, PES Amino IV is the one I keep coming back to - it's my gold standard I judge other amino supps by when I try them. There are several other products out there that I would certainly vouch for, but Amino IV is what I find myself coming back to over and over again. Considering profile, value/serving, taste/mixability, and just how I actually FEEL using it, Amino IV is never a bad choice. Both flavors are very good (and will be a light greenish color mixed) but Cherry Limeade is my favorite.

Controlled Labs Board Rep

[email protected]

CONTROLLED LABS products are produced in a GMP for Sport certified facility.

4/5

AntM Reviews PES Amino IV

Attachment 121022

I finally decided to crack open my Amino IV from my CPBC purchase from PES. I was excited to try it since I've heard so many great things. The flavor I got was the Blue Raspberry. I tried both 1 and 2 scoops. The flavor at 1 scoop is very subtle. There is more than a hint of a raspberry flavor, but nothing mind blowing. At 2 scoops, the flavor is a littler sweeter. It is a nice light flavor. Nothing overpowering. One thing I wish this flavor had was more tartness. When I eat raspberries, that is what I really look forward to. In terms of recovery, it was a sample, baby bottle from what you can see so I cannot accurately judge that. However, going off taste along and the reputation of PES, I would buy and tub and recommend a person to purchase it as well.