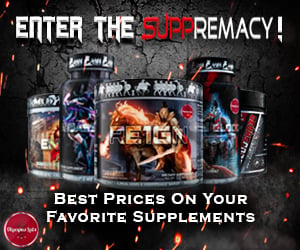 Manufacturer:
Performax Labs
Rating:
4.07
out of 5 stars, based on
14
total reviews.
Read all 14 reviews
Submit New Review
4/5

this product delivers intense focus with workouts. no stim to think of that i saw or felt. when i got on an exercise i was all in the moment nothing short of an explosion could have distracted me. so if you are looking to keep on track of what you are doing use Fitmax it delivers.

5/5

I will be reviewing FitMax based on what it claims to do....

•Improve Athletic Performance

I think it'd be impossible to say it didn't. It has some proven ingredients in it, all of which help.

•Increase Thermogenesis

That it did! I commented on this the first or second day I was into logging it. It seemed to be quite a potent thermo effect for myself. I think this was the most distinguishable effect from it. If you're someone who likes thermos, than this should be up your alley.

•Clean Energy and Focus

It did just as it claimed. Good enrgy and focus. Not jittery and no crash. This product is definately solid in both of these aspects.

•Long Lasting Endurance

Some days yes and some no. A lot depended on what body part I was training / how much the thermo effect was kicking in. Sometimes I'd get pooped out from sweating and squatting; other days it seemed as if I could go on forever. Not a negative effect either way, just giving my experience with it.

•Taste Great & Easy to Mix

Yup! It was a fruit punch tasting flavor, not a gross one like gatorade / powerade. Reminded me of a watered down fruit punch that the Hawaiin guy with antlers that we all drank as kids. I used less water to get a stronger taste and really enjoyed it. It mixed perfectly fine too, couple swishs in a bottle and it was 100% mixed every time.

Thanks for the detailed review brother! Really appreciate the feedback and im glad you enjoyed it!

4/5

So my log wasn't created under the ideal circumstances that I would normally complete due to crazy happenings with getting married and taking a 3 week vacation during that time.
The product kicked major gluteus maximus as an overall fat burner. My diet was off point for most of the time of the log and was able to keep my weight down (with only a 4lb increase! usually I can easily gain about 10-15lbs within the 3 weeks time frame of sloppy eating on vacation). So hell yes I was impressed.
My workouts while on the road were never disappointing as I had plenty of energy without the jitters.
I gave this a 4star rating because I actually enjoy the feeling of being highly stimmed...my heart won't like me at all later down the road but that's on me :-P

I would definitely give Fitmax another go when I am in a stable environment, with a more committed structure and solid routine.

Give this a try!!!

Unfortunately it didn't do anything for me even at two scoops. That being said my girlfriend loves it. She took both of my tubs and uses them daily. She says it gives her good focus without feeling over stimmed

To be honest thats what we kind of expect!

Fitmax is honestly more of a Womens pre workout, we tailored and designed it more for general athletics and we found that women LOVE it! Dont worry though because were relaunching Powermax soon, and trust me you'll feel it!

4/5

This is easily the best tasting pre workout I've ever had - honestly wouldn't know it wasn't just juice mix. I take two scoops.
It wakes me up and keeps me from yawning, but it's clearly not designed for stim junkies. It helps me work out a little harder, a little longer. Nothing mind blowing, but it's definitely better than a cup of coffee as a performance enhancer.
I don't notice much in the thermogenic or weight loss department.
Overall, a decent preworkout I can easily use daily.

Thanks for the review sir! Definitely gotta agree on taste, still enjoy it almost daily

5/5

The amount of energy Fitmax provides throughout an ENTIRE workout is second to none. It takes a hold of you and won't let you stop no matter how intense you bring it. The endurance it provides is certainly noticeable. And this is with being relatively light on stimulants - 1 scoop has as much caffeine as 1 cup of coffee. I started at 1 scoop and slowly worked up to 1.5 scoops never going above this over the course of 5 weeks. This dosage was plenty strong for me. I have to say that I was coming off of a 2 week stimulant break when I started logging it. The energy was always there no matter the dosage. Focus became more noticeable up around 1.5 scoops. I had kiwi strawberry, no complaints with this flavor, very tasty. No problems with mixability. I did sweat a little more than usual taking it since it does have thermogenics in it. Appetite suppression is very noticeable for about 4-5 hours after taking. I wouldn't say I'm a huge pump guy. Normally if I push myself hard enough, I get sufficient pumps. A few of my workouts I'd say I experienced better than normal pumps, but this may have been from different training stimuli - I wouldn't call myself a good judge of pumps. I regularly got a euphoric feeling during my workouts. Many of my workouts were performed with relatively little carbs in me. I never had problems with performance from this while on Fitmax. All in all, it was a great, enjoyable 5 weeks logging Fitmax. I had strength increases with every workout. Fitmax - energy that won't let you quit!

4/5

Final review.

Taste: Outstanding! I have not tasted a better preworkout and I've used about 20+.

Mixes: up super easy. Used anywhere from 6-12 oz water.

Focus: it's no focus xt, but it has a little something and that's enough for me.

Pumps: Gives great pumps! Especially in da biceps. By the time you get to isolating biceps you can flex and get a super hard contraction before you isolate them.
Makes me vascular as well. Nothing crazy but better than not taking it.

Energy: Good, clean, mild, no crash energy.

Cons: Sometimes I got a lower back pump which can be uncomfortable. Really not a big deal though. Training for powerlifting sometimes you don't want a pump say when your squatting. I encountered this, but very mildly.

If I could choose what this is missing I like beta alanine and maybe more stim.

I would consider this product a jack of all trades and master of none, except taste. This is good if you want a do it all preworkout.


The good:
My wife likes it! This is huge. She is disgusted by most supplements. But she likes FitMax, had great trainings with it, and I will totally buy her more. It's a perfect preworkout for her bootycentric workouts. Gave her good energy, power while squatting rowing benching etc., good pumps, and focus on form and muscle. I'm totally stoked on FitMax because of all this. Plus it says fat burning on the bottle and chick's are all about that. I did notice a thermogenesis going on after taking.

I honestly quite liked it too. Its great for when I do like a bodybuilding day, or higher volume day.

Big thanks to the reps and Performax!

5/5

Fitmax is just as good as Powermax and that's huge for me. I loved Powermax and Fitmax fills the void. Great focus on 1 scoop, huge pumps on 2 scoops. Painful pumps doing supersets on arms day. Good stim amount to keep me going. Endurance shines on this product as I found myself looking for more to do in the gym after I was done. I could do a hard lifting workout and then go skate for an hour or two with plenty of energy. Loved it, will keep buying more

4/5

The flavor was not to overpowering but it had a nice strawberry taste.It's really not to over stimulated but it does deliver with good focus without the crash.If you are looking for a low stim preworkout,you should try FitMax.

4/5

Taste

I used the 3 servings in the following ways
6oz → Very strong kiwi and strawberry flavoring, I had to add a bit more liquid to find my sweet spot for this
8oz → Pretty good, but I enjoyed the 10oz the best, both flavors really shined in the 8oz mixing, but the flavoring is strong and the overall Strawberry really is distinct with the kiwi more of an aftertaste
10oz → What I really enjoyed most, I like my things watered down a bit, but both flavors shined, and the kiwi was more aftertaste as stated before and the bold strawberry initial burst



Formula

As seen in the picture below and about to be broken down:
Vitamin B6 -> 10mg
Folic Acid → 100mg
Vitamin B12 -> 60mg
Now I am not a huge fan of prop blends so I am personally going to try and break down and give my thoughts on the dosing of the products below
4.9mg Prop Blend

Performance Blend -> Creatine Mono (guessing 1g), Citrulline (500mg or so), Agmatine (500mg or so), Glycine

Seeing I did not get much of a pump I would guess the agmatine is on the lower end, Creatine I am going to guess on a fat burning stim there will not be much so you will need to dose a bit more on your own.

Focus Blend → Taurine, Caffeine, Tyrosine, Phenylehylamine HCL
A Blend of Caffeine + PEA again I am going to guess, I did not get too much off a hit here, so I am going to guess since my sweet spot is around 200mg this is sitting like 125mg ish as far as caffeine goes. The Phenylehylamine was nice and provided a streaming bit of energy that was prolonged for about 90-120 minutes.

Burn Blend → L-Carnitine, Advantra-Z, N-methylyramine HCL
Again this is the fat burning blend in the stim/burner, With unknown amounts and 5g between everything above it really is hit or miss off 3 samples to really give feedback on this prospect. I would have to say these will be on the lower end, but again this is hit or miss. Overall good ingredient profile, but many things will be under dosed to its true degree or what the things are used in for studies (5g creatine, 3.2g BA split up doses, Citrulline up to 6-8g Pre-workout etc).

Overall

A great tasting product, don't get me wrong the strawberry kiwi is awesome, it reminds me of Strawberry Margarita from Cellucor C4 but with the kiwi aftertaste. The blend and ingredient profile is hard to say being it in a prop blends you don't know what your getting, so you may need to use a bit extra in bulk to really reach adequate levels for some of the ingredients, but overall I like where it is headed with BA for performance, Citrulline for pumps, caffeine and PEA for your stim mixture (caffeine and nootropics), not to mention the inclusion of vitamins B6/12 and also the fat burning blend to round off the fat burning / stim

Thank you for the in depth review Bob. We appreciate your feedback, especially the different amounts of water you used to get the most out of the taste.. I cannot wait to try this flavor. Cellucor's flavoring system is spot on, so if this reminded you of C4, the taste must be pretty good.

Performax Labs Product Specialist
Follow My Journey: http://anabolicminds.com/forum/workout-logs/269588-antms-lean-bulk.html

3/5

I'll review both flavors in the taste, and effects as total.

Taste:
Strawberry Kiwi - 4/5 The flavor is spectacular, albeit a bit strong. I had to add significantly more water (20oz total) in order to really enjoy this. The kiwi is very light, almost more of an aftertaste/though but as a whole this is very good. I personally prefer this to the fruit punch just because its different.
Fruit Punch - 4/5 Totally standard fp flavor. nothing special but certainly nothing bad to say about it. Same as SK, added much more water then directed in order to dull down the flavor a bit.

Mix- 5/5 Up to two scoops with 20oz of water mixes very clean with no residue whatsoever. A couple shakes and you're ready to go. Very minimal if any foam too so you can drink it all right away if you're in a hurry.

Effects:
1 Scoop - 3/5 Very light, slow building type of energy. Almoist more of a focus then energy but there is certainly a sense of increased "want" to do activities. I like to take this for my evening hockey games that I'm often beginning to drag before after having a long day. The stim effect is not enough to keep me awake after so this is good. Have not noticed any thermo effect or increased pump/vascularity from this at all.
2 Scoops - 3/5 Same type of slow, controlled, light energy. Slightly more prevalent when it begins to hit but still not a "slap in the face" type. Focus is definitely more pronounced at 2 scoops. Still minimal to no thermo effects or increased pump. Small increase in vascularity.

Overall: 3/5 I think this is a great option for those looking for a small boost but nothing too crazy. Would work well for someone very stim tolerant as well. I definitely have a place for this product as a late evening/night boost that doesn't negatively impact sleep. I was disappointed in the thermo/pump effects however, especially considering its hype as a fat burning pre.

4/5

FIT MAX:

TASTE: 9/10 The Kiwi Strawberry taste is awesome!In my opinion, there's no other preworout that I can compare it to.

MIXABILITY: 10/10 Zero issues for me here. Mixed up perfectly, little to no foaming, no grittyness, no settling, and no left over reside on the sides of my shaker cup.

ENERGY: 8/10 I would consider this supplement as a low stimmed preworkout, so you're not going to get the mind blown energy levels. However, I would recommend 2 servings ( 1 1/2 scoops). I have some caffeine tolerance so adjust accordingly. With that being said, I do remembering either reading here or somewhere else that this is equivalent to a cup of coffee. So you know, 9 out of 10 times, I do take some sort of preworkout before hitting the weights and it works out fine for me. I don't like being overly stimmed, so Fitmax fits the bill for me and has allowed me to push a little further. Good stuff!

OVERALL: 8/10 Overall, I like it! This product worked fine with 2 servings. I was fortunate to receive a few samples and I will most likely buy a tub which is 50 servings. If you're expecting insane pumps and/or have a high stim tolerance, this product may not be for you. For me, however, it wasn't a big deal because I am don't like to be overly stimmed out. I stacked these samples with Alpha Max(which is also awesome by the way) and I feel as though Fitmax has helped me get a little bit leaner because of the "slight" intensity. I will go on the record though and say that I wish that Fitmax had beta alanine. I also wish that the ingredient list was broken down a bit better rather than just list it as a prop blend. But overall, I was pleased and satisfied with this product, so I will still give it two thumbs up!