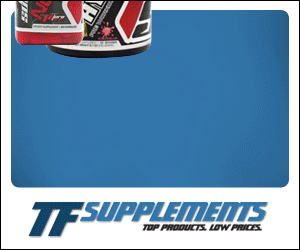 Manufacturer:
Serious Nutrition Solutions
Rating:
4
out of 5 stars, based on
3
total reviews.
Read all 3 reviews
Submit New Review
Controlled Labs Board Rep

[email protected]

CONTROLLED LABS products are produced in a GMP for Sport certified facility.

Did not have much affect - taken 15-30 minutes before carb meals and it simply did not partition as well as other GDA's. Little to no pump, bloated if you consumed more than about 40-50g carbs. Basically did not really notice it was there. Glad I am done the bottle and that I did not buy two. I am comparing this to AP, recompadrol, slintensity, slin slane, straight up NaRala or Agmatine....and probably some others don't come to mind at the moment.

I am with you. On the second half of the bottle, I started using AP one meal and Glyco the next...just to make sure I was not going crazy. SNS has me well - solid products. I use them daily. This is the first time I have ever posted a negative review btw..

I used a full bottle. I did notice there was way less bloating with carb containing meals. I used it in a cut coming off a bulk, so I did notice weight loss but that could be attributed to my diet change and cardio.

For the first few meals I noticed a carb/gda pump but after that I didn't feel too much of one besides the time I took two caps pre cheat meal. Felt jacked as a mofo and bloating was still at a minimum.

Ingredients wise it's similar to most other premium GDA'S I tried glycobol after it and it was pretty much the same.

It is however half the price of glycobol which would make me purchase it over glycobol if I had the choice.

Awaiting 2 X recompadrol and 2 X Burn 24 to see how these compare in the market.

Currently using... ALRI - Humapro, Bioflex - Hydroflex HWPI, Bioflex - Jointz, Bioflex - Biogreens, Athletic Xtreme - Hard FX, Infinite Labs - Juggernaut HP, Finaflex - Max Pump, BPS - Vanillean, ALRI - Lipotherm, Swisse - Fish Oils.

Heavyappetite, You have to click "Add New Review" for your review to show up. That way you can give a rating. Or Click "Submit New Review" at the top of page.

4/5

This product is very versatile and can be used any way you'd like. I used it on a recomp. I put on some weight during my month with it, but bodyfat looked like it went down a little. A very good supplement if you like high carbs. Dose it before a cheat meal you you will not feel bloated afterwards.

5/5

Dosing

For optimal results it states to take like most GDA's, which is 15 minutes prior to a carb heavy meal. If you were going to intake 100+G of carbs or use fot a cheat meal you could take 2 tabs prior to that meal. Again its best to spread these out since the half life on GDA's are up to 4-6 hours so dosing between 4-8 hours apart would be ideal.

For me I use them for my last meal usually depending on schedule (which is 150g of carbs) prior to bed. I usually don't use a GDA post-workout (not really a good time to use) and my first meal of the day is P+F oriented (Following a Biorythm type diet)

Formula

The Inclusion of the L-Norvaline would make this a great pre-workout hit for those that eat carbs prior to their workouts or utilize intra-workout carb beverages to help aid in the pump during their workouts, which would also stack well with pre-workout nitrates.

Seeing I do not utilize more than 1-2 caps a day depending on schedule (if I train early my PWO meal is a P+F meal) so I will utilize 1 cap in the mid afternoon and 1 cap pre-bed with my larger carb meals (around 150-250g of carbs) in those meals to help utilize this as a GDA.

Cost

I have seen a 60 cap bottle go for around 17-25$ online depending on source. Overall it's a very cost effective GDA, this has got a lot of rave compared to Slin-Sane, Burn 24, and Anabolic Pump being other leading products on the market in this category.

Thoughts

Overall, I am satisfied after a few uses. Hard to tell how effective the product truly is when you are shooting down 3200-3300 kcals a day and over 400+g of carbs. Overall I get no bloat even on these many carbs, the product seems to be doing its job, and I do not really notice the Norvaline much as stated I don't consume carbs pre-workout, so if I did this may be better to gauge on a workout, I am mostly taking these later in the day or not around my workout (I avoid again PWO doses of GDA's). Overall the cost alone is a good factor to consider this product and SNS has its brand name speak for itself as a great company that produces well selling products.

Thank you, just being 100% honest as expected.

3/5

so, after been using this product for 1 month i can say that the results were not really noticeable, i am sorry to say that but i was expecting more, i had the same results just using R-ALA 300mg-500mg with meal including more than 50g of carbs, i am not saying this was not working at all, i was able to eat more carbs without having any side effects, for example eating more than 50g of sugars (post WO dextrose+maltodextrin) did not have any bloating and/or any issues but comparing with the usage of R-ALA the results were the same.

i will stick to R-ALA for the future since it is also a great antioxidant.