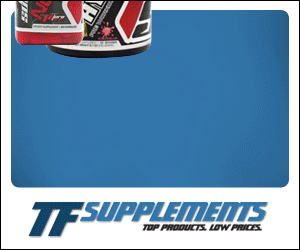 Ripped Cocktail (60 Servings)
Manufacturer:
Lecheek Nutrition
Rating:
4.67
out of 5 stars, based on
3
total reviews.
Read all 3 reviews
Submit New Review
Ripped Cocktail (60 Servings)
5/5

Appearance: Small and compact (redundant?), good looking label. Plenty of pertinent information on the tub. Instructions are clear. Upon opening, the powder looked uniform. The scoop is SUPER TINY.

Mixability: Dump it in any amount of water or Gatorade and it will mix almost instantly. A couple swirls in the cup and it is good to go. No clumps, no floatees, no grit in the mouth during or after drinking.

Taste: Appletinni, tastes like an apple jolly rancher. Super delicious and not too sweet. I used about 10 oz of water per scoop. Perfect.

Effectiveness: As a Thermo, this product rocks. Literally almost instant energy that lasts for hours. 1 scoop would keep me going all day, but since I am a stim junkie and my tolerance I high, I would take 2 scoops. There was no come down or crash. Not even a loss of energy that you would notice. I was always tired just in time for bed. I dropped a total of 10 pounds in the month that I ran this product. The appetite suppression was amazing. I literally had none. This contributed to my rapid weight loss.
As a pre-workout this Ripped Cocktail was okay. No crazy pumps or anything spectacular other than TONS of energy and focus.

Overall- I loved Ripped Cocktail. The only thing that I would have done different is to have ordered another tub to run for 2 months.

Thanks Lecheek for another outstanding product!!

4/5

Overall I was impressed with this stack. Initially I didn't think it was working as I actually put on weight and my hunger increased, however after a couple of weeks on this stack those issues came to a very abrupt halt. At that point my hunger level was virtually non existent and I began dropping weight fairly quickly. Energy level was also very good. I took one scoop of Ripped Cocktail upon waking and another in the afternoon. This kept me energized throughout the day, with no crash what so ever. Taste is amazing as always with a Lecheek Nutrition Apple flavor, this was like a tasty treat!! I would recommend this stack to anyone looking to shed a few pounds and stay energized and ready to take on whatever the day brings!!

5/5

Ripped Cocktail is amazing as soon as the tub is opened. It smells great(apple tini)little scoops so it lasts,and mixes up with no problem. I use it for pwo,before work for a more focused,productive day,and on the weekends to get going and have great day. The flavor is amazing. The energizing effects start about 5 min after the first drink. Focus and well being last for hours with no crash. I have gone through 4 tubs with no bad words about this product at all. This will always be in my stash.