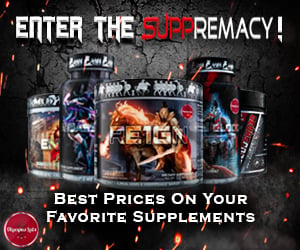 Metabolic Powder (50 Servings)
Manufacturer:
Enhanced Body Formulations (EBF)
Rating:
5
out of 5 stars, based on
1
total reviews.
Read all 1 reviews
Submit New Review
Metabolic Powder (50 Servings)
5/5

Of the 3 products I received from EBF, this one was definitely new to me. I had never heard of it before and had no idea what it did or how to take it. When I opened it up and took a whiff of the particles as they flew out of the tub I got the hint of something almost sweet it my nose. Raspberry even. Thats when I turned the label around and looked at the ingredients and was shocked to see that it only contained 2 ingredients, one of which was raspberry keytones (my nose is da real MVP). Raspberry keytones have long had a great foundation in prevention of high-fat-diet-induced elevation in body weight. Translation? Take some RK, eat a huge fatty/carb meal and don't worry about gaining body weight… or if you do gain body weight don't worry about it becoming fat that you are gaining. The second ingredient is HCA which we've already seen in RECOMPADROL.

You can dose MP in one of two ways… you can add it to foods you create in the kitchen or you can just shoot it straight. I'm not much for cooking in the kitchen so I took to the shooter method and experimented with a bunch of different dosing varieties:

2 scoops 30 minutes prior to a meal (with RECOMPADROL)
1-2 scoops preworkout
1-2 scoops postworkout
2 scoops intra-meal (usually taken RIGHT BEFORE I start eating)

I usually always dosed 2 scoops… and let me tell you about this scooper. THIS THING IS MINISCULE! I don't think this tub of MP is EVER going to run out so it already gets my thumbs up for being cost effective (I must have seriously scooped out like 100 servings already). I would take 2 scoops and place them in about 4-6 oz. of water, stir it up with a spoon (or just straight drop it into my preworkout) and toss it back. Remember that sweet pungent aroma of raspberry I talked about before when I first opened the container? Well forget about any of that smell translating into the flavor. It's hideous. Atrocious. The only thing I've been able to compare the taste with is what an ashtray would taste like if you were to pour some water into one and drink the contents… with that being said its short lived and isn't anything you CAN'T swallow. Besides the benefits to it far outweigh the flavor and if you are that worried about it then just toss it back with some juice or an energy drink.