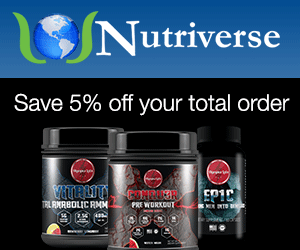 Testogen-XR (30 servings)
Manufacturer:
Ronnie Coleman
Rating:
4
out of 5 stars, based on
1
total reviews.
Read all 1 reviews
Submit New Review
Testogen-XR (30 servings)
4/5

On your knees dog. All hail. Bow down to the, bow down to the King ♪♪♪ Ahhh listening to Motorhead while writing this review just make me think of Ronnie Coleman walking down the gym straight to the rack squat and loading all the plates !!!!

My experience 9/10
The Good
When I started with Testogen I was on my 3rd week of Dpol and I switch immediately to TXR and I notice a big difference in a matter of days. Strength was noticeable been able to hit some PR's almost every week !!! In the gym I feel like my beast mode was on all the time, it was like boom !!! ( and not the boom from Mark Loblainer it was more the boom from Metallica's Enter Sandman )lets do this attitude. On the libido dept. I was happy all the time !!! sometimes I need to take a deep breath trying to detour the blood flow to other muscles. Watch out on the beach ( well if you lives in Florida!!!)
The Bad
Like almost any good NTB acne was present during the run ( face & back ) but nothing that I can't handle with some Pantothenic acid. Bathroom runs were more often than usual, sometimes just minutes after taking TXR.So I just start consuming it before breakfast, by the time that I hit the gym later in the AM everything was under control, no worries while lifting.

Mixing/Dose 7/10
Just one scoop per day, that's it. This is common with a lot of powders, the grit at the bottom, but in this case nothing that a couples of shakes and let them sit down a couples of minutes will not resolve.

Taste 10/10
tastey, tastey, tastey. I got the strawberry/lemonade and the taste is freaking awesome. I'm not a fan of anything mixed with lemonade, but on this one they did a great job.

Value 9/10
Just have in mind all the ingredients that RCSS put together, you will notice that they are not cheap. With DAA, Agmatine, AstraGin and all the extra goodies you are paying for what you are getting, quality stuff.

Bottom line
This is the booster of all test booster. TXR will gives you what others NTB don't... results. Expect strength gains, increase in libido ( and sometimes that Johnny Bravo attitude, aggressiveness and some bathroom runs !!! Great to run it with an AI, fat burner or as part of a pct. Good to see companies that brings quality products to the market.