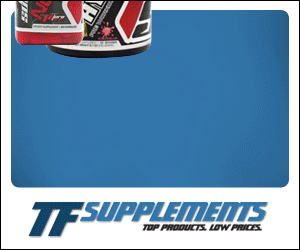 Manufacturer:
Performax Labs
Rating:
4.39
out of 5 stars, based on
38
total reviews.
Read all 38 reviews
Submit New Review
NOW THATS HOW YOU RUN A LOG! Thanks for the detailed approach and evaluation of Powermax. We are thrilled to have you receive Powermax so well, and truly appreciate you running this log for us. I'm curious to see how it stacks up against enhanced, I think it should hold its own. Speaking of future products...Lets say we got something in the works

Former- Performax Labs Online Company Rep.
[COLOR=#333333]

Thanks for the very detailed review Joh, its def. one of those pre workouts that isnt getting enough attention but once people try it they LOVE it!

Thanks for the support totalpackage!

Does powermax have hallucinogenic properties?! I just opened the fridge after drinking it and I swear this banana just frowned at me in disapproval !




hahaha If you look closely, it does resemble a frown like face. It must be the focus from Powermax or someones trippin off of

Former- Performax Labs Online Company Rep.
[COLOR=#333333]

4/5

Picked up a couple sample packs at a powerlifting meet.

Taste: 5/5
Don't really mind if a product tastes bad, but performax hit the nail on the head here. Tastes just like kool aid, or hawaiian punch..

Mixability: 4/5
Had a couple dark colored floaters, but they of course were no problem. Didn't notice any foaming or anything.

Energy: 4/5
I'm pretty stim tolerant, so I usually don't feel much from pre's unless there's 1,3 in it. However, I noticed some clean energy within 15 minutes of drinking my pre workout. It's good, but not good if you're looking for that 1,3 cracked out feeling.

Pumps:
Can't comment on this, I'm a powerlifter so I don't train for a pump..

Focus: 5/5
This is where powermax really shines. Adizzle had told me that the product gave intense focus, and that wasn't an understatement. Tunnel vision, I enjoyed it.

Performax is really setting themselves up to be very successful in the future. I met a couple of the reps and one of their athletes, and everyone was really kind. They were handing out free samples and even had pre mixed bottles ready to go if any of the competitors wanted to sample powermax there. Hats off to these guys.

5/5

First I would like to thank @adizzle and @Dr.Veritas for giving me a tub of PowerMax to log. I am very grateful.
Here is my Final Review.

Taste: 9.5/10
I am not the biggest fruit punch lover on the streets, but this is definitely the most drinkable fruit punch that I have tried to date. Not tart, not too sweet. Really good flavor. But it is still fruit punch, so it gets a 9.

Mixability: 10/10
It mixes very easily, almost by itself. Has absolutely no residual particulates or floaters. Also usually gets a little clumped in the tub, mostly from bouncing up and down in my back pack or vibrating from riding my Harley! All you have to do is give it a quick shake or stir it with the scoop, and you are ready for action.

Value: 10/10
At 40 servings for 29.99 makes this an unbeatable deal. I have a high stim tolerance and 2 scoops of this stuff was absolutely perfect. For those that have a normal stim tolerance, you will get 40 true servings from this tub.

Pump: 10/10
THIS IS THE BEST PUMP THAT I HAVE EVER GOTTEN FROM A PRE-MIXED PRE-WORKOUT SUPPLEMENT. The ingredient profile is phenominal. Creatine, Agmatine Sulfate, L Citrulline, propionyl L carnitine, taurine, glycine, and a stim matrix that gives this stuff amazing energy, which leads me to...

Energy: 10/10
There is something about Powermax that made my life complete. That sounds cheezy but hear me out. I would take my2 scoops before the sun came uo, knock out a 1-2 hour workout, then head to work. Sometimes I would do another workout without having to take anymore. I would never crash later, and I always had extra energy ALL DAY! It is almost like this stuff was made to be like a 10 hour energy drink. Seriously. I owe it to Powermax that I made it through the Best Ranger Competition this year (working as a medic, not competing) without losing my mind from lack of sleep.

Focus: 10/10
The focus with this product was incredible. Laser like mental clarity, execution of the task.

(can you tell that I LOVE this Pre-Workout?)

Conclusion:
This Pre-workout was carefully designed to be one of the best. It is apparent that Performax knows what they are doing and put a great deal of time into the research and quality of this supplement. I encourage anyone and everyone to grab a tub and try it yourself for as lon as that tub lasts. I am absolutely certain that you will draw very similar conclusions as I did. You will not regret it.

I will be a PowerMax customer for good. Sure, I will use other pre-workouts. But only when I am cycling off of creatine. Did I mention that it has a full serving of creatine per scoop?

Go get you some!!

Thanks for the feedback guys! We really appreciate it!

Thanks for all the love guys! Were a smaller company so instead of putting a bunch of money into print ads and marketing we put them into getting over 10k sample packs. We believe in the product so much we will let the results and reviews speak for themselves!

5/5

Great Product here got 2 sample packs last week took one right away to get my day going taste was great, fruit punch is always a favorite of mine and this was right on it was strong so dont skimp on the water. It mixed pretty good was in my shaker so I couldnt see how well exactly but there was not much left after I was done. Energy was great I took 2 servings in the AM to get my day going and it did started to wear off by mid afternoon but no crash so I took another serving before I hit the gym and they kept me going for my workout. Overall a great product and will buy when I get my next stimmed preworkout.

That's awesome! Glad you enjoyed PowerMax's energy. They really hit the head on the nail when it comes to crash free energy and monster focus. Thanks for the generous review, stay tuned for future products and promos on our FB page @ faceboook.com/pmaxlabs

Former- Performax Labs Online Company Rep.
[COLOR=#333333]

Received free sample goodies from Adizzle1. Thank you kind sir.

Having never used a pump preworkout before, this opened my eyes to what I was missing.

Taste: delicious! Literally the best tasting fruit punch flavor next to the sugary kool-aid alternative. No need to shoot it back like bad liquor. This I actually took my time with and sipped on for about 10 mins before heading to workout. It was quite enjoyable! 10/10

Mix: proprietary but seems to be adequate in all aspects of focus, energy, creatine and flavor. Almost doesn't need a spoon! Small serving size but packs a punch! 9/10

Pump: holy sheeet. Loved it from the first sample to the last. I was loving the visual aspect of how engorged everything became after throwing back some weights. Definitely the agmatine sulfate at work. 10/10

Endurance: no listed BCAAs but easy thing to change! Enjoyed the creatine which aided in recovery between sets. This is not specifically an endurance product but can stand alone. 8/10

Postworkout: appetite was a hit or a miss after a workout. Some days I was f-ing hungry as hell, other days I couldn't eat for 2 hours after my workout due to nausea. Not a terrible thing. Though little to no DOMS. For that, 8/10

Overall 9/10. Will definitely put in an order for the summer

Thanks for the review brother, really appreciate it! Remember to actually give the product a rating when your making your posts, our last reviews have all been 5 out of 5 but its not counting towards the score if you dont vote!

Like many others, I received my sample of Powermax in the mail a few days ago from Adizzle1. At the time I was on a 2-week break from preworkouts in general so I waited a few more days to test it out. Well here is my review:

Taste: In all honesty I would have to say this is the best tasting preworkout I've ever hadIMO. Sweet fruit punch flavor but I'm not talking sugar filled Kool-Aid type of sweet. This was a very pleasant type of taste. Light in texture but great flavor.

Mixability: Not even sure if that's a word but this mixed extremely well. I used half of a packet (1 serving) with about 8 ounces of water. Not much to say here besides the fact that it mixed completely with no residue or anything left over.

Focus: I took Powermax probably 10 minutes before I left for the gym. I usually take my preworkouts relatively close to when I leave for the gym just because my warm up takes at least 15 minutes. Therefore, I want the focus aspect to hit me while I'm in my working sets. I honestly can't even pin point when exactly the focus hit me. All of a sudden I was ripping through sets and I had to take off my headphones because I was already too pumped up and the music was practically over-doing it. I don't know when I've been that focused at the gym aside from today. Definitely something I have to give credit to Powermax for.

Energy: As I said previously about the focus aspect, I guess the energy just all of a suddenly hit me. I honestly don't even think I consciously recognized it. I went from slowly working set by set to all of a sudden I kind of forgot there were people around me at the gym. I was just in a zone. And it's not the type of cracked-out energy that's from ridiculous amounts of stimulants. It was just pure. It wasn't that my energy was over-powering my focus. My energy and focus were there together. Definitely one of my best workouts I've had in a very long time.

In conclusion, I can't act like I'm going to get better results from a different preworkout. What works, works. And for me, its definitely Powermax.

Overall: 5/5

4/5

Had a chance to sample two packets, and here is my review.

1. Taste: this stuff tastes really good. Now I don't really care myself what a PW tastes like, as long as it works, but it is a bonus to have it taste good.

Focus: has decent focus, on par or better with most PW's, just not on the level of something like Craze.

Energy: I get plenty of energy from PowerMax, no problem pushing through a couple tough workouts.

Pump: This is where this product shines, great pumps on this product, one of the best I have had in this area.

Overall: I gave it a 4/5 stars(Craze is the only 5/5 I have had), it is better than most, and I would have no problem using this in the future as a change of pace, for my current PW.

That's awesome, thanks for the review! DS Craze is a great product, no doubt! Just out of curiosity, When was the last time you used craze and for how long as your go to PWO of choice?

-Dr. Veritas

Former- Performax Labs Online Company Rep.
[COLOR=#333333]

I have been using Craze pretty much since it came out. I do cycle in some others here and there, Craze is just my go to PW. I still think PowerMax is a great product, and as for the pump aspect, it has no equal.

glad you liked it so much! Tons of people love it for the pumps as well, Agmatine Citrulline and PL-Carnitine is no joke!

first off thanks for the opportunity to sample this product

Taste 3/5 slightly cough syrup tasting but definitely not unenjoyable. Overall id have no problem drinking it regularly.

pump 4/5 - super close to enhanced/condensed/hemavol but the added nitrates in the first two and the other goodies in hemavol make those just a tad better. But by no means take powermax lightly, it will definitely hit you with pumps hard as everyone has said.

Energy 4/5 nothing insane but with just the caffeine I wasnt expecting anything crazy. provides a smooth pick me up. No jitters/cracked out feeling which I like a LITTLE bit.

Mixability 5/5 no issues here at all

Overall 4/5 this is a great pre and is probably in my top tier of preworkouts that I've tried. There's a good chance I'll snag a tub of this at some point to add to my rotation. Does everything you would want from a pre and really excels in the pump department.

Training log:

http://anabolicminds.com/forum/workout-logs/267913-jswains-training-log.html

Glad you like it, and thanks for the review!!

for the energy you should notice a stronger buzz than jsut caffine, the NMT and Citrus Aurantium give a bit more kick but keeps it really smooth at the same time!

Im glad you enjoyed it so much!

We have a brand new product launching this summer, when stacked with powermax workouts are insane!

Yea it was designed for 8oz per scoop and i agree 16oz of cold water with Powermax and its very refreshing and actually quite light.

We wanted to make sure it was light and fresh and not overly syrupy and sweet, but make sure and use 8oz per scoop!

We started a thread in the company promo. section. Make sure and check it out for latest information, product release and testing/logging opportunities.