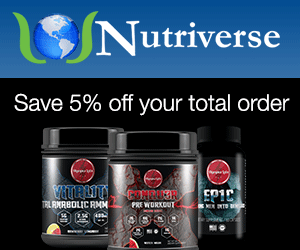 Manufacturer:
iForce Nutrition
Rating:
4.68
out of 5 stars, based on
25
total reviews.
Read all 25 reviews
Submit New Review
5/5

Today makes exactly 1 year that I have been using Hemavol and I know I have commented about it on this and other forums but today I am posting a short review.

I found out about Hemavol by watching Marc Loblimer mix it with CRAZE and he was ranting and raving how good it worked and over the years I have picked up a couple things from watching Marc that have paid off very well for me such as purchasing a pair of Versa Gripps which have been a great investment and using Chuck Taylors for squats and deads and my pounds went up right away. So I said what hell last July 4th I ordered 2 jars of Hemavol 1 Lemon and 1 Watermelon and since then I have ordered 3 more
jars. The first jar went quick because I gave a lot of samples to people who I help with supplement and training. Lol I am to generous.

I only need 1 heaping scoop to do the trick so a container last me a while and I only use it on days when I use a stim in cap or tab and when I use a preworkout powder I just add 1 gm of agmatine.

Mixability 8/10 I always mix it with 20oz of water and then add just a little to pick up the residue that might be stuck to the side. I never have any problem mixing it.

Taste- 9.5/10 Lemon- I love the not to sweet and tart flavor which really taste like a sour lemon head candy. I also love the fact that it helps mask the flavor of some of my preworkout stims that I add uncapped.

8/10 Watermelon- This one is not as strong in flavor as the lemon but it's not that bad and honestly I've had 5 jars of Hemavol and 2 have been Watermelon so I wouldn't have ordered it again if it wasn't good.
I am looking forward to trying the new Tangerine flavor and if it taste as good as Compete it should be a winner.

Effectiveness- 9/10 This has always delivered for me in the pump, and help with getting the blood flowing in my tendons and joints. I can't really comment on the stamina and endurance aspect of this product because I always add 6 grams of Citrulline Malate to either Hemavol or any preworkout powder that I am using that day.

Overall- 9/10 This is probably one of the best and most talked about pump products out on the supplement market and for good reason IT WORKS!!!
I only need 1 scoop because I am very muscular and vascular but most people will have to experiment and see what dosage works best and I highly recommend looking around and buying a 2 pack which will most of the time come out to be a better price.

Been taking hemavol for right at a year and I love it because I can stack it with any PWO. Best N.O. product on the market.

5/5

Love this stuff! Get a sick pump every time that I have used it. I like the lemon drop and the tangerine flavors which taste great. Mixes well when I add BCAA's and Glutamine to it. No clumpy crap or settling at the bottom of the shaker.

I stacked Conquer & Hemavol. It really is a great combo. My sweet spot was 1.5 scoops of Conquer & 1 scoop Hemavol. The energy & focus was very good -- no highs or lows, the energy lasted longer than any Pre that I've used before. It was never jittery & I never crashed. It came on smooth & gradual. The Hemavol added some great pumps --- very noticable. I had some of my best workouts on this stack. I can't wait to try some of the other flavors.

After my log I went on vacation for a week. When I got home I jumped back on Conquer & Hemavol --- WOW, sometimes you don't know how good something is until you've gone without it for awhile.

similar experiences myself. im hard pressed to leave my watermelon, but tangy tangerine!!!?? im gonna have to bite the bullet!

BLACK LION RESEARCH
HIGH POWER PERFORMANCE

No difference just new packaging color but still works great and looking forward to try the tangerine which I have 2 containers
on order which should be shipped as soon as they are in stock.

4/5

Massive pumps ... Love the watermelon. Two scoops does the job. I wish I could take this every day. Lol loose the coffee.

5/5

What can I say? This product delivers on all fronts. It mixes great, it tastes great. and it makes my pumps **** near explosive! There are few products that live up to the hype, and this one sets the bar!! I am on my 5th tub! The flexibility of this product is to be noted as well. You can stack it with your favorite stimulant based pre-workout, or on it's own.
All of the iForce products are top notch.

5/5

Absolutely love this stuff. Focused and engaged during the entire workout. Watermelon Cooler tastes amazing too!

5/5

Hemavol is a great non-stim pre-workout option. I like to use this if I am working out later in the evening so I can still sleep well. If I take it in the morning I just use a caffeine pill for the energy boost.

5/5

Love this product. Great taste. Doesn't upset my stomach. Sick pumps. Value is decent when you can find it on sale. A little pricey otherwise but not terrible. Definitely adds some endurance to my workouts. Have used many times and will continue to keep it in my rotation of go to products.

Great Vasodilator! Love the Watermelon or Lemon. I generally use 2 scoops and get some of the sickest pumps!

5/5

I love Hemavol. I get great results from just a single scoop so to me the price is not that bad. I use it when i am having a sluggish day and i need a little kicker in the gym. I find it gives me great pumps but also great focus and better endurance. I don't take to stimulants well so this has been a great product for me.
And the taste (Lemon Drop) is absolutely delicious!

3/5

I didn't notice much in terms of pump and vascularity from this. wouldn't buy it again, would opt for compete instead.
Similar Forum Threads
By Moyer in forum Nutraplanet

Replies:

0

Last Post:

12-01-2005,

06:33 PM

By Neu in forum General Chat

Replies:

42

Last Post:

10-03-2005,

08:15 PM