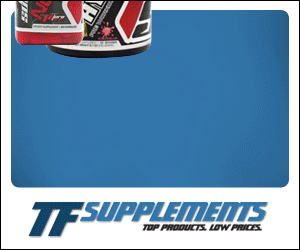 Noxitropin PM (280 grams)
Manufacturer:
CTD Labs
Rating:
4.6
out of 5 stars, based on
5
total reviews.
Read all 5 reviews
Submit New Review
Noxitropin PM (280 grams)
5/5

Noxitropin PM is an excellent sleeping aid formula which provides REM sleep, HGH production, muscle recovery & fat metabolism reduction. I'll begin with the flavor, mixture, and how & why the product works. First off I'll begin by saying the flavor is excellent the only flavor certainly is fruit punch. It generally does remind you of a fruit punch Gatorade flavor a little on the sweet side. Mixing Noxitropin PM either in a shaker cup or stirring it with a spoon, it dissolves easily with water, no clumps, or sediment. When shaken there is some foam, but it's hardly an issue. If you use two scoops there will be some settling, but a quick "swish" of the cup disperses it or just adding more water. The ingredient profile of Noxitropin PM is where it shines. 4-amino-3Phenylnutyric acid – Also known as Phenibut is a derivative of the naturally occurring inhibitory neurotransmitter GABA. GABA is a neurotransmitter that send messages between your brain cells. It is found in the hypothalamus and like natural HGH, it is logically produced in the body. Improves REM sleep and decreases stress. Mucana Puries Extract - also known as Velvet Bean is also a neurotransmitter pre-cursor L-Dopa. L-Dopa is a amino acid that converts into dopamine. Dopamine is an essential component of our body and it's required for proper functioning of the brain & mood enhancement, L-Arginine the amino acid needed to maintain the health of the liver, skin, joints and muscles & increase in bloodflow, enhance cardio system and heart health,L-Tryosine – a nonessential amino acid (protein building block) that the body synthesizes from phenylalanine, another amino acid. Tyrosine is important to the structure of almost all proteins in the body. It is also the precursor of other neurotransmitters, these include L-dopa, dopamine, norepinephrine, and epinephrine. L-Phenylannine - L phenylalanine is an amino acid that occurs natural and is a neurotransmitter. The product is taken 30 minutes before you sleep. Let me tell you it knocks you out cold. For anyone who has insomnia at night this is a great supplement to look into taking. I started off with 1 scoop to assess my tolerance & within 15 min I started to drift off. I had a good nights rest & slept like a baby & some vivid dreams. Side note you can take up to 2 scoops which equates to 14g of the product. The following morning I'd wake up feeling refresh & energized, muscle recovery from my workouts the day before were reduced while using Noxitropin PM as well. If anyone is in need of a sleep aid which not only can help you sleep, but as well aid with increase HGH levels & fat reduction this is a product to go with. I'd also recommend stacking this product with Testradex which is a night time testosterone booster which boost your natural test production, increase of libido, and reduction of cortisol levels & estrogen. It has increased my energy uptake, a few breakouts, and has improved my strength increase of my bench press.

Funny you posted this


I took this tonight and a few nights a week with a product called anabolic dreams

And added extra 15% l dopa extract

I sleep like a baby.

One time I took too much passed out. Woke up feeling hammered. I contemplated falling on the floor laying there pissing myself n just going back to sleep lik

Hello, EBF Inc Yes, Noxitropin PM is a very effective sleeping aid product. Great for REM sleep, have you noticed any vivid dreams occur yet? Do you currently take 1 or 1.5 scoops of Noxitropin PM? If you're only taking 1 scoop you can boost it up to 2 scoops that way you don't have to worry about the additional L-Dopa. Because 2 scoops will total at 40% L-Dopa. Yes, the slight early morning sleep hangover may occur for some. Usually if you sleep over 7-8 hours you'll be fine,, during these times of vivid dreams or dream periods an increase of GH is released. Have you taken any other products from Ctdlabs?

CTDLABS Product Ambassador & Board Rep

4/5

This is probably my favorite sleep supplement. This stuff is strong! One scoop has me feeling almost tranqualized. I'll sleep like a baby at night.

The only downfalls are
1) clumps up really bad if you don't use within maybe 2 months.
2) leaves you really groggy in the AM and you'll need some strong stims to get your ass up!

All in all it's a great sleep supplement when used in moderation, I wouldn't use it every night. Flavor is descent, not the best but it's good enough.

CTD SPORTS
National Sales Director
Coming soon... the Return of "Noxipro"

CTD SPORTS
National Sales Director
Coming soon... the Return of "Noxipro"



I have severe sleep issues.

Last night I passed out. Then woke up. Fell asleep. Coulda sworn I was asleep for hours it was 10 minutes felt like I fell Into a black hole. But I couldn't get up. Even tho I didn't take anything to help. I woke up "rested" but my body was dead and couldn't move

Mind clearish body completely paralyzed. So ****ing strange.

The products I take including noxotropin allow for less wake ups throughout the night.




CTD SPORTS
National Sales Director
Coming soon... the Return of "Noxipro"

4/5

This is one of the few effective sleep supplements I have tried. 2 Scoops i found to be ideal. The flavor is a little wild, but I like it. WAY better then the prosupps CRUSH, way better then the 360cut one...those are the only newer ones I can think of that i recently tried. The older ALRI sleep one was descent. But noxi is the best.

5/5

Tried Noxitropin pm for the first time the other night.
I'm impressed with this product as I'm a nighttime worker been working the vampire shift for 3 years now 7pm to 7am and have times where getting some rest was almost impossible. I've tried several different sleep aids and was not impressed at all! Hated waking up and feeling hung over. Felt like I needed 4 scoops of Pre to get up and get moving.
Noxitropin pm changed my outlook on sleepaids. Mixed it up and drank it taste not outstanding but I've drank worse felt a little tingle like a pre getting ready to kick in, I thought Oh great gonna be up all night. Ok now you think I'm messing with you right? I said I work nights, now I'm telling you i'm trying this at night. WTF ? Right? I work in law Enforcement and work 12 hour shifts so I was on days off when I tried this out. Now back to where I was going. Well I thought gonna be another long night no sleep. Man was I ever wrong. laid down 15 minutes it was lights out. Woke up the next morning feeling fantastic. I wasn't sore like I had been from other sleep aids wasn't groggy. Feet hit the floor I was up and at em. Feeling refreshed, ready to take on the world. haven't slept that long in quite some time. Cruised thru my workout no problem and tried another dose of Noxitropin pm the next night same results. This product is going into my supplement arsenal for sure.

Rate this product 10 out of 10 on effectiveness
give it 8 out 10 on taste
give it 9 out 10 on mixability have to shake some settling does occur

I'd recommend this product to anybody that has trouble sleeping this stuff is outstanding!

5/5

Supplement Facts:

Serving Size: 1 Heaping Scoop
Servings Per Container: 40

Amount Per Serving:
Vitamin B6 (Pyridoxine Hydrochloride) 10 mg 500%

Proprietary Blend 7g -
4-amino-3Phenylbutyric acid, gamma amino butyric acid, macuna pruries extract (standardized to 20% L-Dopa), L-Arginine HCL, L-Tyrosine, L-Phenylalanine.

Ingredients: Malic Acid, Citric Acid, Natural and Artificial Flavors and Colors, Aspartame, Acesulfame Potassium.

Directions:
Take one heaping scoop of Noxitropin PM with water or beverage 30 minutes prior to bedtime.


Taste/Mixability-This actually tastes pretty good and mixed fine with no clumps.

Effectiveness-After 30 minutes of taking it, I was able to fall asleep and I got a nights sleep.

Over All Thoughts-I have tried many different sleep aids and this is the third powdered sleep product that I tried and by far the best.It does exactly what it says it does allowing a restful sleep.I will use again.
Similar Forum Threads
By GymCandy397 in forum Weight Loss

Replies:

7

Last Post:

03-20-2003,

08:30 PM

By txwakeskater in forum General Chat

Replies:

2

Last Post:

12-24-2002,

10:06 AM

By Big H in forum Anabolics

Replies:

0

Last Post:

10-31-2002,

09:09 PM